CHAMPAIGN – The 2020 census will determine how much funding and political representation communities across the U.S. receive. But so far, about a third of Champaign County residents have not participated.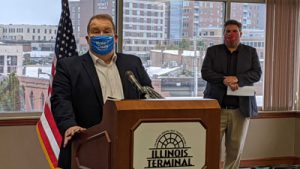 At this point in 2010, when the last constitutionally mandated nationwide count was conducted, about 70% of residents had participated, says State Sen. Scott Bennett, a Democrat from Champaign. 
As of this week, about 67% of Champaign County residents had responded.
"That leaves a lot of federal dollars on the table," Bennett says. "We're not where we want to be, in terms of making sure everyone in downstate Illinois is counted."
Nationwide, and in central Illinois, the census has undercounted young children, people of color, and low-income households. 
Parts of northern Champaign and Urbana, as well as fraternities, sororities and other student housing in and near the University of Illinois campus, have response rates as low as 30 percent, says Michelle Award, a student engagement program coordinator at the University YMCA in Champaign.
"Counting students at the University of Illinois is incredibly difficult because students are young and mobile," Award says. 
In addition, many college students left Champaign-Urbana in April when the pandemic forced campuses to close.
Students who would have been living in Champaign County on April 1, 2020, if not for COVID-19, are encouraged to fill out the census for the address where they were living at that time.
"It's incredibly important to make sure this county has the resources it needs," Award says.
C-U Public Health Epidemiologist Awais Vaid says COVID-19 has made the jobs of census workers more risky. 
At the same time, the pandemic means census participation is more important than ever, Vaid says, because an undercount could mean Champaign County will lose almost a billion dollars over the next decade — dollars that could have gone toward health care, education, roads and bridges and more.
"If you don't see the value in this, just think about all the programs and services that your family utilizes," says State Rep. Carol Ammons, a Democrat from Champaign. 
It takes less than 10 minutes, she says, but "its value and its payback is enormous."
Several events will be held in Chamapaign-Urbana from Sept. 11 through Sept. 13, aimed at increasing census participation in low-response areas by providing in-person assistance, says C-U Public Health census outreach worker Tatianna Ammons.
All of the "Our Kids Count: Days of Action" events run from 3 p.m. to 6 p.m.: at the Church of the Living God on Bradley Ave. in Champaign on Friday, at the Providence at Sycamore Hill on McKinley Ave. in Champaign on Saturday, and at the soccer field near the Brookens Administrative Center on Washington St. in Urbana on Sunday.
State Sen. Chapin Rose, a Republican from Mahomet, says census participation is not a partisan issue.
"There are so many things tied to the census count, so we need everybody — Republicans, Democrats, Greens, Independents, Libertarians — to fill out your census," Rose says. 
A move to wind down counting efforts for the 2020 census a month early, on Sept. 30, has been blocked by a federal judge for the time being. Still, local officials encourage everyone to respond by the end of the month.
Local officials encourage those who can complete the census online to do so at my2020census.gov. Online participation will decrease the number of home visits census surveyors must make, thereby decreasing their risk of exposure to COVID-19.
Residents can also call 844-330-2020 or seek help from local census assistance hubs, including the Champaign-Urbana Public Health District, University YMCA and the city of Urbana.
Christine Herman is a reporter at Illinois Public Media. Follow her on Twitter: @CTHerman