Updated: Feb. 21 12:00 a.m.
This is an updated blog of our stories on the coronavirus. The World Health Organization announced January 30 that the outbreak of a deadly and fast-spreading strain of coronavirus constitutes a global health emergency. The pneumonia-like illness has killed dozens in China. Several cases have been reported in the United States, including Chicago. The Centers for Disease Control and Prevention says the coronavirus poses a low risk to the general population of the US. There are no cases in Champaign County.
Some resources if you need answers:
Centers for Disease Control and Prevention
From NPR: Your Questions About Wuhan Coronavirus, Answered
China Reports Further Fall In New Virus Cases, 118 Deaths
16 Cruise Ship Evacuees Being Moved To US Hospitals
Japan: 2 Former Cruise Ship Passengers With Virus Have Died
Hospital Director In Wuhan Dies Of COVID-19
February 18 11:04 a.m. – Liu Zhiming, director of the Wuchang Hospital at the epicenter of a deadly coronavirus outbreak in Wuhan, China, has died from COVID-19, state media reported Tuesday, highlighting the risk that the respiratory virus poses to health professionals. Mainland China currently has more than 70,000 confirmed COVID-19 cases, according to the World Health Organization. And while the country has also endured the majority of deaths associated with the outbreak, health experts in China say there are signs that the pace at which the virus is spreading may be slowing down. Click here for the entire story. – Bill Chappell, NPR
China Reports 1,886 New Virus Cases, Death Toll Up By 98
February 17 6:45 p.m. – Mainland China reported 1,886 new virus cases and 98 more deaths for a total of 1,868, following a report that 80% of cases have been mild, prompting guarded optimism from health officials. The latest figures come after health officials in China published the first details on nearly 45,000 cases, saying more than 80% have been mild and new ones seem to be falling since early this month. A total of 72,436 cases have been reported in mainland China as of Tuesday. A recent spike was due to a broader definition in the hardest-hit region based on doctors' diagnoses before laboratory tests were completed. – Associated Press
New Virus Cases Fall; Xi Urged Steps As Early As Jan. 7
February 15 9:29 p.m. — China reports a drop in new virus cases for the third straight day, as it became apparent that the country's leadership was aware of the potential gravity of the situation well before the alarm was sounded. After Chinese President Xi Jinping played a muted public role in the early days of the epidemic, state media published a speech Xi delivered Feb. 3 in which he said he gave instructions on fighting the virus as early as Jan. 7.  It was not until late January that officials said the virus can spread between humans and public alarm began to rise. The National Health Commission says there are 2,009 new cases in mainland China, bringing its total number of confirmed cases to 68,500 with 1,665 deaths. – Associated Press
Chicago Couple Treated For New Virus Released From Isolation
February 15 4:05 p.m. — Public health officials say a Chicago woman and her husband have been released from home isolation after recovering from the new virus from China. The couple was released from a suburban Chicago hospital on Feb. 7 and remained in home isolation until Friday. Dr. Allison Arwady is the commissioner of the Chicago Department of Public Health. She says the couple, who are in their 60s, can return to normal activities with no restrictions. The woman traveled to the central China city of Wuhan in January and became ill after her return. Her husband later became ill. Click here for the entire story. – Associated Press
Virus Infects More Than 1,700 Health Workers In China, 6 Die
IMAGES: What New Coronavirus Looks Like Under The Microscope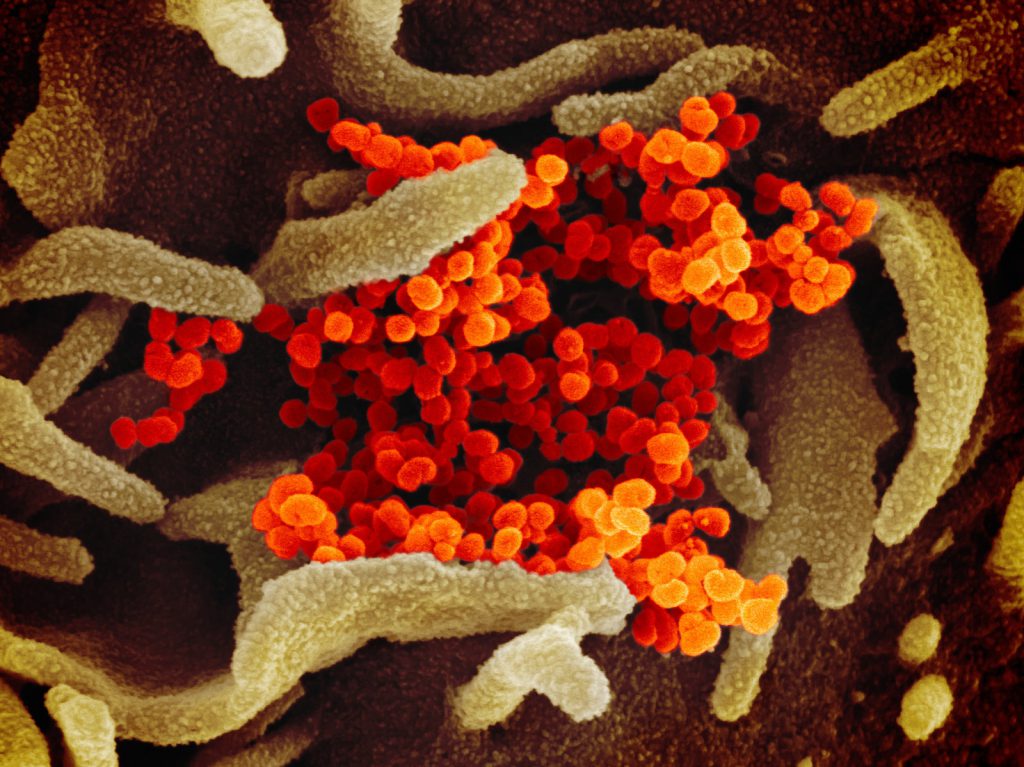 February 13 7:45 p.m. – These images were made using scanning and transmission electron microscopes at the National Institute of Allergy and Infectious Diseases' Rocky Mountain Laboratories in Hamilton, Mont. NIAID is part of the National Institutes of Health. Microscopist Elizabeth Fischer produced the images, and the lab's visual medical arts office digitally colorized the images. Click here for the entire story from NPR and to see more images.
– NPR News
Virus Cases Surge After China Revises Way Count Is Tallied
US Announces 15th Virus Case, This One In Texas Evacuee
Illinois To Conduct In-State Testing For 2019 Novel Coronavirus
February 11 – State public health officials say Illinois has become the first to conduct in-state testing for the 2019 novel coronavirus.  Testing is currently available through the IDPH lab in Chicago and will eventually also come online in labs in Springfield and Carbondale. Of the 13 confirmed U.S. cases of coronavirus, two have been in Illinois. The CDC maintains that the immediate risk to the general public is low. Click here for the entire story. – Christine Herman, Illinois Newsroom
China's New Virus Cases Fall Again, Deaths Now Exceed 1,100
China's Daily Death Toll From Virus Tops 100 For First Time
Sony, Amazon, Others Drop Out Of Big Tech Show Over Virus
China Virus Cases Rise Again, 65 More On Ship In Japan
China's Virus Death Toll Surpasses SARS But New Cases Fall
WHO To Send Mission To Virus-Hit China
February 8 10:30 a.m. – The head of the World Health Organization says it received a response from China on Saturday on the dispatch of a WHO-led international mission to the country, where a new virus has emerged. Director-general Tedros Adhanom Ghebreyesus says the team leader will leave on Monday or Tuesday and the rest of the experts will follow. Asked whether members of the U.S. Centers for Disease Control and Prevention will be part of the team, he replied, "We hope so." Tedros wouldn't immediately name the leader or the rest of the team, or give further details, saying that WHO will "publicize everything as soon as we're ready." – Associated Press
2 Charged In Coronavirus Prank In Suburban Chicago Store
Chicago Husband, Wife Sickened By Coronavirus Leave Hospital
February 7 12:46 p.m. – A suburban Chicago hospital says that a man and his wife who were diagnosed with coronavirus last month have been discharged from the hospital and are now in isolation in their home. St. Alexius Medical Center in Hoffman Estates say the two _ the first person-to-person coronavirus patients in the United States _ were sent home "under the guidance of the Centers for Disease Control and Prevention and the Illinois Department of Public Health. Last month, the wife was diagnosed with the virus after returning from a trip to China and days later, her husband was diagnosed. Click here for the entire story. – Associated Press
Coronavirus Concerns Weigh On Chinese Students At U.S. Colleges
February 6 6:30 p.m . – Nearly 6,000 students from China attend the University of Illinois at Urbana-Champaign. The spreading coronavirus is further isolating and complicating the lives of international students. We talked with Joy Zhu, who is studying accounting as a sophomore  and is one of about 150 students from the city of Wuhan. Click here for the entire story. – Charles Ledford, Illinois Newsroom
Chinese Doctor Who Sounded The Alarm About The Virus Dies
Experts Scramble, But New Virus Vaccine May Not Come In Time
Chinese Scientists Ask For Patent On US Drug To Fight Virus
February 5 10:57 p.m. – Scientists in the city at the center of China's virus outbreak have applied to patent a drug made by U.S. company Gilead Science Inc. to treat the disease, possibly fueling more of the conflict over technology policy that helped trigger Washington's tariff war with Beijing. The government-run Wuhan Institute of Virology, based in the city at the center of the outbreak, said this week it applied for the patent in January along with a military laboratory. An institute statement said it acted to "protect national interests." Granting its own scientists a patent might give the Chinese government leverage in negotiations over paying for the drug. But it also might fuel complaints Beijing abuses its regulatory system to pressure foreign companies to hand over valuable technology. – Associated Press
China Reports Deaths From New Virus Rise To 563
February 5 6:15 p.m. – China reports deaths from new virus rise by 73 to 563, number of confirmed cases jump by 3,694 to 28,018.
Man Says He Has Coronavirus, Sprays Store With Disinfectant
February 5 4:05 p.m. – Police are searching for a man who caused thousands of dollars of damage in a Walmart in suburban Chicago by spraying disinfectant while wearing a surgical mask and a sign on his back declaring that he has the deadly coronavirus. Police say the man in his 20s sprayed Lysol on clothing, produce and health and beauty items in the Joliet store causing nearly $10,000 in damage. A coronavirus has killed hundreds of people, mostly in mainland China, and sickened thousands of people around the world. The first person-to-person transmission of the virus in the U.S. happened last month in Chicago. – Associated Press
China Deaths Rise To 490, Japan Confirms 10 Cases On Ship
American Airlines Halts Hong Kong Flights, United To Follow
From The 21st Show: What You Need To Know About Coronavirus In Illinois
Dr. Ngozi Ezike, Director of the Illinois Department of Public Health and Dr. Michael Ison, Professor of Infectious Diseases and Organ Transplantation, Northwestern University Feinberg School of Medicine and a physician at Northwestern Medicine talked with guest host Lee Gaines. Click here to hear the interview.
Air China Seeks To Pare US Routes Due To Virus Outbreak
1st US Patient With New Virus Leaves Hospital, Is Recovering
February 3 4:25 p.m. – The man who became the first U.S. patient with the new virus from China has left the hospital and says in a statement that he is getting better and looks forward to life returning to normal. The unidentified 35-year-old man's statement was provided to The Associated Press by Providence Medical Center in Everett, Washington, near Seattle. He fell sick after returning from a visit to China and was admitted on Jan. 20. Health officials say the man is in isolation at home and is being monitored by public health workers. – Associated Press
DHS: New Screening To Begin Amid Coronavirus Concerns
Philippines Reports World's 1st Virus Death Outside China
US Bars Foreigners Coming From China For Now Over Virus Fear
China Flying Home Residents Of Virus-Afflicted Region
Coronavirus Concerns Could Affect New US-China Trade Deal
January 30 6:00 p.m. – The coronavirus outbreak has trade experts worried about the fate of the phase one trade agreement between the U.S. and China. Todd Hubbs is an agriculture economist at the University of Illinois. He says even before the outbreak there was concern that China wouldn't be able to meet trade targets set in the agreement. He says the problem is that a slowdown in the Chinese economy means that people buy less goods, including agricultural goods. Hubbs says the coronavirus outbreak has already had a negative impact on commodity prices, especially soybeans. – Dana Cronin, Illinois Newsroom
UN Agency Declares Global Emergency Over Virus From China
US Reports 1st Case Of Person-To-Person Spread Of New Virus Is In Chicago
January 30 1:30 p.m. – Health officials are reporting the first U.S. case of person-to-person spread of the new virus from China. The latest patient is the husband of the Chicago woman who got sick after she returned from a trip to China. The new case announced Thursday is the sixth in the United States. The other five were travelers who fell ill after returning from China. Experts have said they have expected additional cases in the U.S., and that at least some limited spread of the disease in the country was likely. Click here for the entire story. – Associated Press
University of Illinois Suspends Programs In China
January 29 11:30 a.m. – In a mass mail on Wednesday morning, University of Illinois Provost Andreas Cangellaris announced the U of I is suspending academic programs in China for the current spring semester due to concerns about coronavirus. There are currently no active cases in Champaign County.  146 U of I students are from Wuhan, China, the epicenter of the illness outbreak. A few students who traveled to the region during the winter break have decided to "self-quarantine" themselves.  The suspension also means U of I students will not be allowed to travel to China for university-related matters until travel advisories are lifted. The US State Department on Monday elevated its travel advisory to Level 3, Reconsider Travel. – Reginald Hardwick, Illinois Newsroom
WHO Says Virus Death Rate Is About 2 Percent
January 29 11:03 a.m. – The World Health Organization's emergencies chief says China is taking "extraordinary measures in the face of an extraordinary challenge" because of the virus outbreak. Dr. Michael Ryan made the comments to reporters Wednesday after returning from a trip to Beijing to discuss the new virus with Chinese President Xi Jinping and other senior government leaders. Ryan says the epidemic remains centered in the city of Wuhan and in Hubei province but that "information is being updated and is changing by the hour." He says many of those affected experience only a mild illness and estimated that the death rate is at about 2%. The death rate for SARS, a related virus, was about 10%. – Associated Press
No Coronavirus In Champaign County, But Health Officials Say They're Ready
January 28 8:00 p.m. – At a news conference at the University of Illinois, McKinley Health Center director Robert Parker says he emailed each of the 146 students who came to the Urbana campus from Wuhan, with information related to the virus. He says several wrote back to say they had not traveled to Wuhan during the university's winter break that ended last week, which means they are not at risk of bringing the virus with them. And for those who had traveled to Wuhan, Parker said several said they had decided to "self-quarantine" themselves. Click here for the rest of the story. – Jim Meadows, Illinois Newsroom
AP Source: Jet Evacuates Americans From China Outbreak Zone
Coronavirus Concerns Empty Local Stores Of Masks
January 28 1:00 p.m. – Health officials continue to say that the best protection against the novel coronavirus is hand washing and cough-covering. But if you're looking for more protection, say in the form of a respiratory mask, you'll be hard pressed to find one in Champaign-Urbana. On Sunday and Monday, we checked with pharmacies, big box stores, medical supply stores, even two local hardware stores – all are sold out.  Click here for the rest of the story. – Charles Ledford, Illinois Newsroom
US Beefs Up Screening Of Travelers For New Virus From China
University of Illinois Campus Forum Scheduled Tuesday 
January 27 3:30 p.m. – Tomorrow, health officials in Champaign will discuss their response to the coronavirus at a forum on the University of Illinois campus. The forum will take place at 9:00 a.m. at the Fire Service Institute at 11 Gerty Drive. Champaign Urbana Public Health administrator Julie Pryde will answer questions. She'll be joined by Robert Parker, the director of the U-of-I's McKinley Health Center and Janet Jokela, the acting dean of the University of Illinois' College of Medicine. The university confirms McKinley Health Center evaluated one person with possible symptoms but determined they did NOT have the illness. U of I also says students who traveled to Wuhan City over the holiday break are in self-quarantine or wearing surgical masks when going to classes.  – Reginald Hardwick, Illinois Newsroom
UN Health Chief Visits China To Help With Virus Containment
Concern & Solidarity Leads To Cancellation Of Local Lunar New Year Celebration
January 24 5:00 p.m. – Concerns about the spreading coronavirus and a desire to express solidarity with people in the Chinese city of Wuhan have led to the cancellation of one of the largest Lunar New Year celebrations in the Midwest. Click here for the rest of the story. – Charles Ledford, Illinois Newsroom
Chicago Woman Becomes 2nd US Case of New Virus From China
January 24 12:00 p.m. – A Chicago woman has become the second U.S. patient diagnosed with the new pneumonia-like virus from China, health officials announced Friday. Click here for the rest of the story. – Associated Press
O'Hare Airport Will Begin Screening Travelers From Wuhan, China, After First U.S. Coronavirus Case Confirmed
January 21 – The CDC said O'Hare International Airport will join four other U.S. airports this week in screening passengers traveling from Wuhan, China, where the virus originated. Click here for the rest of the story. – Christine Herman, Illinois Newsroom