HIGHLAND PARK – Six people were killed and dozens wounded when a gunman used a high-powered rifle to fire from a rooftop on people attending the Highland Park Fourth of July parade Monday.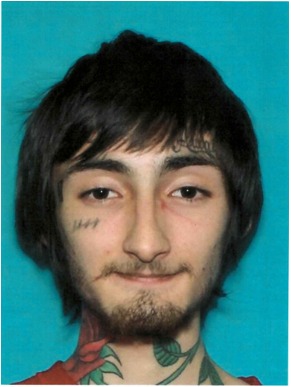 At 6:45 p.m., the Highland Park police said a "person of interest" identified "through investigative leads" as Robert E. "Bobby" Crimo III, 22, had been "taken into custody without incident" on U.S. 41 in Lake Forest after he was spotted by a North Chicago police officer.
Crimo was being taken to the Highland Park police department, police Chief Lou Jogmen said.
Christopher Covelli of the Lake County sheriff's office and the Lake County major crimes task force said authorities were using the terms "suspect" and "person of interest" interchangeably and that they believe Crimo was responsible for the shooting, though he has not been charged.
The gunman used "a high-powered rifle" that's been recovered, said Christopher Covelli of the Lake County sheriff's office and the Lake County major crimes task force.
Covelli said the gunman fired from a rooftop. "He was very discreet and very difficult to see."
It appeared that the gunman had used an "unsecured" ladder to climb to the rooftop, Covelli said.
The FBI asked that anyone who had video of the shooting or possible information about the shooter call their toll-free tipline at (800) CALL-FBI.
Investigators were focusing their manhunt around downtown Highland Park in an area bounded by Green Bay Road, Laurel Avenue, St. John's Avenue and Elm Place, according to Highland Park police Cmdr. Chris O'Neill. People outside that area no longer were being asked to shelter in place.
Covelli said drones and dogs were being used in an effort to track down the suspect and that the ownership history of the rifle is being examined by the federal Bureau of Alcohol, Tobacco, Firearms and Explosives.
Lake County Coroner Jennifer Banek said five people were dead at the scene, all adults, and another died at a hospital. It wasn't clear how old the sixth victim was.
All of the victims have been identified, though authorities still were notifying families as of 3:30 p.m.
— Lake County Sheriff (@LakeCoILSheriff) July 4, 2022
Dozens of the injured were taken to Highland Park Hospital, Lake Forest Hospital and Evanston Hospital. The "vast majority" were treated for gunshot wounds, though some "sustained injuries as a result of the ensuing chaos at the parade," according to NorthShore University Health Systems, which owns the Highland Park and Evanston hospitals.
Authorities said a child was among those wounded and was hospitalized in critical condition.
One witness said he counted more than 20 shots.
Miles Zaremski, a Highland Park resident, told the Chicago Sun-Times: "I heard 20 to 25 shots, which were in rapid succession. So it couldn't have been just a handgun or a shotgun."
Zaremski said he saw "people in that area that got shot," including "a woman covered with blood … She did not survive."
As they fled the parade route on Central Street in downtown Highland Park, panicked parade-goers left behind chairs, baby strollers and blankets as they sought cover, not knowing just what happened. Even as people ran, a klezmer band, seemingly unaware of the gunfire, continued to play.
Highland Park police Cmdr. Christ O'Neill said that a rifle the gunman used has been recovered and that the suspect appeared to be 18 to 20 years old, white and wearing a blue T-shirt.
Adrienne Drell, a former Sun-Times reporter, said she was sitting on a curb along Central Avenue watching the parade when she saw members of the Highland Park High School marching band start to run.
"Go to Sunset," Drell said she heard the students shout, directing people to nearby Sunset Foods.
A man picked her up off the curb and urged her to get out, Drell said.
"There's panic in the whole town," she said. "Everyone is just stunned beyond belief."
She ran across to a nearby parking lot with other people who had been watching the parade.
"It was a quiet, peaceful, lovely morning, people were enjoying the parade," Drell said. "Within seconds, to have that peacefulness suddenly ripped apart, it's scary. You can't go anywhere, you can't find peace. I think we are falling apart."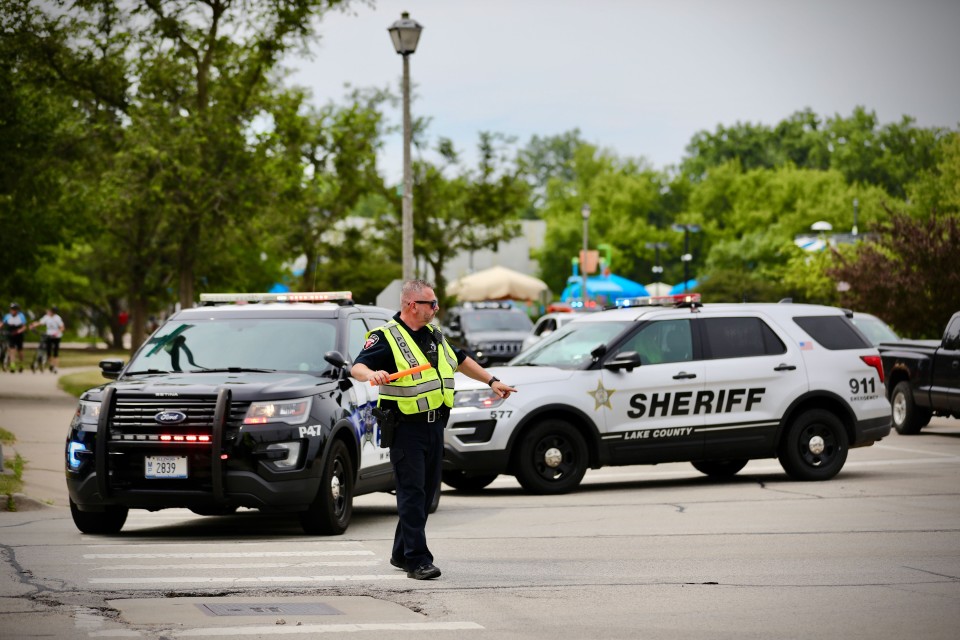 Eric Trotter, 37, who lives blocks from the shooting, echoed that sentiment.
"I felt shocked," Trotter said. "How could this happen in a peaceful community like Highland Park."
As police cars sped by on Central Avenue, sirens blaring, Alexander Sandoval, 39, sat on a bench and cried. He'd gotten up before 7 a.m. to set up lawn chairs and a blanket in front of the main stage of the parade. He lives within walking distance from there, so he went home to have breakfast with his son, partner and stepdaughter before going back for the parade.
Hours later, he said he and his family ran after hearing the gunfire, afraid for their lives.
"We saw the Navy's marchers and float pass by, and, when I first heard the gunshots, I thought it was them saluting the flag and shooting blanks," Sandoval said. "But then I saw people starting to run, and the shots kept going. We started running."
He said that, in the chaos, he and his partner Amairani Garcia ran in different directions, he with his 5-year-old son Alex, she with her 6-year-old daughter Melani.
"I grabbed my son and tried to break into one of the local buildings, but I couldn't," Sandoval said. "The shooting stopped. I guess he was reloading. So I kept running and ran into an alley and put my son in a garbage dumpster so he could be safe."
Then, he said he ran in search of the rest of his family and saw bodies in pools of blood on the ground.
"I saw a little boy who was shot being carried away," Sandoval said. "It was just terror."
He found his partner and stepdaughter, safe, inside a McDonald's nearby.
"This doesn't happen here," he said. "It shouldn't happen anywhere."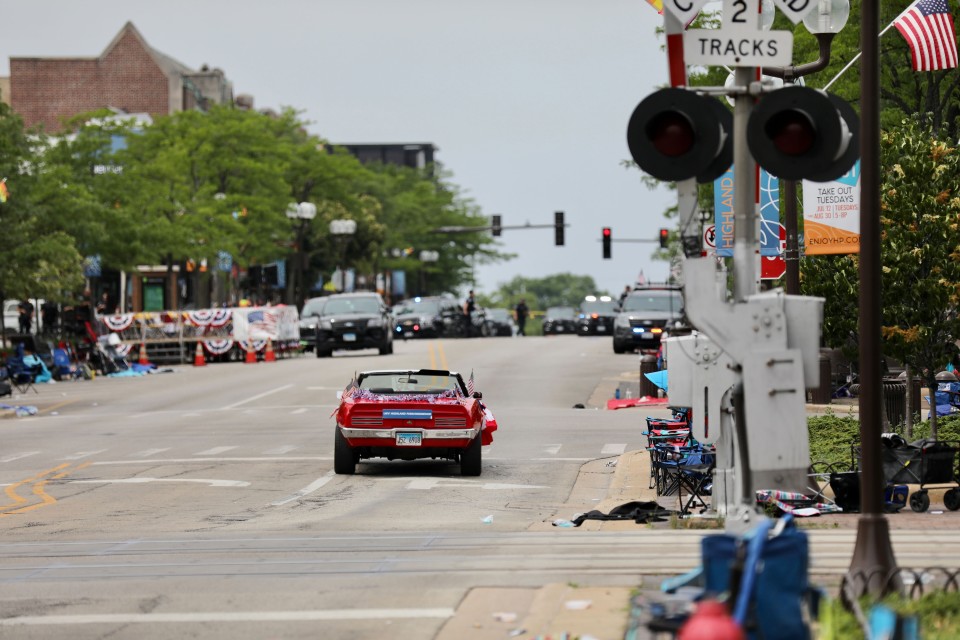 Don Johnson, 76. who lives about two blocks from the shooting scene, thought at first the gunfire was a car backfiring. He said he ran with several other people to a nearby BP gas station and described the scene as "surreal."
"It's just a terrible thing," he said. "I never wouldn't thought this would've happened in downtown Highland Park."
Johnson said his daughter lives in Chicago with her son and that he's been urging them to move to Highland Park, telling her recently, "It's safe."
Now, he said, it's clear that "it can happen anywhere."
David Goldenberg, the Midwest regional director of the Anti-Defamation League, was among those at the parade. He'd gone early to set up chairs for his family along the parade route. He said he ended up moving their chairs to be closer to friends.
If not for that, Goldenberg said, "We would have been awfully close" to the shooting.
"It was chaotic," he said. "Those sorts of things that you hear about — those split-second moments accounting for everyone in your family as people are yelling, 'There's a shooter! There's a gun!' "
He said he knows of an adult who was killed, though he declined to discuss details.
Gov. J.B. Pritzker called on "all Illinoisans to pray for the families who have been devastated by the evil unleashed this morning in Highland Park, for those who have lost loved ones and for those who have been injured.
"There are no words for the kind of monster who lies in wait and fires into a crowd of families with children celebrating a holiday with their community. There are no words for the kind the kind of evil that robs our neighbors of their hopes, their dreams, their futures.
"We must — and we will — end this plague of gun violence."
Responding to the Highland Park shooting, President Joe Biden said in a written statement: "Jill and I are shocked by the senseless gun violence that has yet again brought grief to an American community on this Independence Day."
News of the shooting spree in Highland Park prompted other suburbs to cancel their Fourth of July celebrations.
Sisters Christina Sendick, 20, and Angela Sendick, 22, showed up late for the parade, as people ran, some screaming, others bleeding. They grew up near Waukesha, Wis., where someone drove a sport-utility vehicle into a Christmas parade crowd last November, killing six people and injuring 62 others.
"It's just crazy no one can figure out how to put a stop to all this," Angela Sendick said.
Former Obama White House adviser David Alexrod tweeted that someone he knew was at the parade, writing: "A friend took his kids to July 4th Parade in Highland Park today. His son has special needs. When shots rang out, they ran for their lives, the dad pushing his grown son's wheelchair —which at one point tumbled over. On America's day, what has become a sickeningly American story."
A friend took his kids to July 4th Parade in Highland Park today. His son has special needs.
When shots rang out, they ran for their lives, the dad pushing his grown son's wheelchair–which at one point tumbled over.
On America's day, what has become a sickeningly American story.

— David Axelrod (@davidaxelrod) July 4, 2022
Contributing: Zack Miller, Frank Main, Sophie Sherry, Mitch Armentrout
This is a developing story. Check back for updates.