DANVILLE — Last summer's demolition of the Cannon school building in Danville destroyed a notable reminder of Joseph G. Cannon, the longtime Danville congressman and House Speaker. Now there's a campaign to name another Danville building after Cannon. 
A citizens committee submitted more than 500 petition signatures last week, asking the Vermilion County Board to name the county administration building after Cannon.
State Representative Mike Marron (R-Fithian) says it's an appropriate choice because the Renaissance Revival building at 201 North Vermilion Street in downtown Danville first opened as a federal post office and courthouse in 1911, during Cannon's time as U-S House Speaker. Most federal offices had left the building by 2013, and Vermilion County offices have occupied the building since 2018.
"The building was built in Danville because of Joe Cannon," said Marron. "And so, I think celebrating Joe Cannon and the fact that one of the most influential and powerful speakers of the U.S. House of Representatives came from Danville is something we don't do enough of."
Cannon, a Republican, represented the Danville area in the U.S. House of Representatives from 1873 to 1923 (except for two terms out of office) and was House Speaker during the years fellow Republican Teddy Roosevelt was president.
Cannon was considered one of the most powerful House speakers in American history. Time Magazine, reporting on Cannon's retirement from Congress in its first issue in 1923, wrote:
Uncle Joe is something more than a politician with an age-record. He is the embodiment of a tradition, a political theory, a technique of party government and discipline that is fast perishing. He represents the Old Guard in the very flower of its maturity, in the palmy days of (President William) McKinley and (Ohio senator and McKinley ally) Mark Hanna, when 'a little group of willful men' did more than make gestures of government; they actually ruled Congress, shrewdly, impregnably, and without too much rhetoric.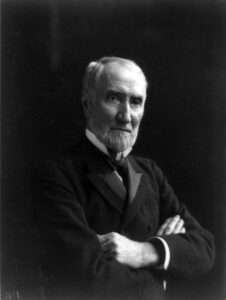 Tim Smith, a retired attorney who has written extensively on Cannon, says it's fitting to name the former federal building after the Danville lawmaker, because the everyday work that went on in such buildings is what he valued in government.
"He was a hardworking congressperson, who, as he once said, 'I was always interested in the business of government, not the trimmings'", said Smith. "And that's what makes the naming of the Vermilion County Administration Building so appropriate for Joe, because that's where the business of government is taken care of."
Smith is part of the citizens group that last week submitted petition signatures to the Vermilion County Board to rename the county administration building after Joseph Cannon. At least 500 signatures are required by the county board to consider the naming of buildings. Rep. Marron, a former Vermilion County Board chairman, estimates that around 580 were submitted. He says he expects county board action on the naming request by the end of the year.