CHAMPAIGN — Schools should change to fit their students' cultures, not the other way around.
That was one theme at Illinois Public Media's News, Brews and Beatz conversation on Monday night.
"Like we all know, if you're a person of color, you are constantly reprocessing what you're saying to make sure it fits in," said Booker T. Washington STEM Academy Principal Jaime Roundtree.
Illinois Public Media launched the News, Brews and Beatz series last year. Monday night's conversation focused on gun violence from an educator perspective. Four Black administrators from Champaign and Urbana schools spoke about how they try to fulfill student needs to prevent violence.
The administrators spoke about creating spaces at school where students feel safe and at home.
Roundtree told the full audience at Pour Bros. Taproom that giving students time without as many adult expectations helps them want to come to school.
At Booker T. Washington, that time comes during lunch and recess. The only rules are not to hurt anyone, destroy property or leave without permission, Roundtree said.
"Say what you want to say, feel how you want to feel, be where you want to be – in this space. And that's safe. Without judgement," Roundtree said.
Allowing students this freedom requires some learning on the part of Roundtree and his predominately white staff, he said.
White teachers, nonwhite students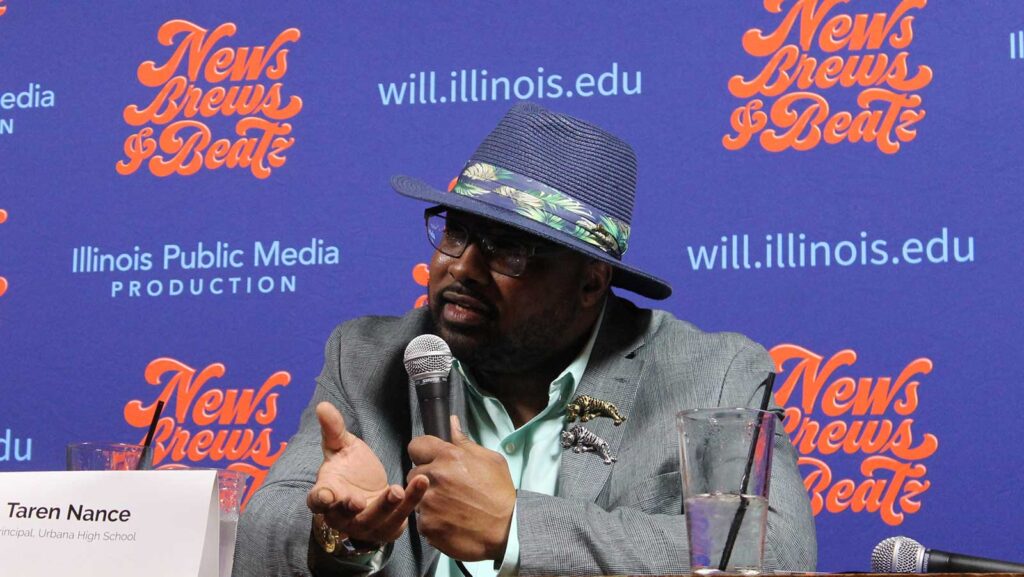 Similar to BTW, most students at Urbana High Schools are nonwhite, while the teachers are majority white.
New Urbana High School principal Taren Nance helps his teachers bridge those different experiences by bringing in his own perspective.
Nance explained his strategy at News, Brews and Beatz on Monday.
During his first few months on the job this fall, Nance sent out weekly newsletters with his own reflections on what he saw.
"I asked them not to come at it from their perspective but to put themselves in my shoes as a 36-year-old Black man, who has been traumatized by American public schools. That's not easy for a lot of people, but what I have seen is that a lot of teachers have come to talk to me one-on-one about culture, about race," Nance said.
You can watch to the full News, Brews and Beatz discussion on the Illinois Public Media Facebook page.
Emily Hays is a reporter for Illinois Public Media. Follow her on Twitter @amihatt.