CHAMPAIGN — A  shortage in blood donations locally has prompted a local blood bank to start offering rewards to try to encourage donations.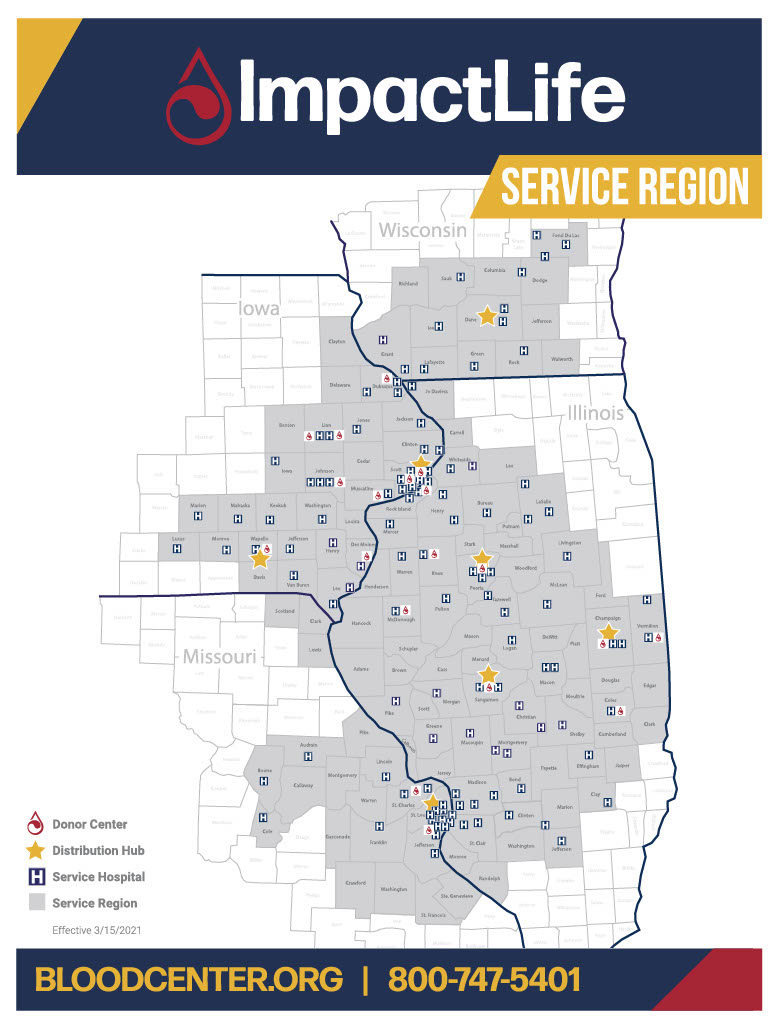 ImpactLife—a blood donation organization that provides blood to hospitals around Illinois, Iowa, Missouri and Wisconsin—said in a press release that it has only been collecting about 85% of the blood that hospitals need in the weeks since Memorial Day. 
Amanda Hess, director of donor and public relations for ImpactLife, says the organization normally keeps a five to seven day supply of blood products from all blood types, but in recent weeks, most of their stores have been at a less than three day supply. 
"I've been in this organization, in this business, for 14 years now, and I've never seen a situation where we've been at a one day supply of so many blood types for such an extended period of time."
According to Hess, this shortage is largely due to the pandemic, but it's been exacerbated by summer holidays, when donations tend to drop anyway. 
To combat this, she says that ImpactLife has started offering rewards for donors. This summer, there will be weekly drawings where three donors will be selected to receive $500 gift cards. Through July 11, all donors will receive a $10 gift card for Amazon.com, Dunkin' Donuts, Lowe's, Target, Starbucks or Walmart, with more incentives to come.
This shortage isn't just affecting the Midwest. According to Dr. Bruce Wellman, the medical director for donor services at ImpactLife and a pathologist at Carle Hospital in Urbana, the COVID-19 pandemic drastically reduced the amount of donations around the country at a time when transfusions started trending upward. 
"Usage is higher, and we're headed into the summer. Summer is always a difficult month," says Wellman. "Previously, our donations were always supported by large groups from schools and things like that." 
Hess says that normally, high school and college students would provide about 20% of their donations, but with many schools going remote last year, they couldn't hold blood drives, and now that it's summer, schools aren't in session, so the blood reserves were already lower than usual. 
Because of shortages, some hospitals are having to postpone some procedures and delay non-essential transfusions, according to Wellman.
He says the leadership at Carle have already been in discussions about how to handle potential shortages and what thresholds would cause them to put those plans in motion but made sure to emphasize that the hospital is not currently lacking blood supplies. 
Hess says that only about 60% of the population is able to donate because of various restrictions, but she advises people who can't give blood to get involved anyway they can, from organizing drives to volunteering with ImpactLife to raising awareness on social media. 
For those who are able to give blood but have never donated before, Hess has this encouragement: ""People are often intimidated or anxious about trying to donate if they've never tried to donate before, and if I could help to alleviate their worry: It is one of the easiest ways to directly save someone's life."