CHAMPAIGN – Chase Brown picked up where he left off last season, rushing for 151 yards and scoring three touchdowns, as Illinois wore down the Wyoming Cowboys 38-6 in the season opener for both teams on Saturday. 
Brown ran for 1,005 yards a season ago, and looked every bit the part of the team's leading rusher in his 2022 debut.
The Illini started quickly, taking the opening drive 52 yards in just two plays, a 38-yard Brown run and a 14-yard Brown touchdown catch from quarterback Tommy DeVito for a quick 7-0 lead. 
Head coach Bret Bielema was thrilled with the fast start.
"We talked about starting fast, and we couldn't have asked for a better start," Bielema said.
Hear Illinois coach Bret Bielema's postgame press conference here.
Illinois' offense stalled a bit after that, with two punts and a missed Caleb Griffin field goal attempt on its next three drives. 
Wyoming was able to get on the board during that stretch with a 34-yard John Hoyland field goal late in the first quarter. Cowboys quarterback Andrew Peasley got his team in scoring range with a 37-yard keeper before the drive stalled. 
The Illini got on the board again early in the second quarter, with a six-play, 59-yard touchdown drive capped by an 11-yard touchdown run to make it 14-3 with 8:12 left in the second quarter. A Griffin 27-yard field goal would complete the first-half scoring, with Illinois holding a 17-3 advantage. 
Wyoming came out of the locker room for the second half, creating some big holes for running back Titus Swen. Again, the Cowboys drive stalled in Illini territory, and a Hoyland field goal from 46 yards brought Wyoming to within 17-6. 
That is as close as the Cowboys got. 
DeVito threw his second touchdown pass of the day, a six-yarder to sophomore Pat Bryant, to cap a 78-yard scoring drive and push the Illini advantage to 24-6 late in the third quarter. 
Brown added his third touchdown of the day on the first play of the fourth quarter from five yards out to salt the game away 31-6. That marked the end of the afternoon for both Brown and DeVito, as they earned some rest on the sideline for most of the last period. 
Brown said he was also pleased with his team's fast start, which he was a big part of.
"Explosive run, and then to complement that, a good throw by Tommy (DeVito), and just have to go up there and make the play," Brown said. "Happy with the way we started, but there's still a lot to work on."
Reggie Love added a 33-yard touchdown run, which may have been the highlight of the day. Love looked to be going down, but landed on top of a Cowboys defender near the left sideline and kept his balance to scamper in for the score. 
DeVito was efficient in his Illinois debut, as the transfer from Syracuse completed 27-37 passes for 192 yards and a pair of touchdowns and no interceptions. 
He said he was looking forward to getting on the field for his first game as an Illini.
"I had the brief ability to do it for the spring game, but now to have the stadium full with more people in it, it was a lot of fun," DeVito said.
Bielema said he was pleased with his quarterback's first start.
"I thought he did some things that don't go in the (score) book, that don't go in the newspaper, like getting rid of the ball on early downs, so we didn't end up in a negative yards situation," Bielema said. "I think he distributed the ball to a lot of players, I think they said 12 players caught passes today."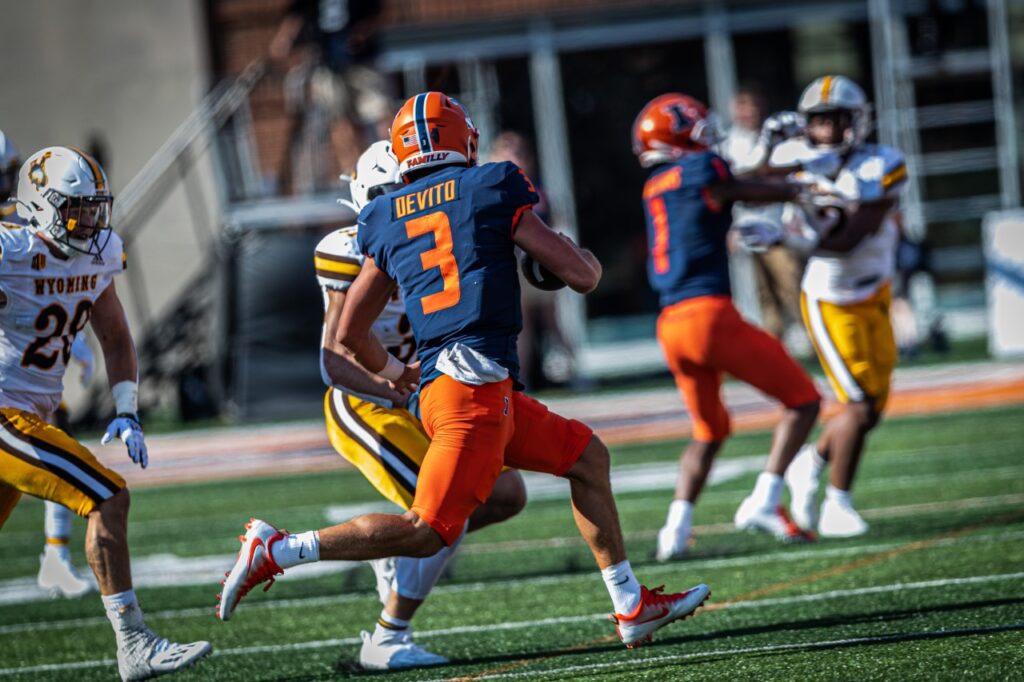 Wyoming struggled to get much offense started against a strong Illini defense, gaining just 212 total yards. Illinois didn't push the ball downfield with the passing game, but still gained 477 yards in total offense. This after a 2021 season where they struggled to move the ball consistently on offense.
Next for Illinois is a Friday night contest at Indiana on September 2. The Hoosiers didn't play this weekend and are coming off a 2-10 season in 2021. 
Follow Brian on Twitter @BrianMolineWILL