CHAMPAIGN – Staffing shortages persist at C-U at Home – which provides services to those living in Champaign-Urbana without a home. Two emergency shelters that were scheduled to open Monday in Champaign-Urbana are delayed due in part to a lack of staff.
The delay comes after the organization's main shelter closed for several months earlier this year due to a staff shortage.
C-U at Home has been fundraising to open the two emergency shelters to protect those living here without a home from winter weather. Champaign and Urbana city councils, as well as the county board, are helping fund the shelters.
The organization also recently brought on a new leader. Melissa Courtwright has advocated extensively for vulnerable populations – particularly older adults –  in both Champaign and Vermilion counties.  
Courtwright says staffing is an issue nationwide. And she says it's a big concern for C-U at Home going forward.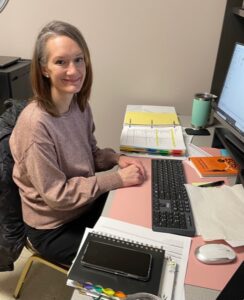 "We're offering flexible hours, a schedule where we're really working around people's availability," she says. "But yeah, I think everyone should expect staff shortages."
Courtwright did not say when she expects the shelters to open, but she says she appreciates the community support they've received so far.
"It's not an issue that C-U at Home stands in alone," she says. "We have amazing community church partners, we have individuals, and we also have people in positions of government that recognize this is an entire community issue."
The shelters are expected to be set up at two local churches — though Courtwright says they lack confirmation at one site. Once open, they hope to keep them up and running until mid-April. 
Illinois Newsroom's Dana Cronin sat down with Melissa Courtwright at the organization's home base, the Phoenix Center, located in downtown Champaign, to discuss these issues. Read and listen to their conversation below.
This interview has been lightly edited for clarity.
Dana Cronin: What's your vision for C-U at Home under your direction?
Melissa Courtwright: The primary, I think, vision or mission for C-U at Home really is not changing. So that's to engage the community, to serve the most vulnerable. What I think is changing is some of the ways that we operationalize that and we're still really in the beginning stages of how that will look. But right now, one of our big focuses is opening the emergency winter shelter. So we do want to make sure that we're on mission and serving that vulnerable community through the winter months. But I think that, you know, again, the mission's the same. It's just looking at how do we strategically utilize our programs to serve the vulnerable community?
DC: So I know that recently a top priority has been getting these low-barrier shelters set up. Can you talk a little bit more about that type of housing and why you feel it's important?
MC: I think that housing is absolutely important and I would say vital to the vulnerable population that it's going to serve. A lot of clients are ready for services that we provide here. So they've taken steps, for example, to become sober and they're really looking at what is the next thing they need to do. And we're here to house them and provide case management services around that. But there's also some in the population that are not ready for those steps. And a lot of those adults, you know, have a background with trauma and it's not an easy first step to take. And so that emergency shelter really allows those people who aren't ready for that step to get out of the cold this winter, to interact with somebody in a positive way, to understand that we are there to support them. And, you know, whenever they are ready, or if they are ready, to take a next step that there are options for them.
DC: I know that C-U at Home has also experienced some staffing shortages this year. Do you expect that problem to continue?
MC: Unfortunately, I would say everyone should expect that problem to continue. It's not a C-U at Home issue. It's a problem nationwide. There's a staffing shortage. But I think what we're trying to do specifically with the emergency shelter is to be as flexible as we can with what staff are willing to come on board with that. So we're offering flexible hours, a schedule where we're really working around people's availability. But yeah, I think everyone should expect staff shortages.
DC: What are some things that you're worried about? What are some of the challenges you're anticipating over the next year?
MC: Well, I think you mentioned one, which is staffing. That's obviously a concern that's on everybody's mind. I think another is obviously, and it falls under that a little bit, but the unpredictability of COVID. You know, what can we anticipate? What can we expect? What do we do when people are quarantined? Will there be another variant? I mean, obviously the list could go on. But I think that's really it. I feel very, very thankful for individual community support, church support support right now for the emergency shelter. So I think that, you know, we're coming in in a strong place in those areas. But absolutely we have to have staff in place to make this work.
Dana is a reporter for Illinois Public Media. Follow her on Twitter @DanaHCronin