CHAMPAIGN – Carle Foundation Hospital will drop Aetna Medicare in January.
That's bad news for Bridget McGill, an Urbana resident who relies on Aetna Medicare Advantage to afford her monthly prescriptions.
"I really don't want to change insurance carriers. Are we going to pay if we go to a hospital, or are we going to pay for all the prescription expenses? It's six of one, half a dozen of the other," McGill says.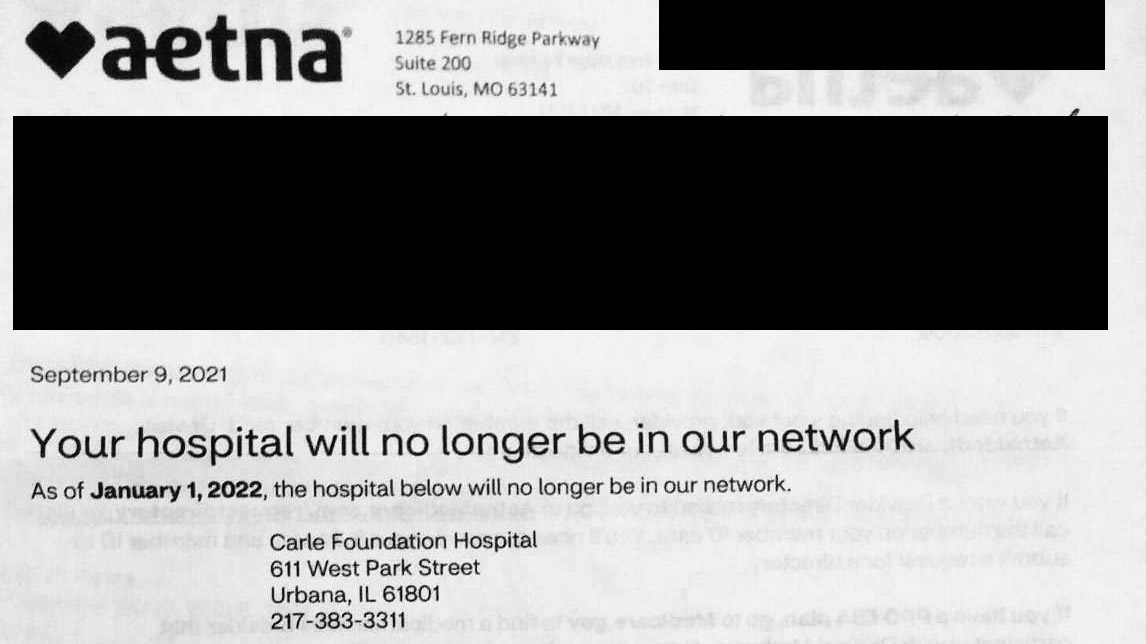 Medicare is a federal insurance program for those ages 65 and up or who have certain disabilities. Many Medicare recipients choose to supplement with private insurance, like Aetna, to cover prescription drugs or lower their out-of-pocket cost.
McGill received a letter in the mail from Aetna about two weeks ago informing her that the company's Medicare Advantage will no longer be accepted at Carle Foundation Hospital. This means that the hospital will go out of the company's network and her costs for hospital and doctor's visits will go up.
The letter provided two alternative hospitals for McGill: OSF Heart of Mary Medical Center in Urbana and Kirby Medical Center in Monticello.
"Kirby Medical Center is out in the boonies. It's not even in town," McGill notes.
Luckily for McGill, now is the time of year when she can switch insurers if she wants to at Medicare.gov.
Carle Health explained that the hospital has decided to part ways with Aetna Medicare because the product did not cover all Carle locations anyway – as in, Carle Physician Group and Carle Richland Memorial Hospital already did not accept Aetna Medicare.
"This change is happening because the previous Medicare Advantage HMO through Aetna did not include complete access to the entire Carle Health system," says Carle Health spokesperson Kaleb Miller. "The Carle Health system works with insurance providers to serve the care needs of the diverse communities we serve. We work closely with insurance plans to ensure robust coverage options are available."
Carle will continue to take other Aetna products, as well as other private Medicare insurers.
Aetna, for its part, said that it was sorry to see Carle Foundation Hospital go out of network.
"Aetna and Carle Foundation have a longstanding and cooperative relationship. In keeping with their overall strategy for Medicare Advantage plans, Carle Foundation has decided to end its participation in Aetna' Medicare Advantage plans as of December 31, 2021," Aetna's statement reads. "While we would have liked Carle Foundation to remain in network for our Medicare Advantage plans, we have a network of health care providers that can meet the vast majority of our members' health care needs in the communities where Carle Foundation operates."
Health Alliance dominance
Parting ways with Aetna Medicare may leave Carle's own insurance company, Health Alliance, with an even bigger role in town.
This is not necessarily a bad thing, according to Claudia Lennhoff, who leads the consumer service and advocacy organization Champaign County Healthcare Consumers.
"On the one hand, you can see it as a monopoly. On the other hand, you would expect prices to come down. It will be interesting to see which direction does it go in," Lennhoff says.
Lennhoff herself expects to see the latter option. As the reach of Health Alliance grows, she says, the larger number of healthy customers should counterbalance the costs of high-needs customers.
In addition, Health Alliance is a local company, and Lennhoff says local companies tend to be more responsive to consumers and more receptive to public pressure.
At the time of publishing, Carle had yet to detail exactly which private Medicare insurers it will take come January.
The two Carle locations that do not accept Aetna Medicare currently do accept different mixtures of Beacon Hill, IlliniCare, Meridian Health Plan, United Healthcare, and the system's own Health Alliance. The Urbana-based Carle Foundation Hospital takes some of those providers, in addition to Beech Street.
How to switch
These insurance-provider partnerships shifts happen every year. That's why the Medicare open enrollment period from Oct. 15 through Dec. 7 is particularly important.
Lennhoff recommends that all private Medicare recipients re-check their coverage at this time of year. Their insurer might no longer cover their prescriptions or doctors – or hospital, in the case of McGill.
Customers can shop for options at Medicare.gov. Champaign County Healthcare Consumers also provide free help online or via phone at (217) 352-6533.
Emily is a reporter for Illinois Public Media. Follow her on Twitter @amihatt