CHAMPAIGN – On the morning of January 16, Melanie Keil discovered a rock in the driveway of her home. Attached was a note with several websites under the title "No White Guilt."
Keil, who is white and married to a Black man, believes her mostly-Black Champaign neighborhood was targeted.
"I do think this was a coordinated effort that it was meant to be a statement in advance of Martin Luther King Day in the Martin Luther King Jr subdivision," says Keil.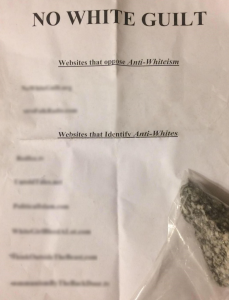 Keil says the phrase "No White Guilt" is a rallying cry associated with white supremacy.
The Southern Poverty Law Center, which tracks the movements of hate organizations, wrote in an article that there's a white nationalist podcaster and vlogger known by the phrase. Last week, there were reports of the flyers appearing at homes in Whitestown, Indiana and Montgomery County, Pennsylvania.
Keil says she's never seen racist literature like this before. She says some of the residents of this mostly Black neighborhood are very concerned.
"That style of messaging definitely hit a sore spot with some people who have to deal with racism and white supremacy their entire life," says Keil. "To have that message thrown out at night into their driveways and sidewalks I think was frightening."
In a statement, Champaign Public Information Officer Tom Yelich says they are aware of the flyers. He sent the following statement to Illinois Newsroom:
We are aware of the fliers that have been circulated in the Martin Luther King neighborhood. The Champaign Police Department condemns any speech intended to degrade, intimidate or incite violence against any person or group of people. There is no place in our community for hatred towards anyone based on race, ethnicity, national origin, religion, sexual orientation or disability.

Even if no specific threat or criminal conduct can be proven under the rule of law based on freedom of speech, the Department would like to know the individuals responsible. We have taken an initial report on the matter, but limited information has been made available to us. We do encourage anyone with knowledge of the incident to contact us so it can be looked into further. Residents are also reminded to always report any suspicious activity to police.
Keil has lived in the neighborhood for only a few years but her neighbors say the flyers have been placed there before.
WCIA-TV reports similar flyers were distributed in East Peoria and Tuscola in recent years.