CHAMPAIGN — Dozens of parents rallied on Monday evening at the Unit 4 Board of Education meeting in Champaign.
They have joined under a new group called "Unit 4 Families for a Smarter Solution." The district is currently weighing how to reassign students next year to desegregate elementary schools, and the group largely opposes that change.
Many have their own ideas for better ways to raise the learning outcomes of vulnerable students.
Alvaro Molina has one student at an International Prep Academy. He's from Nicaragua and founded a free school there.
"What we've done in Nicaragua is we found a sponsor that can stick their hands in their pocket," Molina says. "We have very small class sizes, plenty of teachers and plenty of resources, considering that we live in the one of the poorest countries in the face of this planet."
He would like to see smaller class sizes in Unit 4 schools and additional resources going to Black and Latino schools – including raising taxes if necessary. He sees these steps as more important than moving students.
Why does Unit 4 want to desegregate?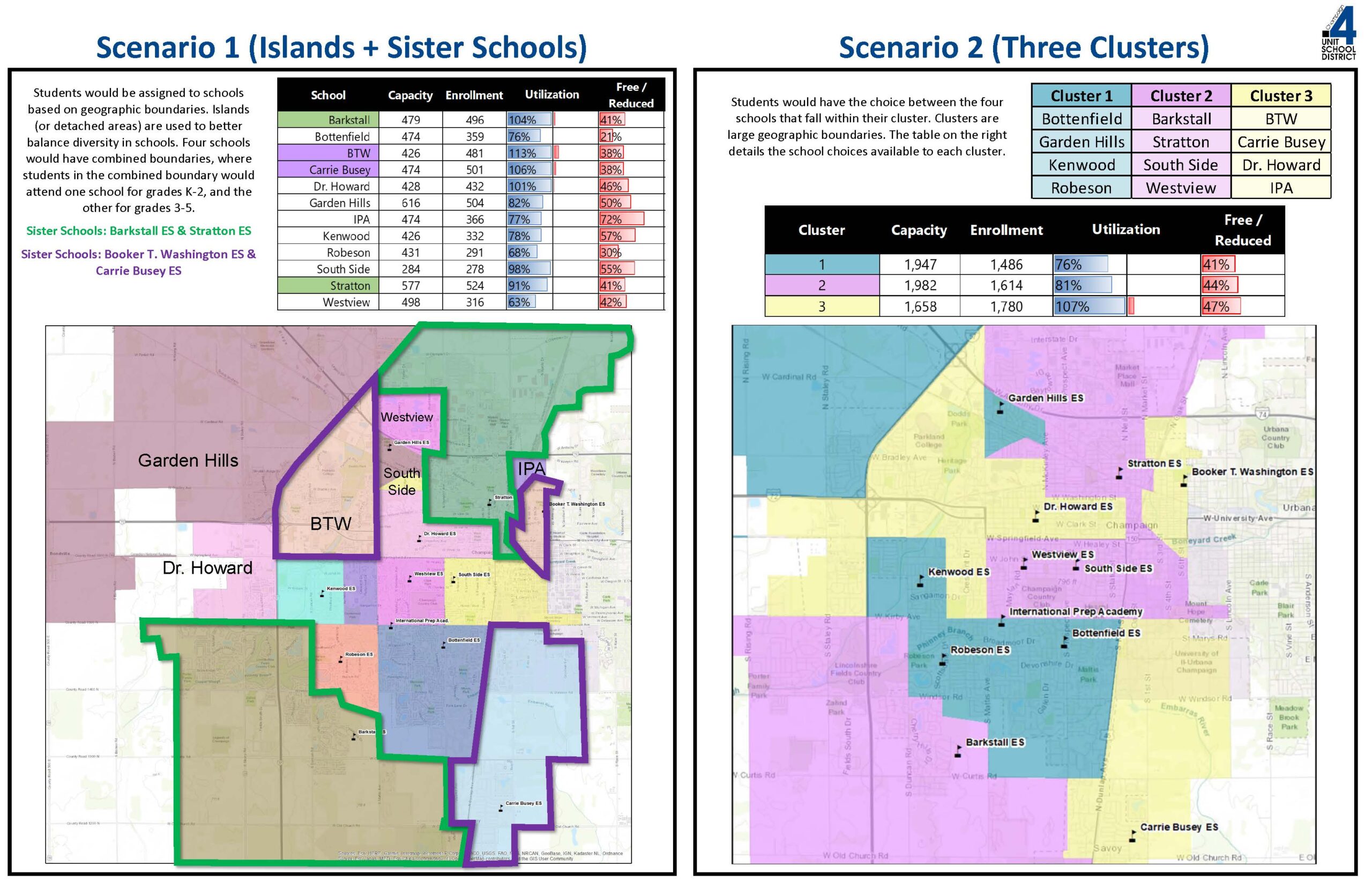 The Unit 4 school board has hired a firm called Cooperative Strategies to change its current school choice process to improve diversity and transportation throughout its elementary schools.
The firm presented two options at the last Board of Education meeting. One would be similar to neighborhood schools, with certain, particularly segregated neighborhoods partnered together. Another would be similar to the choice model, but families would choose between four schools rather than 12.
Cooperative Strategies is collecting feedback on the options by survey and small group sessions throughout the month of October. The Unit 4 school board plans to vote on an option in December.
When Superintendent Shelia Boozer emailed parents information about the Cooperative Strategies process two weeks ago, she wrote that the district hoped to both desegregate schools and close achievement gaps.
"Even sweeping reforms, including a shift to the Schools of Choice model as part of an eight-year consent decree, have resulted in little to no progress in decreasing minority group isolation, closing pervasive opportunity gaps between white and black students, and increasing achievement rates for other historically underserved student groups, including multilingual learners and students with disabilities," Boozer wrote.
In a new email on Monday, Boozer wrote that the goal of this process is just desegregation.
"Cooperative Strategies is a national firm with experience crafting models to diversify schools. While they care about student achievement, that is not the purpose of their work on this project. As superintendent, I will continue to focus my efforts on strong outcomes for every student regardless of the decisions the Board of Education makes regarding how students are assigned to specific campuses," Boozer wrote.
Unit 4 declined to comment on this new messaging.
Savoy parent Gina Lee-Olukoya also attended the rally. Her daughter went to a Unit 4 elementary school and now goes to a private middle school.
She believes desegregation is important as a way of educating students about a diverse world. She doesn't see further desegregation in Champaign as necessary for minority student achievement.
"[There are] communities of color who have been educating their communities for years with awesome outcomes that have led those kids to be prepared to go to college and maybe choose to go to historically Black colleges," Lee-Olukoya says.
Which voices will be heard?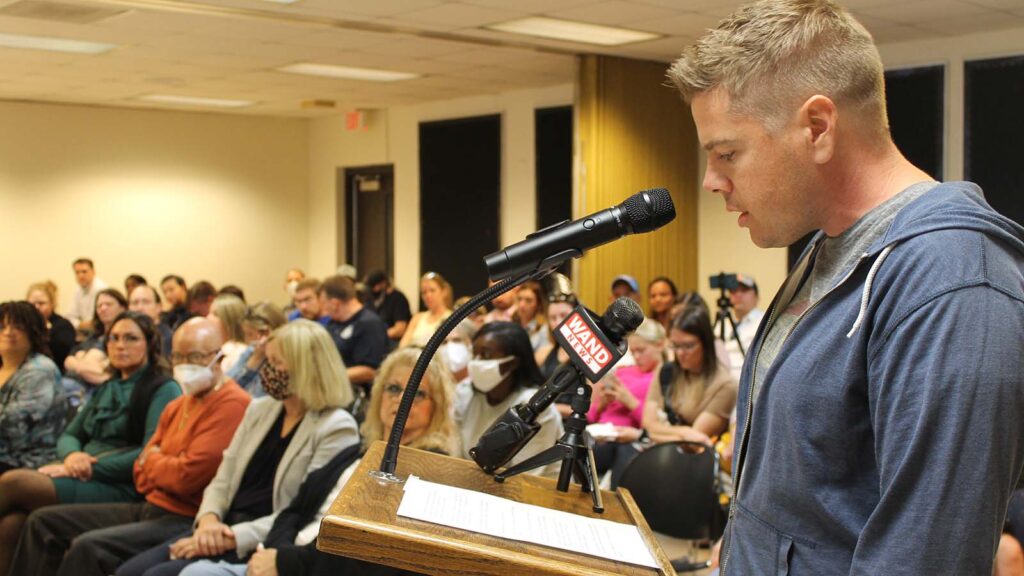 White families made up the majority of those marching with the group's "Chaos Not Change" signs and speaking during the Board of Education meeting's public comment period. Over and over, they urged the board not to "uproot" students next year.
Cynthia Bruno has helped organize Unit 4 Families for a Smarter Solution. She has a first grader at South Side Elementary School.
"As a group, we are open to all people joining us. And our group, as we stated tonight, specifically supports changes that would close the achievement gap between Black students and white students," Bruno says.
Bruno says her group's goal is to get involved in the process for deciding what happens next year and making sure that marginalized groups are well represented and listened to in that process.
Some parents and community leaders not affiliated with Unit 4 Families for a Smarter Solution spoke during Monday's Board of Education meeting.
Tracy Parsons leads the Champaign County Community Coalition, a group of nonprofit, education and other leaders focused on combating community violence. He also works in the city of Champaign's Equity and Engagement Department.
Parsons also helps organize Illinois Public Media's News, Brews and Beatz conversations about community violence.
Parsons says both the city and the coalition are willing to help Unit 4 reach marginalized families and neighborhoods.
"The burden of integration, inclusion and diversity has fallen on the backs of the Black community and the poor communities. We hope that we don't repeat this process," he says.
He has long been involved in activism by Black families to achieve racial equality in Unit 4 schools. He says he was among those who "had to settle" for Unit 4's current Schools of Choice system and says it's time to reconsider it.
"There is no perfect model. No matter when you do it, someone is going to be impacted in a negative way. So these families that want to fight for their time, you can't listen to that," Parsons says. "We have to think about our entire community."
Emily Hays is a reporter for Illinois Public Media. Follow her on Twitter @amihatt.