CHAMPAIGN – More than 350 Champaign teachers rallied on Monday over contract negotiations, and they will vote on Wednesday about authorizing a strike.
At issue — whether Unit 4 should extend the elementary school day.
Contract negotiations between the Unit 4 School District and the Champaign Federation of Teachers have stalled in recent weeks. The union is the most concerned about the district's proposal to extend each elementary schooler's day by 50 minutes, starting in the fall of 2023.
"It's not about the money that's being offered to us. It's about the fact that we don't have a very solid plan for what the extended school day is going to look like," said CFT Co-President Lisa Milkereit.
In particular, teachers want to know what hours they will work and how busing will work. The length of the work day affects teachers' own childcare plans, Milkereit said.
Unit 4 responded through a website-wide alert that the district will seek input for school-specific schedules and transportation plans after negotiations are over. The district also said that this move is a response to past requests from teachers and parents for longer lunches and more instructional time.
"We've long heard from parents, teachers, administrators, and others in the community that Unit 4 students have less instructional time, shorter recess and lunch periods, and less time to connect with their friends compared to other districts," the alert read.
Teachers question whether the extension will mean "more of the same"
School day length has become such a hot-button topic in Champaign that more than 350 teachers and parents braved below-freezing temperatures to demonstrate.
Teachers clutched signs asking for Unit 4's plan and chanted that they wanted a contract.
"When do we want it?" asked a teacher with a megaphone.
"Now!" responded those marching behind.
Teachers have been working without a contract this entire school year.
The union has a variety of ideas for alternatives to the extended school day, from curricula changes to yearlong school.
Mike Sitch is the other CFT co-president. He and other teachers at the rally questioned whether a longer school day will close achievement gaps.
 "Why do we want to spend more time doing more of the same, when one of the biggest issues we talked about pre-pandemic was engagement with our students?" Sitch said.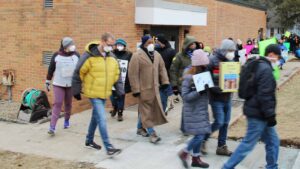 Christopher Schultz teaches English and science at the alternative high school, Novak Academy. He would like to see curricula updated with teacher input.
"We need to start looking at other things curriculum-wise, in terms of the colonization of that curriculum, and how do we dismantle that," Schultz said.
Current curricula do not necessarily teach students effectively, he said.
Unit 4 did propose one approach to more effective teaching — one hour of professional development each Wednesday, focused on improving outcomes for targeted groups of students like English learners and students of color.
One Wednesday a month, teachers would pursue their own professional learning through a plan they submit to administration. The CFT would help the administration create a template for this learning plan.
Emily Hays is a reporter for Illinois Public Media. Follow her on Twitter @amihatt.