ANN ARBOR, Mich. — The Illinois men's basketball team kept its hopes for a Big Ten Championship alive with a 93-85 win at Michigan Sunday afternoon.
A tight 82-80 game hung in the balance when Coach Brad Underwood decided to keep the faith in his Big Ten preseason player of the year, Kofi Cockburn, three days after Cockburn's worst outing of the season.
Underwood trusted his star center to make a play against another unanimous all-conference center, Michigan's Hunter Dickinson.
"We just set a little horn set, dribbled off him (Cockburn), rolled him, popped Jake (Jacob Granderson) with a guard guarding him. That's advantage us," Underwood said. "Just let Kofi roll down the the paint. We told him, 'if they collapse, kick it, and if not, you're one-on-one,' which he ended up being, 'just make your low explosive move, jump up and shoot your jump hook, bada bing.'"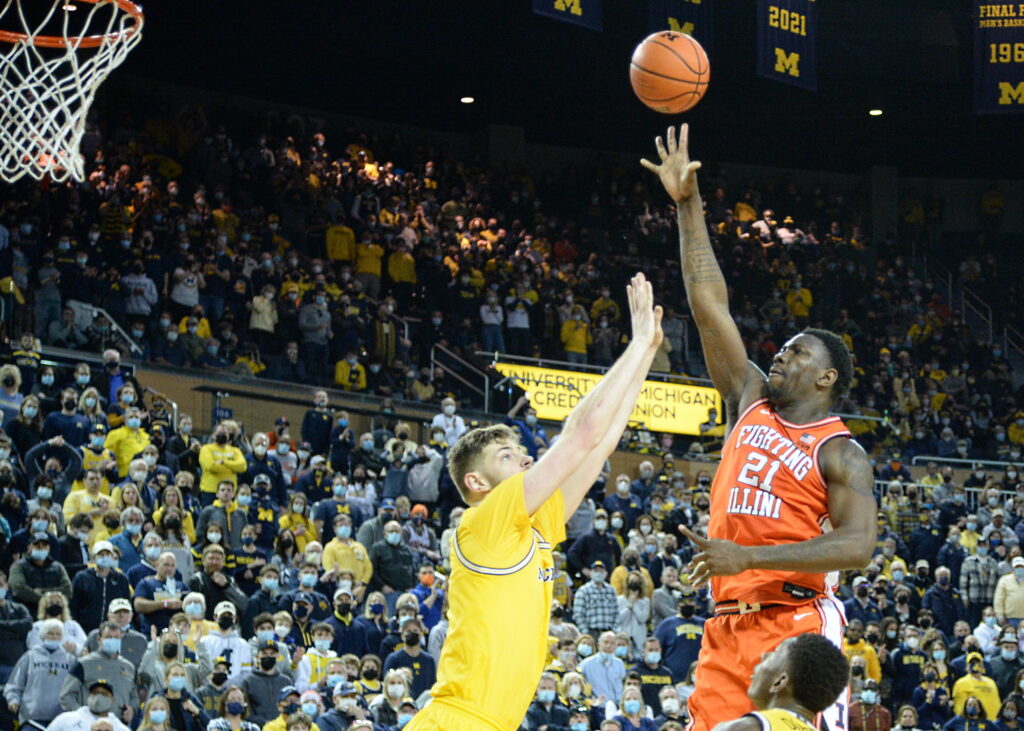 Alfonso Pummer scored 26 points on 6-9 shooting from three-point range. Twenty-three of those points came in the first half. After the Michigan defense adjusted during the break, Illinois stopped seeking shots from behind the arc, and relied instead on Cockburn to produce. The Jamaican center delivered, scoring a game-high 27 points, nineteen of which came in the second half.
For Cockburn, winning the game was just part of the mission. One week following a post-game brawl between Michigan and Wisconsin, Cockburn made an effort to shake hands and offer kind words to Dickinson, while a nationwide CBS audience was still watching.
"At the end of the day, people are human beings," Cockburn said. "Hunter's a whole different person than most people might see. I'm a whole different person than most people might see. At the end of the day, it's just about having humility, respecting the other person, just letting them know especially after a loss like that, 'hold your head up, you're going to be good.'"
Hear Brad Underwood's full postgame comments here.
Trent Frazier added 17 points for the Illini, including a game-sealing three-pointer following Cockburn's floater.
Michigan graduate student DeVante' Jones scored a team-high 25 for the Wolverines. Freshman Caleb Houstan added 21. The Wolverines are now 9-8 in the Big Ten and 15-12 overall. They were without head coach Juwan Howard, who was suspended the final five games of the regular season following that fight last weekend. Assistant Phil Martelli filled in for Howard on the bench.
Illinois improves to 20-8 (13-5 Big Ten). Tuesday's match-up between Purdue and Wisconsin will determine the fates of all three challengers for the conference title. Both the Boilermakers and Badgers are one game ahead of the Illini in the league standings.
Next for the Illini is a home game on Thursday vs. Penn State.
Rob McColley covers University of Illinois sports for Illinois Public Media.