CHAMPAIGN — Snow and ice couldn't stop the much-anticipated match-up of first place Big Ten teams last night in Champaign. No. 18 Illinois beat No. 11 Wisconsin 80-67 on a night that saw the Badgers arguably colder than the prevailing winds.
Junior center Kofi Cockburn powered the Illinois offense with a game-high 37 points. Cockburn drew 10 fouls during his post touches, and made 5-9 free-throws. He also grabbed a team-high 12 rebounds for his 40th career double-double, one shy of the Illini school record. 
Cockburn said the key to his offensive output was having outside shooters available when Wisconsin double-teamed him in the post. He singled out forward Jacob Grandison, who totaled four assists and 3-6 three-pointers.
"Jake's (Grandison) a great cutter," Cockburn said. "He gets open whenever he sees that happen, whenever his guy doubles off him, you know, it's just about reading the defense, being composed, and not rushing and turning the ball over."
Listen to postgame comments from Illinois players Kofi Cockburn, Jacob Grandison and Da'Monte Williams here.
Illinois head coach Brad Underwood said holding Wisconsin to 3-24 shooting from the three-point arc was a key to victory.
"One of the biggest keys was they shot a lot of jump shots, especially after the first 12 minutes," Underwood said. "It's a little harder on the road making jump shots. I would like to think our defense had something to do with that."
Hear Illinois head coach Brad Underwood's postgame comments here.
Point guard Andre Curbelo returned from COVID health and safety protocols and played eleven minutes, scoring seven points, dishing out two assists and committing two turnovers.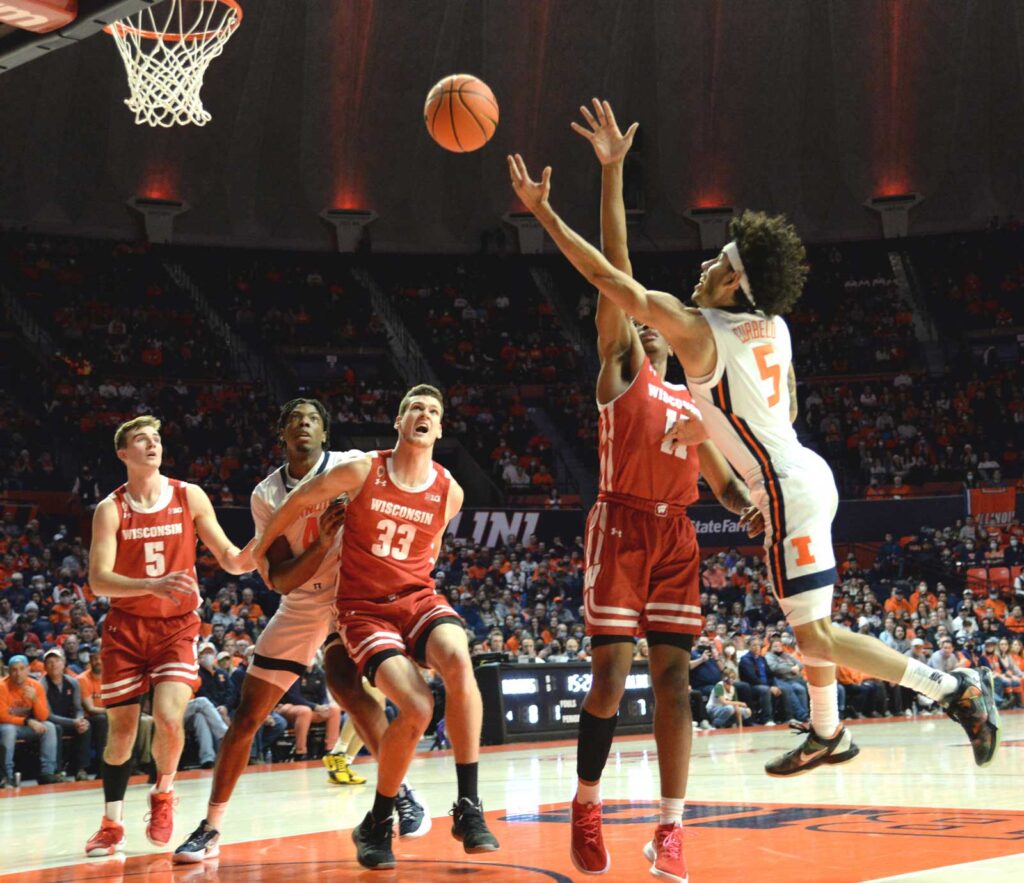 All-Big Ten candidate Johnny Davis led the Badgers with 22 points and 14 rebounds, but he needed 19 shots to get those 22 points. He converted 5-19 from the floor, 1-5 from three-point range and 11-14 from the free throw line.
Listen to Wisconsin head coach Greg Gard's postgame remarks here.
Tyler Wahl was Wisconsin's other double-digit scorer. He scored 12 points in the first half, but only two in the second. Underwood said his team's halftime adjustments made it harder for Wahl to receive the ball in a good position to score.
Next up for the first-place Illini is a road game at Indiana. The Hoosiers are 7-4 in the Big Ten, 16-5 overall. Tip time is 11am Saturday, and the game will be televised on ESPN.
Rob McColley covers University of Illinois sports for WILL.