DECATUR – Workers cut down a large tree at Rock Springs Conservation Area in southwest Decatur. They're clearing invasive tree species to make way for re-seeding something that is now rare in Illinois—native tallgrass prairie.
Less than one-tenth of 1% of Illinois' native prairie still exists. According to the Illinois Department of Natural Resources, Illinois once had 22 million acres of prairie, and that number is now down to 2,500 acres.
But some conservationists, like those at the Macon County Conservation District, are trying to change that. The district started a project this week that aims to restore 3-and-a-half acres of land to what it was like hundreds of years ago.
"It's impossible to know exactly what it looked like pre-European settlement, so it is an approximation," says Shane Ravellette, the Operations Manager with the conservation district. "But we can look at the historic record, we can look at what people wrote, the way people described it, and we can have an idea that we're getting kind of close to it."
The goal of the project is to help restore some of the land that was altered during European colonization, when settlers planted non-native species and used the soil for farmland.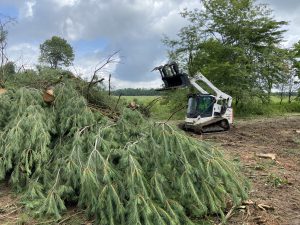 At Rock Springs Conservation Area, some of the non-native plants and trees have become invasive, making it difficult for other species to thrive. Those include black locust trees, bush honeysuckle and autumn olive.
The natural area is also the site of an old glass dump dating from the first half of the 20th century. Ravellette says it's likely someone built a home on the grounds and had used the land to collect and dump discarded glass in the 1940s and 50s. Clearing the glass will help make the ground more livable for native plants.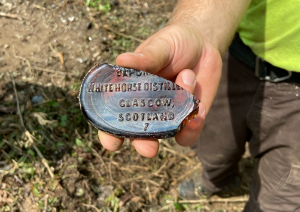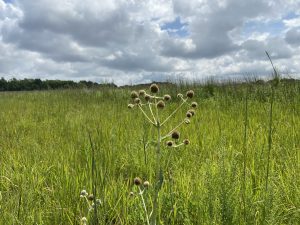 Like most conservation work, the project requires a nuanced understanding of how the area transitions from wetlands to prairies to savannas, and how native wildlife interact with those ecosystems. In addition to prairie, Illinois was once the site of oak tree savannas.
"Everyone thinks of savannas as being in Africa. Well, we had them here, there's no doubt about it," Ravellette says. "[They involve] sparsely clumped trees, usually a certain type of tree, with grass intermingled. So it might be 30, 40, 50 or more feet between each tree. It's not a forest—it's a transition point between the open prairie and the forest."
Ravellette says once the glass dump is cleaned and the invasive tree species cleared, the district will begin re-seeding native savanna oak trees and tallgrass prairie this fall.
"What we're trying to do here is return a certain balance so the right species in the right place can exist here in Central Illinois," he says. "That's the guiding principle for the entire district, and it's the entire principle for most restoration efforts throughout the country. So that the species that do exist—animals, plants, insects, can continue to exist in the place that they belong—with the environment they belong."
The project could take up to a year to complete, and it could take decades until the native plants and trees fully reproduce and recover in the area.
Lecia Bushak is a reporter at Illinois Public Media. Follow her on Twitter @Lecia_Bushak.