Pritzker Issues Disaster Declaration To Fight COVID-19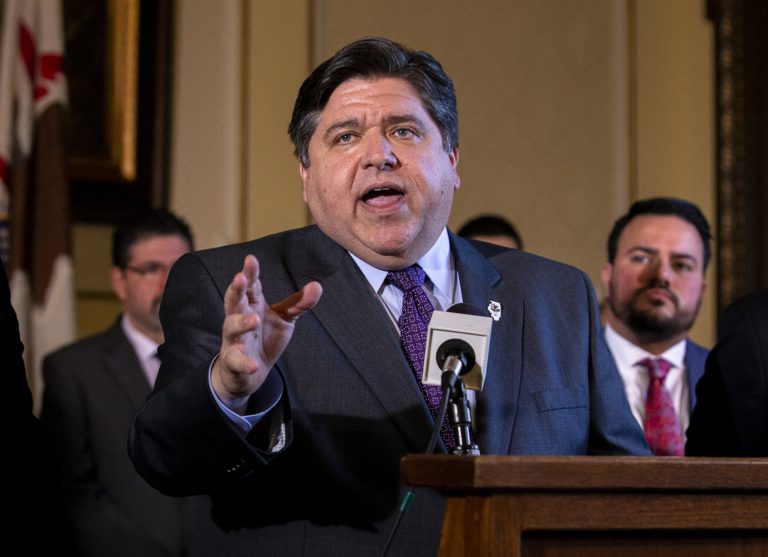 March 9 7:52 p.m. — Gov. J.B. Pritzker has announced four new cases of COVID-19 in Illinois and issued a disaster proclamation that will help the state respond to the potentially deadly virus. Chicago Public Health Commissioner Dr. Allison Arwady said Monday that two of the new cases involve relatives of a patient diagnosed with the flu-like malady last week. The other two involve a woman who traveled to Illinois from California and a woman who recently returned from an Egyptian cruise. – Associated Press
Trump Wants Payroll Tax Relief To Calm Virus-Spooked Markets
March 9 7:17 p.m. — President Donald Trump says his administration will ask Congress to pass payroll tax relief as he looks to calm financial markets' fears over the impact of the coronavirus epidemic. Trump told reporters Monday that the administration is seeking "very substantial relief." Trump stepped forward with the contours of an initiative after markets dropped sharply and as the outbreak spread. Several Trump confidants in Congress disclosed they were isolating themselves after potential exposure to the virus. One traveled with the president from Florida on Air Force One on Monday. – Associated Press
Italian Premier Locks Down Entire Country To Stop Virus
March 9 6:51 p.m. — Italian Premier Giuseppe Conte has put his entire country on lockdown to combat the coronavirus. The move announced Monday bans all but the most important travel and puts the final kibosh on social gatherings after Italians failed to take previous warnings to heart amid skyrocketing infections. Two days after imposing the same strict measures on a quarter of the country, in the hard-hit north, Conte urged all 60 million Italians to stay home. The only travel allowed will be for proven work reasons, for health conditions or other cases of necessity. The restrictions take effect Tuesday and last until at least April 3. – Associated Press
NBA, MLB, NHL, MLS Closing Locker Rooms Amid Virus Scare
March 9 6:48 p.m. — The NBA, NHL, Major League Baseball and Major League Soccer are closing access to locker rooms and clubhouses to all non-essential personnel in response to the coronavirus crisis. The leagues made the announcement in a joint statement Monday night. The leagues said they made the decision "after consultation with infectious disease and public health experts." They say the changes will be temporary and that media will still have access to players. – Associated Press
Illinois COVID-19 Cases Grow To 11; Disaster Proclamation Declared
March 9 5:00 p.m. – Illinois now has 11 confirmed cases of COVID-19. On Monday afternoon, Governor JB Pritzker announced four new cases of the coronavirus in the state.  He also formally declared a disaster proclamation. Click here to read the entire story.
US Warns 7 Companies Over Fraudulent Coronavirus Claims
March 9 3:38 p.m. – Federal regulators are warning seven companies to stop selling soaps, sprays and other concoctions with false claims that they can treat the new coronavirus — or keep people from catching it. There are no approved treatments for the virus, and none are likely to be ready for months or years. The Food and Drug Administration and the Federal Trade Commission sent warnings on Friday to the companies, which are based in the U.S., Canada and the U.K. The warnings were announced Monday. Nearly all the companies complied by then, with mentions of the virus or products to treat it removed from their websites. – Associated Press
Dow Drops 7.8% As Free-fall In Oil, Virus Fears Slam Markets
March 9 3:25 p.m. – The Dow Jones Industrial Average sank 7.8%, its steepest drop since the financial crisis of 2008, as a free-fall in oil prices and worsening fears of fallout from the spreading coronavirus outbreak seize markets. The sharp drops triggered the first automatic halts in trading in two decades. The price of oil plunged nearly 25% after Saudi Arabia indicated it would ramp up production after Russia refused to production cutbacks in response to falling demand. Europe fell into a bear market. U.S. stocks are now down 19% from the peak they reached last month. Bond yields plumbed new lows as investors sought safety. – Associated Press
Cruise Ship Struck By Coronavirus Pulls Into California Port
March 9 3:17 p.m. — A cruise ship with a cluster of coronavirus cases has arrived at a port in the San Francisco Bay Area after it was forced to idle off the California coast for days. The Grand Princess pulled into the Port of Oakland on Monday. It's unclear how many travelers would get off the ship Monday. The captain told passengers that not everyone would. Americans will be transported to military bases in California, Texas and Georgia to be tested for the COVID-19 virus and quarantined. People from other nations will be whisked home. About 1,100 crew members will be quarantined and treated aboard the ship, which will dock elsewhere. – Associated Press
Champaign-Urbana Health Care Providers Preparing For Coronavirus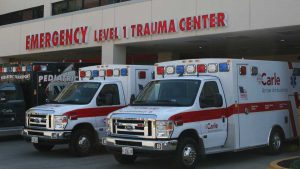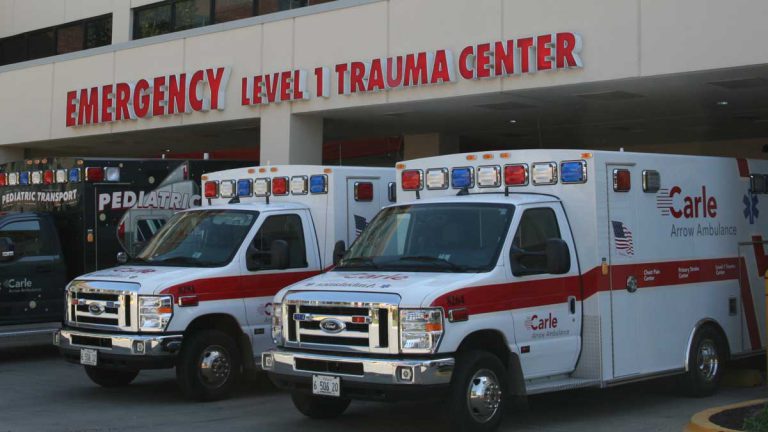 March 9 6:00 a.m. – Health care providers in east-central Illinois say they're prepared for the possibility of coronavirus coming to central Illinois. Click here to read the entire story from Illinois Newsroom Health Reporter Christine Herman.
Illinois: 1st COVID-19 Community Transmission Case, 7 Total
March 8 — Health officials say a Chicago resident who has been hospitalized in serious condition is believed to be the first case community transmission of COVID-19 in Illinois. The case announced Sunday at a news conference is the seventh overall case in Illinois. City health officials say the patient, a man in his 60s, sought medical care. The first six cases, including two married couples, involved people who had traveled. Health officials say their investigation into the case continues, but it appears his illness hasn't been linked to travel or another person who is already a confirmed case of COVID-19. – Associated Press
Pelosi, Schumer: Trump Needs To Support Help For Outbreak
March 8 8:09 p.m. — The two top Democratic leaders in Congress are calling on President Donald Trump to support a series of steps to help Americans deal with the coronavirus outbreak — from paid sick leave to widespread and free testing and other moves. House Speaker Nancy Pelosi and Senate Democratic leader Chuck Schumer said Sunday that Trump should put the health and safety of the public first. They said such steps should take priority over moves to help companies deal with financial losses — like tax cuts for corporations. Among the steps  they are pushing: paid sick leave for workers impacted by the quarantine orders and enhanced unemployment insurance for workers. – Associated Press
Cruz Staying At Home After Exposure To Man With Coronavirus
March 8 8:04 p.m. — GOP Sen. Ted Cruz says he will remain at his home in Texas after learning that he shook hands and chatted briefly with a man who has tested positive for coronavirus. In a statement Sunday night, Cruz says he met the man 10 days ago at a political conference in suburban Washington. The Texas Republican says he's not experiencing any symptoms and feels fine and has been advised by medical authorities that the odds of transmission are extremely low. Yet, Cruz says, out of an abundance of caution he will remain at home in Texas for another few days until a full 14 days have passed since the interaction. – Associated Press
Official: White House Didn't Want To Tell Seniors Not To Fly
March 8 12:03 a.m. — A federal official says the White House overruled health officials who wanted to recommend that elderly and physically fragile Americans be advised not to fly on commercial airlines because of the new coronavirus. The Centers for Disease Control and Prevention submitted the plan as a way of trying to control the virus, but White House officials ordered the air travel recommendation be removed. That's according to a federal official with direct knowledge of the plan who did not have authorization to talk about the matter and spoke to The Associated Press on condition of anonymity. – Associated Press
Champaign County Trying To Prevent Spreading Illness While Voting
March 7 – As early voting continues in Champaign County, county clerk Aaron Ammons says his office is taking precautions to guard against the spread of the coronavirus. Ammons says from now until the March 17 primary election, office staff and election judges will be regularly wiping down surfaces and pen holders at polling places, to guard against infection. Ammons says he decided on the safety practice after meeting with his election staff and hearing the concerns of some election judges. He's one of many of election officials taking precautions, as concern grows about the spread of the coronavirus. Early voting in Champaign County expands to seven additional locations next week. Voters in Illinois can also choose to cast their ballots by mail. – Jim Meadows, Illinois Newsroom
Doctor: People Who Suspect They Have COVID-19 Should Call First
March 7 – Health care providers in central Illinois are advising anyone who's concerned they may have the coronavirus to call before they come in.  Dr. Robert Healy is chief quality officer for Carle Foundation Hospital in Urbana. "They should call us, call their health care provider and ask what they should do. For a lot of people, the answer's going to be: stay home, plenty of fluids, chicken soup or whatever your mother told you about, and ibuprofen or tylenol, etc., for fever," said Healy. "If someone's sick enough – if they have a really high fever, if they have a really bad cough or chest pain, we'll instruct them where to come." Healy says those who need to report to the hospital are instructed to wear a mask upon arrival to protect employees and other patients. As with any possible epidemic, Healy says all staff receive information updates, participate in drills, and are trained in how to use protective equipment and isolate sick patients. Representatives from OSF Healthcare and Christie Clinic in Urbana say they're taking similar steps to prepare and protect staff and patients. – Christie Herman, Illinois Newsroom
21 Positive For Coronavirus On Cruise Ship Off California
March 6 10:58 p.m. — Vice President Mike Pence says 21 people aboard a mammoth cruise ship off the California coast have tested positive for the new coronavirus and 19 of them are crew members. Pence said Friday that the federal government is working with California officials on a plan to bring the ship to a non-commercial port this weekend. He said everyone aboard will be tested. Pence indicated some of the 3,500 passengers and crew members will stay on the ship under quarantine. Friday's test results come amid evidence the vessel was the breeding ground for a deadly cluster of more than 10 cases during its previous voyage to Mexico. – Associated Press
Officials: Chicago School Worker Tests Positive For COVID-19
March 6 8:29 p.m. — A woman who tested positive for COVID-19 after taking a cruise last month worked at a Chicago public school for days before seeking medical attention. Illinois Department of Public Health officials say the woman in her 50s worked as a special education classroom assistant at Vaughn Occupational High School after being a passenger on the Grand Princess cruise ship that docked in San Francisco following a February cruise. Officials say the woman returned to work February 25 and her last day at work was on March 2. School officials say classes at Vaughn Occupational will be canceled next week. – Associated Press
Virus Hits 100,000 Cases As Its Economic Impact Snowballs
March 6 1:03 p.m.  — The new coronavirus has hit a milestone, infecting more than 100,000 people worldwide. The COVID-19 disease caused by the virus has killed more than 3,400 people, infected people are being identified in more U.S. states, and the virus has emerged in at least four new countries. Mosques in Iran and beyond have halted weekly Muslim prayers and pilgrims are blocked from Jesus' birthplace in Bethlehem. At the White House, President Donald Trump signed a $8.3 billion bill to fight the coronavirus and his administration was considering support for hard-hit industries like travel and tourism. The U.N. health agency urged global cooperation from the business world and solidarity with the poorest. – Associated Press
How To Prepare Your Home And Family, If New Virus Spreads
March 6 12:35 p.m. – The new coronavirus keeps turning up in more places and health experts say it's wise to prepare for wider spread. But they also say people shouldn't panic or hoard large amounts of supplies. So what should you do? Some common-sense steps that are useful for any type of emergency can help get your family ready in case you need to hunker down. Start by talking with family members to make an emergency plan. Consider having several days to several weeks of shelf-stable food and a 30-to-90-day supply of crucial medicines such as those for diabetes or heart disease. – Associated Press
Carle Hospital To Begin Collecting Samples For Coronavirus Testing
March 5 – Starting Friday, Carle Foundation Hospital in Urbana will collect samples from some patients who present to the emergency department with flu-like symptoms for further testing by state public health labs for the coronavirus. There are no known cases of coronavirus in Champaign-Urbana at this time, and local public health officials say only a handful of people are under investigation. Twenty patients a week who test negative for the flu will be tested for coronavirus by the state. Healy says Carle is one of several hospitals in Illinois participating in this statewide coronavirus surveillance program. Click here for the entire story. – Christine Herman, Illinois Newsroom
Sweeping Senate Vote Sends Trump $8.3B Bill To Fight Virus
March 5 4:53 p.m. — The Senate has passed an $8.3 billion measure to help tackle the coronavirus outbreak in hopes of reassuring a fearful public and accelerating the government's response. The money would pay for a multifaceted attack on a virus that is spreading more widely every day, sending financial markets spiraling, disrupting travel and potentially threatening the U.S. economy's decade-long expansion. Thursday's sweeping vote sends the bill to the White House for President Donald Trump's signature. The plan would more than triple the $2.5 billion amount outlined by the White House 10 days ago. – Associated Press
Nervous About Voting? Election Officials Remind You To Vote By Mail
March 5 2:00 p.m. – Election authorities are reminding people that voting by mail is an option as fears about coronavirus and other illnesses dominate the headlines in the lead-up to March 17 primary. Tom Bride is the Peoria County Election Commission executive director. He says current guidance from the Centers for Disease Control and Prevention shows the coronavirus threat in central Illinois is low but they'll still take precautions. "We're going to try to make sure our equipment is clean, and have some capability for the judges to clean it during the day with sanitizing wipes and stuff," he said. March 12 is the deadline to vote by mail. All ballots received postmarked on or before March 17 will be counted in the primary election. – Tim Shelley, WCBU News
Illinois Health Officials Confirm 5th Case of Coronovirus
March 5 11:30 a.m. – The Illinois Department of Public Health announced Thursday that a fifth resident is being treated for COVID-19, a form of the coronavirus. The patient is a man in his 20's who recently traveled in Italy. He flew into Chicago O'Hare earlier this month according to IDPH and the Cook County Health Department.  The patient is hospitalized at Rush University Medical Center and remains in isolation. The state maintains that the risk of infection to the overall public remains low. Testing for the virus at state labs in Chicago, Springfield and Carbondale continues. – Reginald Hardwick, Illinois Newsroom
Feds Investigate Nursing Home As U.S. Death Toll Hits 11
March 4 8:02 p.m. – The U.S. death toll from the coronavirus has risen to 11 with a victim succumbing in California _ the first reported fatality outside Washington state. Officials in Placer County, northwest of Sacramento, said Wednesday an elderly adult who tested positive for COVID-19 after returning from a San Francisco-to-Mexico cruise had died. They said the victim had underlying health conditions. Washington also announced another death Wednesday, bringing its total to 10. Most of the dead were residents of a nursing home in Kirkland, a suburb east of Seattle. California Gov. Gavin Newsom declared a statewide emergency. Washington and Florida had already declared emergencies. – Associated Press
United Is First To Cut US Flying Due To Virus Outbreak
March 4 4:16 p.m. – United Airlines is cutting back on flights both internationally and within the United States as it grapples with lower travel demand because of the new virus outbreak. United is also asking employees to volunteer for unpaid time off. The news on Wednesday is the clearest yet of the damage that the coronavirus outbreak is having on the U.S. airline industry. The CEOs of several airlines went to the White House to discuss the impact of the outbreak on travel. The administration is seeking the airlines' help in tracing travelers who might have come in contact with people ill with COVID-19. – Associated Press
House Passes Bipartisan $8.3B Bill To Battle Coronavirus
March 4 3:47 p.m. — The House has easily passed an $8.3 billion measure to battle the coronavirus outbreak in the U.S. The sweeping bipartisan vote came just nine days after President Donald Trump requested action. The legislation more than triples the $2.5 billion plan unveiled by Trump just last week. It would speed development of vaccines and new medicines to battle the virus, pay for containment operations, and beef up preparedness. Trump is expected to sign the measure, which has the blessing of top Republicans. Next up is the GOP-controlled Senate, which hopes to pass the bill Thursday for Trump's signature. – Associated Press
Lawmakers Close In On $7.5B Measure To Battle Coronavirus
March 3 7:51 p.m. — A House vote is expected Wednesday on a $7.5 billion emergency bill to fund the government's response to the coronavirus outbreak. Lawmakers hope to clear the measure through Congress by week's end. The $7.5 billion package would triple President Donald Trump's request for money, but it's expected to be supported by the White House and Trump's GOP allies on Capitol Hill.  Top Senate Democrat Chuck Schumer says "there is no reason to be penny-wise and pound-foolish" when it comes to Americans' health. – Associated Press
Tensions Rise As US Death Toll From Coronavirus Reaches 9
March 3 7:50 p.m. — The death toll from the coronavirus in the U.S. has climbed to nine, with tensions rising over how to contain the outbreak. Lawmakers on Capitol Hill are expressing doubts about the government's ability to ramp up testing fast enough to deal with the crisis. Meanwhile, the Federal Reserve has announced the biggest interest-rate cut in over a decade to try to fend off damage to the economy and health officials are trying to ease shortages of face masks by giving the OK to medical workers to use industrial-grade ones. The number of infections in the U.S. overall climbed past 100, scattered across at least 15 states. – Associated Press
Pence Tells Governors Money For Coronavirus Costs Is Coming
March 2 5:50 p.m. — The Trump administration is reassuring state governors they will be reimbursed for at least part of what they spend as they attempt to contain the coronavirus as it spreads throughout the U.S. Florida Gov. Ron DeSantis said Vice President Mike Pence told governors, "Do what you've got to do." Federal spending is being fast-tracked in Congress, where bipartisan negotiations are nearly complete on $7 billion to $8 billion in emergency funding. State officials say they need the money for a wide array of expenses, including protective gear, housing and transporting those under quarantine, overtime for medical workers performing lab tests and public information campaigns. – Associated Press
More Testing Sheds Light On How Virus Is Spreading In US
March 2 5:33 p.m. — An increase in testing for the coronavirus is shedding light on its spread in the United States, including among nursing home residents in one Washington state facility. Authorities announced new cases that rapidly pushed the U.S. total past 100 people across 11 states. In Seattle, officials announced four more deaths, bringing the total in the U.S. to six. Vice President Mike Pence met with the nation's governors, and President Donald Trump met with pharmaceutical company executives to talk about progress toward a vaccine. The nursing home cases especially troubled experts. Sick and elderly people are especially vulnerable to severe illness caused by the virus. – Associated Press
Illinois: 4th Person Tested Positive For COVID-19
March 2 12:15 p.m. – The Illinois Department of Public Health confirmed today that a fourth person from our state has tested positive for the coronavirus. The patient is a woman in her 70s in Cook county.  Her husband is the state's third case, a man in his 70s. The state reports both people are in good condition. They are quarantined at home and complying with health officials. Another couple who were diagnosed with COVID-19 made a full recovery. – Reginald Hardwick, Illinois Newsroom
WHO director-general: 'Containment is feasible'
March 2 11:45 a.m.  — The director-general of the World Health Organization said there is still time to stop the surging global epidemic of COVID-19, saying "containment is feasible and must remain the top priority for all countries." In a press briefing Monday, Tedros Adhanom Ghebreyesus said the outbreaks in South Korea, Italy, Iran and Japan were now the agency's "greatest concern." He described the new coronavirus as a "unique" virus capable of community transmission but that unlike flu, it could be contained with the right measures.
He declined to describe the global outbreak as a pandemic, saying the evidence did not yet support that. He added that current concerns and worries about the virus were understandable but cautioned that "let's really calm down and do the right things" to contain the outbreak. – Associated Press
CDC: U.S. Coronavirus Cases Total 91
March 2 11:15 a.m. – U.S. health officials updated the nation's count of coronavirus cases to 91 on Monday. The Centers for Disease Control and Prevention said the count includes 45 infections among people who were on the Diamond Princess cruise ship, which is one more than previously reported. It includes people who tested positive after returning from travel to outbreak areas in other parts of the world, their close contacts and what appear to be infections from community spread — people who did not travel and did not have known contact with other infected people.
Two people have died and 10 states have reported cases. – Associated Press
University of Illinois Tells Students In Italy To Return Home Now
March 1 11:45 p.m. – At the beginning of this semester, 137 University of Illinois students were studying in Italy. On Sunday, university administrators told them to leave the country as soon as possible. The same day, the Italian government reported its coronavirus infections jumped 40% to 1,576 and deaths of infected people rose to 34. Concern that the situation in Italy might get worse before it gets better was enough for Finance major Joe Hume to book his ticket home. "Once we got the official notice that the university would like us to leave Italy immediately, my parents kind of freaked out," said Hume. "Then they just said 'wherever you are we're just bringing you home now'." Click here to read the entire story. – Charles Ledford, Illinois Newsroom
Authorities Announce 2nd Coronavirus Death In US
March 1 9:40 p.m. — Health officials in Washington state said Sunday night that a second person had died from the coronavirus and researchers said it may have been circulating for weeks undetected in the greater Seattle area. The man in his 70s died Saturday. On Friday health officials said a man in his 50s died of the virus. Both had underlying health conditions and both were being treated at a hospital in Kirkland, Washington. Washington state now has 12 confirmed cases. State and local authorities stepped up testing for the illness as the number of new cases grew nationwide, with new infections announced in California, Illinois, Rhode Island and New York. – Associated Press
France Closes The Louvre As Virus Spreads To New Fronts
March 1 9:31 p.m. — Coronavirus cases surged in Italy, and France closed the world-famous Louvre Museum as the epidemic that began in China sent fear rising across Western Europe, threatening its tourism industry. The virus has spread to more than 60 countries, and more than 3,000 people have died from the COVID-19 illness. New battle fronts have opened rapidly, deepening the sense of crisis that has already sent financial markets plummeting, emptied the streets in many cities and rewritten the routines of millions of people. China on Monday reported just 202 new cases, its lowest increase since January 21, raising its total past 80,000. South Korean cases surged beyond 4,200. The United States has reported two deaths, both in Washington state. – Associated Press
Illinois Officials Announce New Positive Test For Virus
February 29 8:48 p.m. — Health officials say a person in Illinois has tested positive for COVID-19, becoming the third suspected case in the state after two confirmed patients. The Illinois and Cook County Departments of Public Health made the announcement in a joint statement Saturday night. Officials say the unidentified patient is hospitalized in isolation as the test results await confirmation from the U.S. Centers for Disease Control and Prevention. Gov. JB Pritzker announced Friday that two patients with confirmed cases of COVID-19 had made a full recovery. – Associated Press
US Ups Travel Restrictions As Trump Says More Cases 'Likely'
February 29 3:09 p.m. — The U.S. is banning travel to Iran in response to the outbreak of the new coronavirus. And it's elevating travel warnings to regions of Italy and South Korea. President Donald Trump says 22 people in the U.S. have been stricken by the new coronavirus and more cases in the United States are "likely." Trump provided an update on the virus after the first reported death in the U.S. on Saturday. He described the victim as having a high medical risk. Trump encouraged Americans not to alter their daily routines, saying the country is "super prepared" for a wider outbreak and "there's no reason to panic at all." – Associated Press
Washington Governor Declares State Of Emergency After First U.S. Death From Virus
February 29 2:56 p.m. – The governor of Washington state declared a state of emergency Saturday after a man died there of COVID-19, marking the first such reported death in the United States. Gov. Jay Inslee directed state agencies to use all resources necessary to prepare for and respond to the outbreak. The declaration also allows the use of the Washington National Guard, if necessary. Health officials in California, Oregon and Washington state worried about the novel coronavirus spreading through West Coast communities after confirming at least three patients were infected by unknown means. The patients had not visited an area where there was an outbreak, nor apparently been in contact with anyone who had. – Associated Press
CU Public Health Says People Should Prepare For Possible Coronavirus Epidemic
February 28 – The coronavirus has not reached epidemic proportions in U.S. communities. But some public health officials are calling for federal funding immediately to help public health districts prepare.  Julie Pryde, administrator at the Champaign-Urbana Public Health District and a member of the Illinois State Board of Health, said local public health districts across the state have been stretched thin for decades. And many, especially those in rural areas, may not be ready to respond to local spread of the coronavirus, she said, because they only have a handful of staff. Click here to read the rest of the story. – Christine Herman, Illinois Newsroom
State And Local Officals Respond to Coronavirus Fears
February 28 –  On Friday, Illinois Governor J.B. Pritkzer and Chicago Mayor Lori Lightfoot tried to calm fears over the worldwide COVID-19 outbreak. They said efforts are already underway to minimize Illinois' exposure to the disease also known as novel coronavirus. The governor and mayor stood with public health and emergency preparedness experts who said they are ready to combat the virus. Though those same officials said the infection risk to Illinoisans is low right now, Pritzker said no one is leaving anything to chance. Click here to read the rest of the story. – Sam Dunklau, NPR Illinois
World Harshens Its Virus Response As Epidemic Worsens By Day
February 27 10:11 p.m. — Saudi Arabia cut travel to Islam's holiest sites, South Korea toughened penalties for those breaking quarantines and airports looked for signs of sick passengers as a new virus troubled more places. With the number of sick and dead rising, the crisis gave way to political and diplomatic rows and a sense that no part of the world was immune. South Korea reported a jump in new cases that pushed its total past 2,000. The hardest-hit country by far remains China, though its daily increases are continuing a downward trend. It reported 327 new cases and 44 deaths Friday, raising its totals to 78,824 with 2,788 deaths. – Associated Press
Congress Eyes Billions In Funding To Fight Coronavirus
February 27 9:10 p.m. — Capitol Hill negotiations on emergency spending to combat the coronavirus are likely to produce a bill that's double or even triple the $2.5 billion plan requested by President Donald Trump. That's according to lawmakers and aides involved in the talks. They say the negotiations are proceeding well and are likely to produce legislation in the $6 billion to $8 billion range. Both the Democratic-controlled House and GOP-held Senate are eager to complete work on the funding in the next two weeks. Trump has said he'll accept funding well above his $2.5 billion request. – Associated Press
BTS Cancels Concerts In South Korean Capital Due To Virus
February 27 9:13 p.m. – K-pop superstar group BTS has canceled a series of planned concerts in Seoul in April due to concerns about a soaring viral outbreak in South Korea. The band's management agency said: "We regret to announce that the BTS MAP OF THE SOUL TOUR … has been cancelled." The band was supposed to perform on April 11-12 and April 18-19 at Seoul's Olympic Stadium. It said the current outbreak made it impossible to predict the scale of the illness during the dates the concerts were planned. The coronavirus that causes the new illness has infected more than 2,000 people in South Korea. – Associated Press
Whistleblower: Feds Helping Evacuees Lacked Virus Protection
February 27 7:13 p.m. — A government whistleblower has filed a complaint alleging that federal workers did not have the necessary protective gear or training when they were deployed to help victims of the coronavirus evacuated from China. The complaint deals with Health and Human Services Department employees sent to Travis and March Air Force bases in California to assist evacuees from China. The Office of Special Counsel, a federal agency that investigates personnel issues, confirmed Thursday it has received the complaint and is investigating. – Associated Press
Trump Appoints Pence To Lead Government's Coronavirus Response
Illinois Public Health Officials Taking Steps To Limit Coronavirus Spread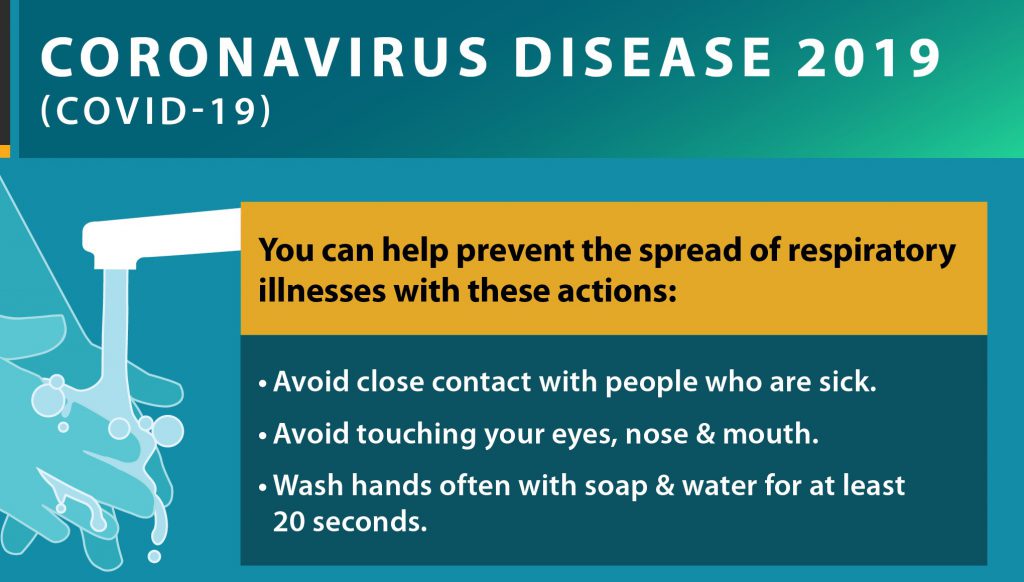 February 26 4:00 p.m. – With evidence that the coronavirus disease COVID-19 is spreading in several countries around the world, the Illinois Department of Public Health said it's taking steps to limit any possible spread here. The virus is not spreading in communities in Illinois or the U.S. But CDC officials warned this week that Americans should prepare for more COVID-19 cases, saying it's not a matter of 'if' but 'when.' Click here for the entire story. – Christine Herman, Illinois Newsroom
Trump To Detail US Coronavirus Efforts, Schumer Seeks $8.5B
[perfectpullquote align="left" bordertop="false" cite="" link="" color="" class="" size=""] Presidential News Conference Today 5pm CT Listen to WILL AM 580 or FM 90.9 [/perfectpullquote]
February 26 1:17 p.m. — President Donald Trump is pushing back against criticism that his administration isn't doing enough to meet the coronavirus threat. Trump plans to hold a news conference late Wednesday to talk about what the U.S. is doing to prepare for the virus. On Capitol Hill, lawmakers are calling for much more money than the $2.5 billion the White House has requested. Senate Democratic Leader Chuck Schumer has asked for $8.5 billion. Trump's 5 p.m. news conference will be at the White House with experts from the Centers for Disease Control and Prevention. – Associated Press
Delta Reduces Flights To Korea As Virus Outbreak Spreads
February 26 12:23 p.m. – The new virus is taking a broader toll on airline travel. Most airlines have already stopped flying to China, and now Delta Air Lines is sharply cutting back on flights between the U.S. and Seoul, South Korea, because of the outbreak. Delta said Wednesday it will suspend flights between Minneapolis and Seoul beginning this weekend and lasting until at least April 30. The airline will also reduce the number of flights from Korea to Atlanta, Detroit and Seattle. Delta, United and American have already suspended all flights to and from mainland China and Hong Kong for several more weeks. – Associated Press
Brazil Confirms First Coronavirus Case In Latin America
February 26 12:03 p.m. — Brazil's government has confirmed the first case of the new coronavirus in Latin America. The health minister said Wednesday that a 61-year-old man who traveled to Italy's Lombardy region has tested positive for the COVID-19 virus. The man had begun to show symptoms compatible with the illness, like a dry cough, throat pain and flu symptoms, and so was tested for the virus. Since the illness began to spread throughout the world, Brazil and other countries in the region have registered dozens of suspected cases, all of which previously had been discarded. – Associated Press
South Korean Virus Cases Jump Again, 1st US Soldier Infected
February 25 10:23 p.m. – New virus cases in South Korea jumped again and the first U.S. military soldier tested positive. His infection and many others are connected to a southeastern city where the government has been mobilizing public health tools to contain the virus. South Korea said 134 of the 169 new cases were confirmed in Daegu. The U.S. military says the soldier was in self quarantine at his off-base residence, and his contacts were being traced. South Korea's case totals were expected to rise as health workers test members of a Daegu church that has an infection cluster. China, where the outbreak apparently began, reported another 406 cases and 52 deaths, all in hard-hit Hubei province. – Associated Press
China Struggles To Revive Manufacturing Amid Virus Outbreak
February 25 9:53 p.m. — Factories that make the world's smartphones, toys and other goods are struggling to reopen after a virus outbreak idled China's economy. But even with the ruling Communist Party promising help, companies and economists say it may be months before production is back to normal. The problem is supply chains — the thousands of companies that provide components, from auto parts to zippers to microchips. China's are famously nimble, but the most sweeping anti-disease controls ever imposed left them short of raw materials and workers. Automakers and other factories are reopening but production at some suppliers of smartphone components is as low as 10% of normal levels. – Associated Press
As World Scrambles, Experts Warn Virus Spread In US Certain
February 25 4:34 p.m. — U.S. health officials warned that the fast-spreading coronavirus is certain to reach the country at some point, just as their counterparts in Europe and Asia scrambled to contain outbreaks. Some countries are erecting police checkpoints, issuing travel warnings and suspending flights, vowing to check the spread of the disease. Reports of new clusters far from the virus' apparent origin point in China drove worries in financial markets for a second straight day. But with a widening global crisis encompassing not just Asia, but also Europe and the Middle East, there is a sense the virus will inevitably press into new places. – Associated Press
Trump Says Coronavirus 'Very Well Under Control' In US
February 25 8:33 a.m. – President Donald Trump is trying to minimize fears about coronavirus spreading rampantly in the United States. He says the situation is "very well under control in our country." At the same time, his administration has asked Congress for an additional $2.5 billion for preparations in case of a widespread outbreak. Trump addressed the issue at a news conference in New Delhi following meetings with India's prime minister. Trump says the U.S. has "very few people" with coronavirus. The United States has 35 of the more than 80,000 confirmed coronavirus cases worldwide. – Associated Press
Drugmaker Readies Possible Coronavirus Vaccine For Testing
February 25 7:55 a.m. – Drugmaker Moderna says it has shipped its first batch of a possible coronavirus vaccine for humans to government researchers for testing. Shares of the biotech company are soaring Tuesday, a day after the company said it sent vials to an arm of the National Institutes of Health for early-stage testing in the United States. More than 80,000 people have been infected globally from the viral outbreak that began late last year in China. A total of 35 cases have been reported in the United States. The virus has killed more than 2,700 people globally. – Associated Press
Airline, Cruise Stocks Pummeled On Fear Of Spreading Virus
February 24 4:56 p.m. – Investors are fleeing from airline and cruise-line stocks as fear grows that the new virus could spread dramatically beyond China. American Airlines, Delta Air Lines and several cruise companies were among the worst performers in the Standard & Poor's 500 index on Monday. In China, where the virus started, airlines are finally scheduling more seats. That's a hopeful sign that the virus might be hitting a plateau there. However, an aviation-data firm is warning that Chinese airlines could wind up canceling many of those rescheduled flights. – Associated Press
White House Readying Emergency Coronavirus Budget Request
February 24 4:44 p.m. — The White House is readying an urgent budget request to address the deadly coronavirus outbreak, whose rapid spread is spooking financial markets and restricting international travel. That's according to a senior administration official who confirmed Monday that the emergency request is still being developed and is likely to come this week. The Department of Health and Human Services has already tapped into an emergency infectious disease rapid response fund and is transferring more than $130 million from other HHS accounts to combat the virus. – Associated Press
S. Korea Reports 161 New Virus Cases, Bringing Total To 763
February 23 7:38 p.m.  — South Korea has reported 161 new cases of the new virus that has spread rapidly in the region surrounding its southwest city of Daegu, bringing its total number of cases to 763. Officials on Monday also confirmed two more deaths of virus patients, bringing its death toll to seven. South Korea's president has put the country on its highest alert for infectious diseases, ordering officials to take "unprecedented, powerful" steps to stem the spread of the outbreak. – Associated Press
Italy Rushes To Contain Europe's First Major Virus Outbreak
Officials Scramble To Contain Coronavirus Outbreaks In South Korea, Iran And Italy
February 23 2:06 p.m. – As coronavirus prevention and control measures continue in China, new outbreaks of the respiratory disease COVID-19 in South Korea, Italy and Iran have health officials on high alert over the global spread of an illness that has infected nearly 77,000 people in China, with more than 2,400 deaths tied to the virus. Read the entire story here. – Bobby Allyn, NPR