URBANA – A car crash involving five vehicles on Sunday claimed the life of a lieutenant at the University of Illinois Urbana-Champaign Police Department.
On Monday, the university confirmed in a press release that Lt. Aaron Landers died from injuries sustained in the crash at Carle Foundation Hospital early Monday. Landers had been on the UIPD force for 24 years. Landers was most recently the supervisor of the department's new Community Outreach and Support Team, designed to pair officers with mental health counselors while responding to calls. Landers was off duty at the time of the crash.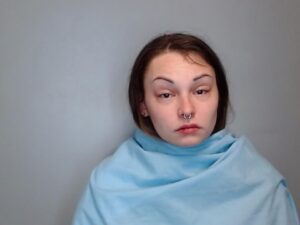 According to Champaign police, the five-vehicle crash happened Sunday around 6:00 p.m. at the intersection of Church Street and Prospect Avenue. Police say 25-year-old Logan Freed was driving a vehicle that did not follow traffic light instructions. Her vehicle collided with another. The force of the collision struck a motorcycle being driven by Landers. 
Champaign police say Freed is in the Champaign County Satellite Jail. She has been cited on charges of Aggravated Driving Under the Influence and Failure to have Valid Automobile Insurance.
Officers say there were no other major injuries reported in the crash.
24 Years Of Service at UIUC
According to the University of Illinois, Landers was from Saint Joseph, a community 11 miles east of Champaign. The 50-year-old is survived by a wife and two children.
The department says Landers had 24 years of service at the university.  Prior to leading the new Community Outreach and Support Team, he served as commander of the University of Illinois Bomb Squad.  He also worked on patrol and was a member of the department's Crisis Interventon Team.
Landers received two life-saving awards among other honors, according to the department. 
"Lt. Landers was extremely passionate about his work," said University Police Chief Alice Cary in the university press release. "You could see that in everything he did, in how he interacted with people, and in the genuine relationships he was able to build. He cared deeply about serving the community."
Additionally, Landers recently acquired K9 Winston, a UIPD therapy dog. Illinois Newsroom photographed Landers and K9 Winston in addition to other Community Outreach and Support Team members during a Media Day held on campus on July 28.  Lt. Landers and K9 Winston visited the Champaign Police Department earlier this year in response to the death of Champaign Police Officer Chris Oberheim, who was killed in the line of duty.
The university said Landers met with university students returning to class earlier on Sunday. He was also a bicyclist who rode 340 miles in the annual Cycle Across Illinois event to benefit the Concerns of Police Survivors (COPS) nonprofit organization. 
Services for the officer are pending.