URBANA – In an effort to conserve supplies during the COVID-19 pandemic, some central Illinois health care providers say they are following guidance from the U.S. Centers for Disease Control and Prevention to safely reuse N95 masks and other protective gear. 
Under normal conditions, protective gear like N95 respirator masks are typically used once and then disposed of. 
But due to worldwide shortages, various approaches to decontamination are being used by hospitals across the U.S.
Carle Health System's Chief Nursing Officer Elizabeth Angelo says for the past few weeks, the hospital has been sterilizing used N95 masks with ultraviolet light.
More recently, this process has been extended to other locations, including outpatient settings.
Angelo says staff are instructed to place their masks in a labeled bag at the end of their shift. After sterilization, workers check to make sure their masks still have the proper fit–and discard them if they don't.
"We certainly don't want to use those masks past the point of them being effective barriers to respiratory particles," Angelo says.
Carle staff spend many hours a week working to ensure they have enough new supplies coming in, Angelo says. 
While Carle is not in a "worst-case scenario" when it comes to supply of personal protective equipment, she says, they are trying to be good stewards of what they have on hand. 
"We have enough to care for the patients that we're serving, but like every other health facility, this is a key need for us," Angelo says. 
"We're eager to see additional solutions coming forth from the private sector. And we're eager to see the ongoing continued collaboration between agencies to share what's available and get it to the front lines."
Angelo says Carle is also reusing eye protection and plastic face shields "to some degree," by wiping them down with disinfectant.
The main issue is the clarity of the plastic to degrades over time. Carle has also tried out reusable gowns in some areas, Angelo says.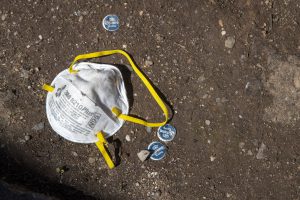 A spokesperson for OSF Healthcare said in an email they have an adequate supply of masks but have been testing different reuse methods and applying them as needed.
OSF has also worked with the Central Illinois American Sewing Guild to get tens of thousands of old N-95 masks repaired after the elastic bands had worn out, according to the Peoria Journal Star.
Christine Herman is a reporter at Illinois Public Media. Follow her on Twitter: @CTHerman