DANVILLE — A northern Illinois man accused of driving his car into a building proposed for use as an abortion clinic in Danville was scheduled to appear in federal court in Urbana Tuesday afternoon.
Philip Buyno, 73, of Prophetstown faces a federal complaint of attempted arson. Buyno drove his car into the building with containers of gasoline early Saturday morning, according to the U.S. Attorney General's Office for Illinois' Central District.
Buyno was unable to appear at the scheduled hearing Tuesday because of a medical event, according to the case docket. 
He was previously arrested for trespassing at a Planned Parenthood location in Peoria, according to the National Abortion Federation, an abortion rights organization. 
Earlier this month, the Danville City Council passed an ordinance outlawing the shipping of medication and tools used to perform abortions into the city. 
The city council's actions directly inspired this act of violence, said State Representative Kelly Cassidy, who represents Illinois' 14th district in north Chicago. 
"That symbol was the bat signal for terrorists," Cassidy said. "It's really that simple." 
Danville Mayor Rickey Williams Jr., who supported the ordinance, wrote online that he condemns the act. 
"This act of domestic terrorism is not only an attack on this facility, but our entire community," Williams wrote on Facebook. "We condemn all acts of violence and the hypocrisy that would allow someone to believe that they can save lives by destroying property and endangering others."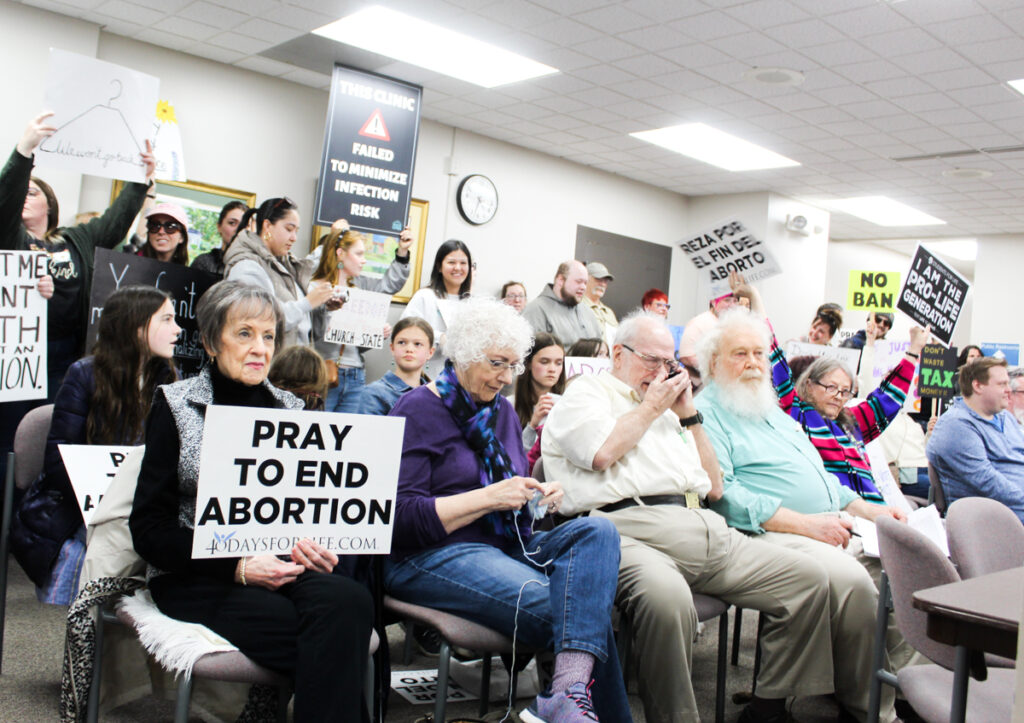 The Indianapolis provider who purchased the Danville building reached out to her when the ordinance was proposed, she said. The provider was worried, Cassidy said about how the ordinance might affect their clinic. 
"When they reached out, [they were worried] that this ordinance might actually have the impact of preventing them from opening," Cassidy said. "But at the same time, [they were] really aware that it was meaningless." 
The ordinance is purely symbolic, Cassidy said, because it would only take effect if a court rules it's lawful.
States that have legalized abortion saw a disproportionate increase in violence and disruption since the Supreme Court overturned Roe vs. Wade last June, according to Melissa Fowler, the chief program officer with the National Abortion Federation. 
"We are seeing anti-abortion individuals following the same paths as patients and going to the places where patients are still accessing care to target the clinics there," Fowler said. 
The National Abortion Federation tracks anti-abortion activity throughout the country. That includes people like Philip Buyno, who had been arrested for trespassing at Illinois abortion clinics and was connected with many other anti-abortion groups. 
There was a sharp increase in incidents including arson, burglary and invasions of abortion clinics in 2022 throughout the country, according to an annual report from the National Abortion Federation. 
Planned Parenthood of Illinois closed its Peoria location after an arson fire in January, Kristen Schultz, Planned Parenthood of Illinois' chief strategy and operations officer, said. 
"An act of vandalism can rob a community of their ability to access reproductive care that they need and deserve and sometimes even force patients to travel farther distances to access that care," Schultz said. 
Local abortion rights advocates said they are working with organizations throughout the state to figure out their next steps. 
Although it's unclear how this invasion might impact the future of abortion rights in Danville, Cassidy said she hopes that these events don't deter local abortion providers and seekers. 
"My hope is that people keep moving forward and not be dissuaded by folks who are going to try all sorts of ridiculous efforts to appear to be doing something about it — but really are only drawing violence into the community," Cassidy said. 
Farrah Anderson is a journalist and student at the University of Illinois. Follow her on Twitter @farrahsoa.