There will be food, music, dancing and a serving of history, Danville's Juneteenth Celebration, which runs from 5 to 8 PM on Friday, June 19, at Lincoln Park (1000 N. Logan Ave.). A Facebook page for the event is linked here.
Juneteenth marks June 19, 1865, when word of the Emancipation Proclamation formally came to Texas, two and a half years after it had been issued by President Lincoln. Christopher Hightower, one of the organizers of the Danville Juneteenth event, discussed the event, and how Juneteenth carries a special significance in the context of today's Black Lives Matter movement.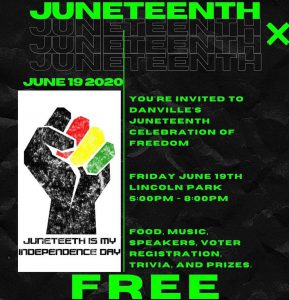 Christopher Hightower: Juneteenth itself is something that we're really not taught about in school. That's knowledge that we have to go and seek out. And for me personally, once I did find out about it in college, it really woke me up. You're always told about the Emancipation Proclamation being issued January First of 1863. And a lot of people don't know that for another two and a half years, a lot of individuals were still kept in enslavement. And that date for me now stands as my true emancipation date, my real Independence Day. And I really want us to use the event that we're putting together to display that to the community and to instill a sense of pride in African Americans throughout our community, on that date and on what being free and being emancipated really means.
Jim Meadows: Well, the event in Danville for Juneteenth, there was one last year. But is this one going to be different from that one?
Hightower: Yes, the event that we held last year was hosted by Project Success. It's an organization that works with the youth in Vermilion County. So that event was geared towards the youth, there were games and a dunk tank. And we really tried to gear it gear it towards the children. Whereas this event, we're really aiming to gear this one towards the entire community, and to give pieces of education for the entire community. So, there won't be any of the games, that dunk tank, simply due to the fact of COVID. We're really going to make sure we focus on providing information and education, about Juneteenth and about the accomplishments of black people throughout this country and specifically throughout Danville, and this area.
Meadows: The times right now, a time of protests, public recognition of racism in society, has this been affecting what you've been deciding to put together for this event?
Hightower: This event was actually given most of its momentum from the March that we had here in Danville. Previously, we had about four to 500 people come out.. And we really wanted to build off of that momentum. And the best way for us to build on that momentum is to get out and to educate the community and give people more information about why they're protesting, about why you have the country itself coming together in protest. So events like this where we get out that knowledge and give that education out, will give a better understanding for the current climate and for the current moment, and also, organizing and mobilizing towards bringing about change.
Meadows: You mentioned he want to have that they'll be some discussion of history and of local history at the event. What's important to know about Danville's history?
Hightower: I feel like it's very important to know the work that so many individuals that came before us have done. I mean, in the past, we've had people like Ivadale Foster and Lester Brown and Lafayette Shaw, Pete Derrickson, Eugene "Radio" Thompson, George Jimson. All have worked within city government and all have done amazing things to get us to where we are today, to open up unions for black people, to create an aldermanic government here in this town to have better representation. And then in the current day, we have individuals like Tommy Miller and Roosevelt Davis, David Grove Senior, Miss Gladys Davis, who's on the school board, as well as our first black mayor, Rickey Williams. And we really need to create a bridge, from those who came before us, to those who are working with us now, and give out that inspiration to the next generation of individuals who can positively impact this town, and to make change in this town, to give us better living conditions and better opportunities.
Meadows: You don't see this as an event solely targeting the African-American community?
Hightower: Definitely. This is an event for the entire community, because one of the mistakes that we make is, we brand black history as black history. And a lot of times it gets relegated to just February. So we spend maybe 28 days trying to recognize the accomplishments of black people throughout this country. But black history is American history. So in celebrating the fact that we did get that emancipation on June 19th of 1865, we also have to discuss the fact that it took two years to get it. We have to discuss the fact of the role the government played in it. We have to discuss the fact that the Emancipation Proclamation didn't free all slaves, it only freed the slaves in the rebellious states. So if we take the time to really educate ourselves about our real history, and not worry about a watered down version of that history — some people would say a whitewashed version of that history — and really give out a true account of the things that we went through as a country, then we can try to find some common ground in mobilizing towards creating a better tomorrow.
Meadows: Now you mentioned you're not able to do some things because of COVID-19. But there is going to be music and food going on.
Hightower: Yes sir. We will be providing food. We have hot dogs and hamburgers already lined up. We will have a live DJ, that'll be DJ Silkee. Her name is Ja'Naea Modest. She is a Danville native who currently resides in Champaign. She'll be playing music throughout the entire event. Five to six is the hour to get food and to visit the different tables that will be set up. We'll have a voter registration table, we'll have an NAACP membership drive table. We'll will also have a table presented by the Martin Luther King council here in Danville, as well as three to four tables of local history. We're going to have a table available for individuals to speak with Miss Jackie Woodard, who's going to be presenting during the program. She's a local historian who has done some amazing research on the accomplishments of black people in this area. And then the program itself will begin at six. It should run for about 30 to 45 minutes. And then after that DJSilkee will be spinning until eight, trying to create a block party vibe, almost something for everybody, to just come out, enjoy themselves. And once the program is over, to have an hour to an hour and a half of time to socialize and celebrate on this day.