Editor's Note: this story was updated Sunday evening with details of the storm from the National Weather Service in Central Illinois.
CRAWFORD COUNTY – At least three people are dead and eight injured after a tornado crossed an area near Robinson, Illinois, about 100 miles southeast of Champaign. Homes and an airport were flattened but authorities are grateful that a major refinery was spared.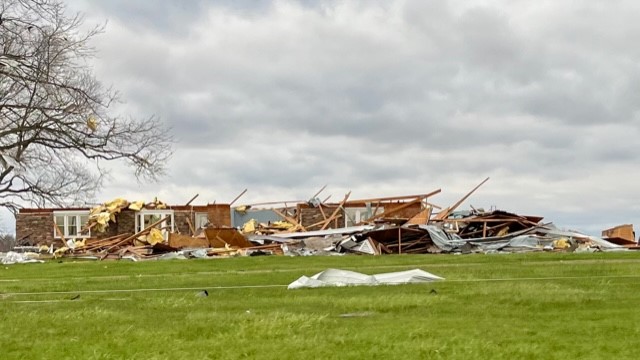 Friday night's tornado cut a path through Crawford County, which borders Indiana.
On Sunday, the National Weather Service in Central Illinois determined the tornado was an EF-3 with top wind speeds of 155 miles per hour. Meteorologists believe it tracked 42 miles. It started Friday at 8:58 p.m. and ended in Indiana at 9:33 p.m. At one point the storm was a third of a mile wide.
The storm split the telecommunications building at Lincoln Trail College in half.
The county airport took a direct hit and airplanes were thrown across nearby cropland. There is metal and insulation wrapped around the few standing trees.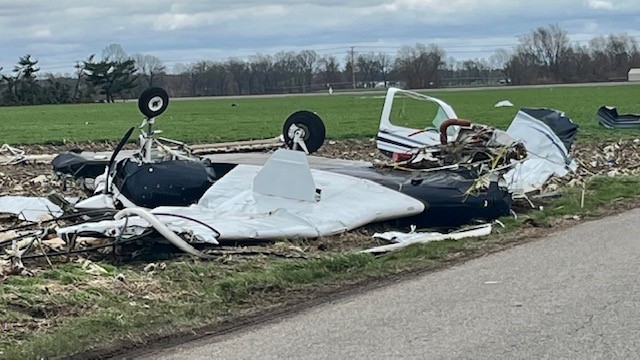 Bill Burke is the County Board Chairman and part of the rescue team that helped rescue residents in dark and rainy conditions after the storm passed through.
"Getting to where we needed to be was our biggest struggle and our biggest challenge. We had people trapped in basements. We had to get them out," said Burke.
Burke says at least 25 homes were destroyed and up to 50 more sustained some damage.
But it could have been much worse. The tornado missed the huge Marathon refinery. State Senator Chapin Rose, whose district includes Crawford County, says drivers around Illinois depend on the plant.
"This is like the third largest refinery in the state of Illinois. It processes gasoline for most of the Midwest. That thing was headed right for the refinery. You could have had hundreds if not thousands of people killed," said Sen. Rose (R-51st)
Chairman Burke says despite the conditions, he is confident all residents are accounted for.
"To live it, and actually be right beside it and be trying to work in the middle of it. I've never, ever in my life seen anything like it. Like I said it look like a warzone," said Burke.
He says local churches and the Red Cross are taking donations.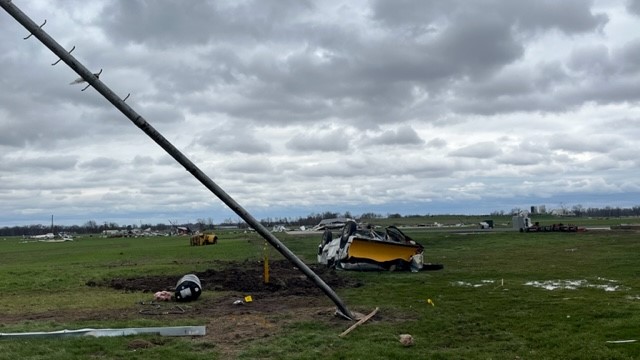 On Saturday, Governor JB Pritzker issued a disaster proclamation to rush aid to Crawford and 4 other Illinois counties affected by severe weather.
According to the Associated Press, storms that dropped possibly dozens of tornadoes killed at least 26 people in small towns and big cities across the South and Midwest. The storms tore a path through the Arkansas capital and collapsed the roof of a packed concert venue in Illinois. People throughout the region were stunned with the scope of the damage. Confirmed or suspected tornadoes in at least eight states destroyed homes and businesses, splintered trees and lay waste to neighborhoods across a broad swath of the country.
The tornado in Crawford County, Illinois was not far from where three people died in Indiana's Sullivan County, about 95 miles (150 kilometers) southwest of Indianapolis.
Sullivan Mayor Clint Lamb said at a news conference that an area south of the county seat of about 4,000 "is essentially unrecognizable right now" and several people were rescued overnight. There were reports of as many as 12 people injured, he said.
"I'm really, really shocked there isn't more as far as human issues," he said, adding that recovery "is going to be a very long process."