SAVOY — Officials at the University of Illinois' Willard Airport in Savoy held a ceremony Friday to mark the update of an aging runway.
The federal government is contributing more than $11 million to the $12.4 million project.
U.S. Senator Dick Durbin of Illinois says the project is important because of the reach of Willard Airport throughout the world.
"2016, maybe the last year of real normal air travel in our country, one out of ten passengers at this airport had an international destination. One out of ten," Durbin said"
The project will be the first major improvement to this runway since 1991. Officials say it will include new asphalt, lighting, underground wiring, runway markers and navigational aids. Work will begin later this year.
As for the groundbreaking ceremony, it happened inside a hangar at Willard, with officials scooping dirt out of a metal rectangular structure and dropping it back in the same spot while cameras clicked.
The Illinois Department of Transportation and the University of Illinois contributed an equal share of the remaining $1.1 million dollars toward the runway rehabilitation project.
U of I Urbana campus chancellor Robert Jones says the improvements are long overdue. He says Willard Airport is a key part of the transportation infrastructure Champaign-Urbana has that makes it attractive to business development.
"It makes it easier for all of us to attract the talent, the highly skilled workforce necessary, for the 21st century economic engine," Jones said.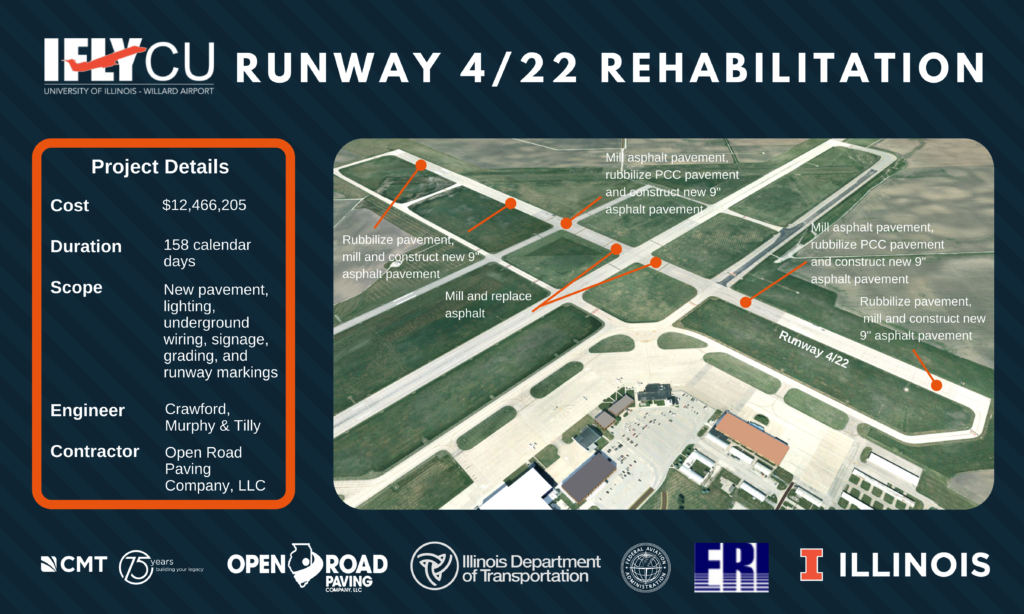 Senate Negotiations
Durbin says he hopes negotiations with Republicans on President Biden's $3 trillion infrastructure bill will produce results "soon."
The Illinois Democrat says with an evenly divided U-S Senate, Democrats are negotiating with Republicans on several bills, in addition to infrastructure.
"I'm working on immigration, police reform, a bipartisan approach, and I want it to work", Durbin said. "But there'll come a point where we have to get something done, and done soon, so I hope it's a good faith, bipartisan effort that produces a work product soon."
Durbin, the Senate's majority whip, declined to give a specific time frame as to when Democrats would try to go it alone on the infrastructure bill. That would likely require changes to the Senate filibuster rules, which currently require 60 votes for most bills to proceed.
Republicans' counter-proposal to Biden's bill is only about a fifth the cost and is restricted to more traditional infrastructure spending like roads and bridges, public transit, and water systems.
Legislative Redistricting
Democrats in the Illinois General Assembly have faced criticism from Republicans and good government groups for the process they're using to draw new legislative district maps.
But Durbin says the General Assembly faces a tough task because of delayed census data and upcoming election deadlines.
"So now they're saying that the certification, the actual amount of population, official numbers won't be available until September," Durbin said. "Remember, Illinois has an early primary, and candidates for office start collecting petition signatures in September."
If Democrats, who hold supermajorities in both Illinois legislative chambers, don't agree on new maps by June 30th, the task goes to a bipartisan commission, with the tie-breaking vote decided by a coin flip.
Durbin says he's pushing for an election reform bill that has already passed the U.S. House, which includes a ban on partisan gerrymandering and uniform rules for drawing legislative districts. 
Republican Congressman Rodney Davis, who represents Illinois' 13th District, has said he supports the redistricting portion of H.R. 1, but opposes the legislation as a whole because of other parts of the bill related to campaign finance.