URBANA – U.S. Secretary of Energy Jennifer Granholm stopped in Urbana on Thursday as part of her two-day tour of Illinois energy facilities.
She listened carefully as researchers at the university's Integrated Bioprocessing Research Laboratory described how they turn sugar cane into fuel.
"What today is about is seeing what the opportunities are and building out this clean energy economy," she said.
Granholm has the resources to shape this economy after the passage of President Joe Biden's bipartisan infrastructure law.
She highlighted those new resources when she spoke with reporters during the tour.
Competition for hydrogen hubs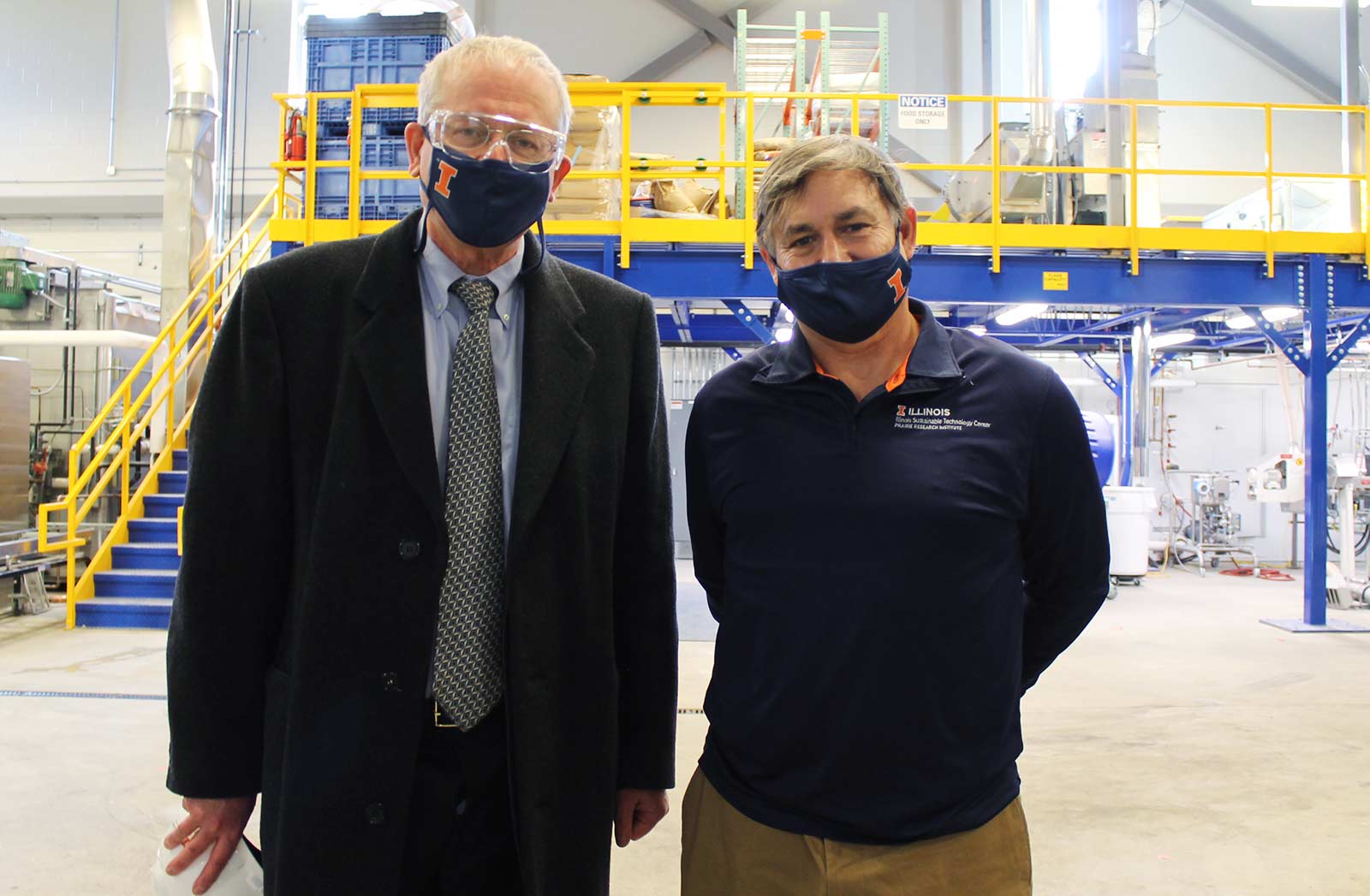 Biden's infrastructure law includes $8 billion for four hydrogen hubs. The University of Illinois hopes to house one of the four.
Hydrogen fuel offers the potential to produce energy without fossil fuels or carbon emissions. Not all hydrogen fuel processes achieve this yet though.
Kevin O'Brien is the director of the Illinois Sustainable Technology Center at the University of Illinois Urbana-Champaign. He sees hydrogen fuel as a necessary part of the solution to climate change.
"We're also looking at different projects at power plants to transform them from fossil based fuels to hydrogen. And why is that important? You don't want to have to just give up on these plants and walk away," O'Brien said.
That step won't happen without major investment in hydrogen research – investment that O'Brien says the infrastructure bill provides.
O'Brien is helping other researchers at the University of Illinois connect with companies interested in joining the potential Midwestern Hydrogen Hub. Engineering professor Petros Sofronis, who also directs the International Institute for Carbon-Neutral Energy Research, is one of the people leading the planning for the hub.
If the University of Illinois does succeed in creating the Midwestern Hydrogen Hub and winning federal support, it would mean roughly $2 billion for the region over the next four years.
Sugar cane into fuel
The University of Illinois is already running a clean energy research project funded by the Department of Education. Those involved at the Integrated Bioprocessing Research Laboratory were eager to show Granholm during the tour.
Machines gleamed around the edges of the large, concrete room. At the center of the room, senior pilot plant specialist Eric Wolfe pushed modified sugar cane – dubbed energy cane — through a press to separate the fiber from the liquid.
Both the liquid, which contains sugar and oil, and the fiber have a wide range of possible futures. The lab often turns the sugar in the liquid into ethanol, and the oil is used in fuels like biodiesel. With additional processing, the leftover fiber can become ethanol too, among other products.
Granholm noted that the infrastructure law provides incentives – to the tune of $1 billion – to expand use of biofuels like energy cane.
Emily Hays is a reporter for Illinois Public Media. Follow her on Twitter @amihatt.