Para leer este artículo en español, haga clic aquí.
CHAMPAIGN – Over the weekend, family and friends of Joel Quintas gathered outside in Champaign to remember him and thank God for his life. 
The Urbana man was a husband, father of two sons, and a deacon in his church — Iglesia El Shaddai. He immigrated from Mexico to the U.S. in the late 1990s and eventually made his way to Champaign-Urbana, where he worked at a local bakery, says his nephew, Gabriel Quintas, 19.
Joel Quintas had no other health problems and spent a month in the hospital before he died on June 20, Gabriel Quintas says.
At age 39, he's the youngest of Champaign County's 12 COVID-19 victims.
In this audio remembrance, Gabriel Quintas shares how family and faith meant so much to his uncle. His words are blended with music from Joel Quintas' memorial service on June 27: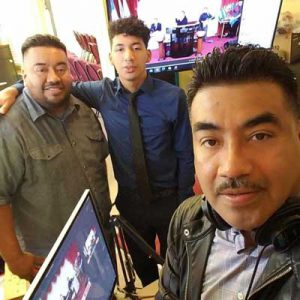 The following transcript of Gabriel Quintas' remembrance has been lightly edited and condensed for clarity:
As long as I can remember — I was probably like four or five — I could remember him just always having this vibe. He was just so uplifting, everybody wanted to be around him. I, as a child, as his nephew, always wanted to be around him.
He always helped many people. We grew up, you know, living day to day, check to check, and he brought families into his two-room trailer for years. He was always helping family from Mexico, even when we didn't have enough, he always made sure he could help his parents, help his brothers.
And he was always trying his best to provide for his family. Not even a year ago, he bought his first home. We've always lived in apartments and basements and trailer homes, but, you know, he was able to buy his family a house. He worked at Pekara bakery. He was always doing more than he could. That's who he was, his entire life.
Growing up, I left God's path, and I lived a not-so-good life. I left home at 15 or 16. And, you know, I recently came back and I recently gave my life to Christ, not even a year ago. I'm happy because my uncle used to pray for my life. He used to, you know, tell me to give a little bit to God and He would do the rest.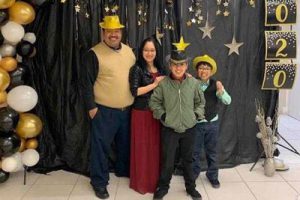 I recently just started preaching again. And he saw me preaching. He saw me, you know, give my life to God. And I'm happy because he got to see that.
I'm the one who took him to the hospital (on May 21). And seeing him that day — it was the last day that I've seen him — it kind of breaks my heart a little bit because that last hug that I gave him, not knowing it was the last time we were to give each other a hug, you know, it really means a lot.
In the car on the way to the hospital, he was gasping for air. He couldn't even fully speak because that's how out of breath he was. And he was saying some stuff in Spanish. In a way he knew that, you know, this might be it, these were his last moments. Deep down, I feel like he knew he might die. And I felt like everybody did, in my family, deep down we thought, you know, he might not make it.
The day we got the information that he wasn't gonna make it, we had to break the news to his kids: two boys, one's 13 and one's 10. They started crying out loud, saying things like, 'I'm not going to have a father anymore,' 'I want my dad,' and saying things like, 'I'm gonna miss my dad. I love my dad. I want to hear his jokes again.'
It's been hard for them. They're worried about their mother. They're worried about many things. Not too long ago, they were asking me: 'Who's going to take me to school? Who's going to pay our bills? And I told him that we were going to take care of them.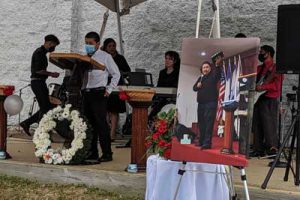 He's in the best place possible. He's made it. He's in heaven now, you know? And deep down, we're sad because we're gonna miss him. But we're entirely happy because he's made it. 
He's won the race and that's what we're most proud of, that he gave a testimony of who he was. And and that's forever how we will remember him.
Friends of Joel Quintas and his family have set up a GoFundMe page to help pay for his burial, medical bills and other expenses.
NOTE: Asked to confirm whether Joel Quintas is the youngest person to die from COVID-19 in Champaign County, C-U Public Health Adminstrator Julie Pryde said her agency does not discuss names. But she confirmed that the youngest victim is a male in his 30s with no underlying health conditions who died between June 18 – 24.
Christine Herman is a reporter at Illinois Public Media. Follow her on Twitter: @CTHerman