This is a developing story. It will be updated as we learn new details.
UPDATE: 56 summer residents are moving back into Hendrick House at the University of Illinois — ten days after an explosion forced them to evacuate. Management for the privately-owned residence hall announced on social media Wednesday that the city of Urbana had given the go-ahead to re-occupy the building's west wing.  Re-occupying the east wing will take a bit longer. That's where a gas leak on June 28th caused the explosion that blew the roof off of an attached one-story building that held the prep kitchen. No one was hurt. And Hendrick House management says most utilities in the east wing are working again — except for hot water. Residents will stay in the west wing while repairs continue. – JM 7/7/21 11:10 p.m.
(Original story, last updated July 3) URBANA – Emergency crews were on the scene until late Monday night, following an explosion at Hendrick House on the University of Illinois campus. Management of the privately-owned residence hall at 904 West Green Street. reported on their website and via social media that a gas leak in the building's prep kitchen was the cause of the blast, and that damage beyond the immediate vicinity appeared to be mostly cosmetic.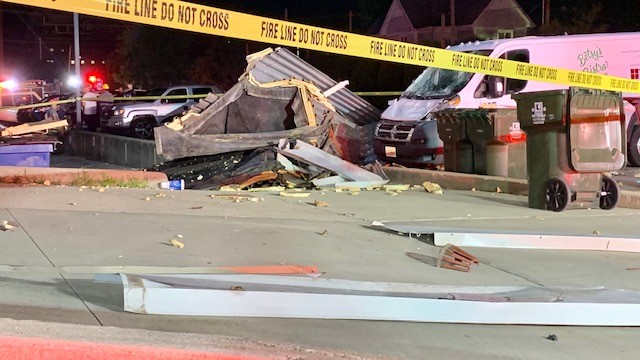 An Urbana Police Department spokesperson says 56 residents were evacuated from Hendrick House, with no one hurt. A CU Mass Transit bus was brought in to take them to temporary housing at Daniels Hall, a university residence hall located a block away on Green Street.
Residents remained in their temporary quarters at the end of the week. But Hendrick House management announced on a Thursday Facebook post that they hoped the building would be cleared for re-occupancy in a few days.
The building management said that inspections completed on July 1 indicated that all serious damage appeared to be limited to the site of the explosion, a small add-on building housing the prep kitchen, attached to the back of Hendrick House' east wing, near the loading dock. 
"Actually it blew the roof off of  — it's a small room on the north side of the building," said Urbana Fire Chief Chuck Lauss on Monday night. "It blew the roof completely off of that, and onto the ground. So there's quite a bit of debris that is around."
A boiler explosion at Hendrick House, a privately owned residence hall at the U of I Urbana campus @Illinois_Almaln forced its evacuation Monday evening. There were no injuries. @ILNewsroom Video by @RNewsWILL Reginald Hardwick. pic.twitter.com/cS0VYcERtX

— Jim Meadows (@WILLJimMeadows) June 29, 2021
University of Illinois astronomy student Rayna Spencer was in her apartment across Green Street from Hendrick House, when she felt the building shake from the force of the explosion.
"It was like a rattle in my chest," said Spencer. "I about cried because I thought something extreme was going to happen. I knew it was on campus."
Chief Lauss said all four Urbana fire stations sent personnel to Hendrick House, including the one located on the U of I campus. He says they were expected to stay there until late Monday night, investigating the nature of the explosion and checking for structural damage to the building. Investigators from the Urbana Fire Department and the Illinois State Fire Marshal's office were at Hendrick House on Tuesday, continuing the investigation.
"Damage within the main part of our building is mostly cosmetic, and appears not to be structural in any way," stated Hendrick House management on a July 2 Facebook posting. "Several steps remain with the city to pass all inspections which allow us to reoccupy the building, but we're hoping this is all completed in the next few days. The result of all of this is that for now, we have no reason to think we won't be able to welcome all our incoming residents this fall on time, as expected."
Building management said future updates would be posted on the Hendrick House website and Facebook page.
(Updated 7/3/21 6:30 PM – JM)
Illini-Alert. The incident at the Hendrick House was a boiler explosion. Everyone has been evacuated from the building. There are no injuries. Avoid area.
— Illini-Alert (@IlliniAlert) June 29, 2021