CHAMPAIGN — Families are beginning to weigh in on plans from the Champaign Unit 4 School District to change how it assigns students to elementary schools next year.
Some families are excited that the district wants to further desegregate schools.
Shanita Weatherall likes the idea of her daughter attending school with students who live near both Booker T. Washington and Carrie Busey elementary schools.
"I think teachers will pay more attention to them, and I think they'll learn more," Weatherall says.
Weatherall is a Unit 4 kitchen worker and the mother of a fourth grader at Stratton. She prefers the sister school option for next year, because she believes it will better combine high- and low-income students.
Her niece, Deaudjra Green, chimes in. She goes to Franklin STEAM Academy and sees how much she and her peers struggle when teachers don't – or can't – give them individual attention.
"Students are scared to ask teachers for help, and I feel like teachers just brush them off and move onto the next thing," Green says. "Then students don't care anymore and don't do their work, because they feel like they're not heard or understood."
What Unit 4 would like to change and why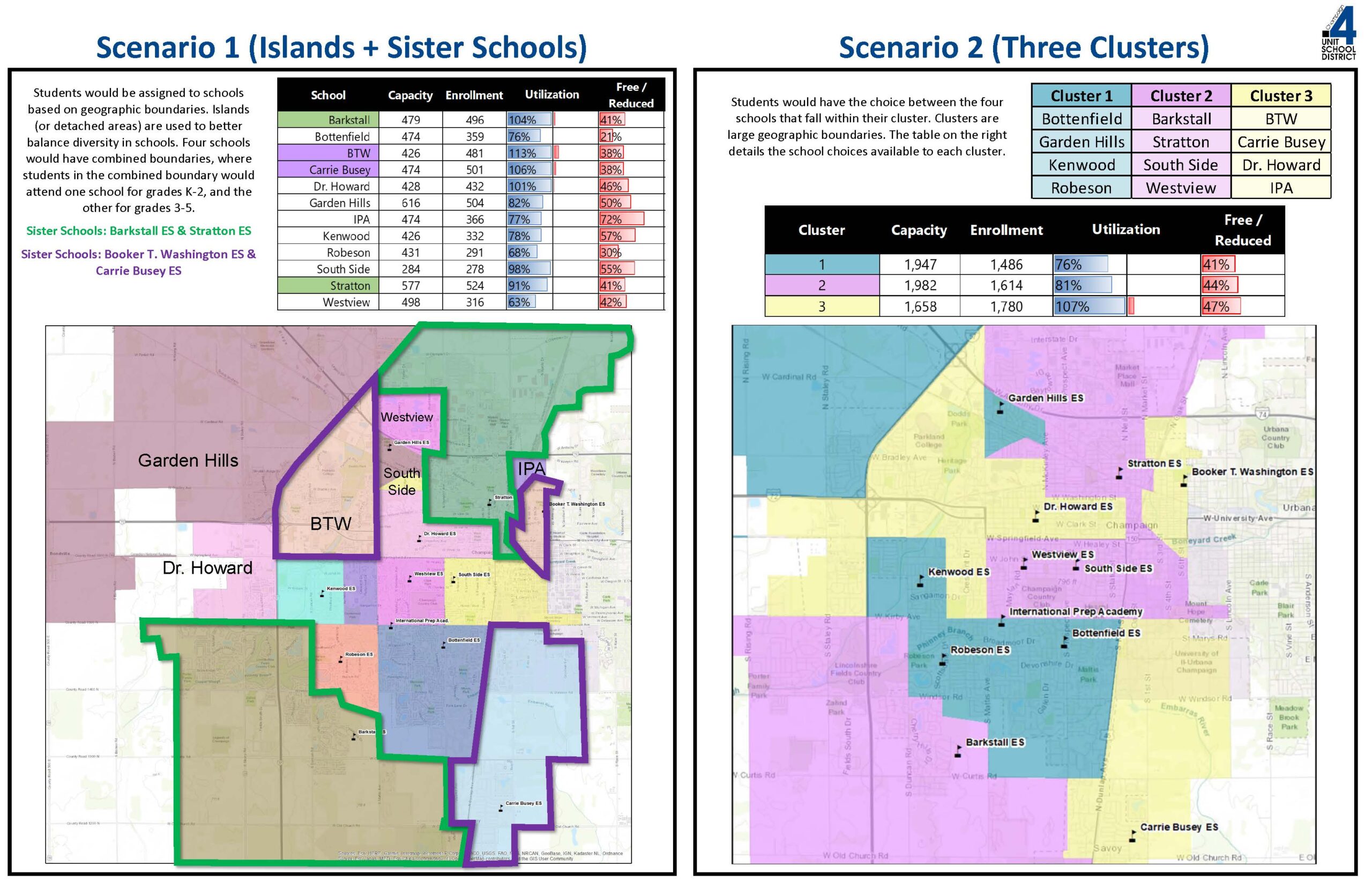 Unit 4 currently has a choice model, which allows families to rank their preferences for which of the district's 12 schools they would like their students to attend.
The school board wants to change this to help close learning gaps between students. For example, only about six percent of low-income students read at grade level. About 30 percent of their higher-income peers do.
The Unit 4 school board plans to vote by December on whether and how to change its enrollment process. This could mean between two-thirds and 90 percent of students would be required to attend different schools next year.
Last week, the school board heard a presentation on two options. One is similar to neighborhood schools, but particularly segregated neighborhoods would be paired with sister neighborhoods from the opposite side of the socioeconomic spectrum.
The second option is similar to the current system, except that parents could only choose from four schools instead of 12. Which four schools they would have access to would vary according to their address.
Some families want to keep the current process
Some families would prefer no change at all – like parent Brianna Turner.
Turner wants her two young children to attend either Garden Hills or Robeson Elementary, because those are the schools she attended. She says they provided a helpful, individualized education for her as a student with a disability.
"I was in IEP classes, and they taught me very well. I got to the next grade I needed to go to, with their help," Turner says.
Turner would not be zoned for Garden Hills or Robeson in either of the options the Unit 4 school board is considering.
Families can send in their opinions to Unit 4's online survey throughout October.
Emily Hays is a reporter for Illinois Public Media. Follow her on Twitter @amihatt.