CHAMPAIGN — City of Champaign Township Assessor Paul Faraci will serve as the next state senator in Illinois' 52nd District.
Democratic party leaders from Champaign and Vermilion counties made the announcement on Saturday.
Faraci was one of ten people to apply for the vacancy created by the unexpected death of Scott Bennett last month. Bennett had just been re-elected to a two-year term in November without opposition.
Speaking during the announcement, Vermilion County Democratic Party chair Sandra Lawlyes said the selection committee took into account the wishes of Stacy Bennett, Scott's widow, who is serving the final days of his current term.
"It was also of the utmost importance to me that we honor Stacy Bennett's preferences on behalf of her husband," Lawlyes said. "I'm confident that Paul Faraci will continue Scott Bennett's legacy during Scott's remaining term and go on to forge his own on behalf of both counties in the 52nd Senate District."
Stacy Bennett released a statement on Wednesday that mentioned Faraci as one of four people she and Scott had discussed as possible successors to the seat if Scott retired. She also mentioned City of Champaign Township Supervisor Andy Quarnstrom, Champaign Unit 4 School Board member Gianina Baker and City of Champaign Community Relations Manager Mary Catherine Roberson. Of the four, only Roberson did not apply for the seat.
Stacy Bennett wrote the following about Faraci:
"Paul Faraci has been a fixture in the Champaign/Urbana community for 45 years. His experience includes owning a small business, working on economic development, serving on the Champaign City Council, and now as the Champaign Township Assessor. He has also worked in Vermilion County through his positions with the Department of Economic Opportunity and the State Treasurer's office."
Not mentioned in Stacy Bennett's statement was Carol Ammons, the current state representative in the 103rd District, which is part of this senate district. Ammons also applied for the opening. Her husband, Champaign County Clerk Aaron Ammons, posted on social media earlier this week that Carol was the clear choice for the position.
Below is a portion of what he wrote: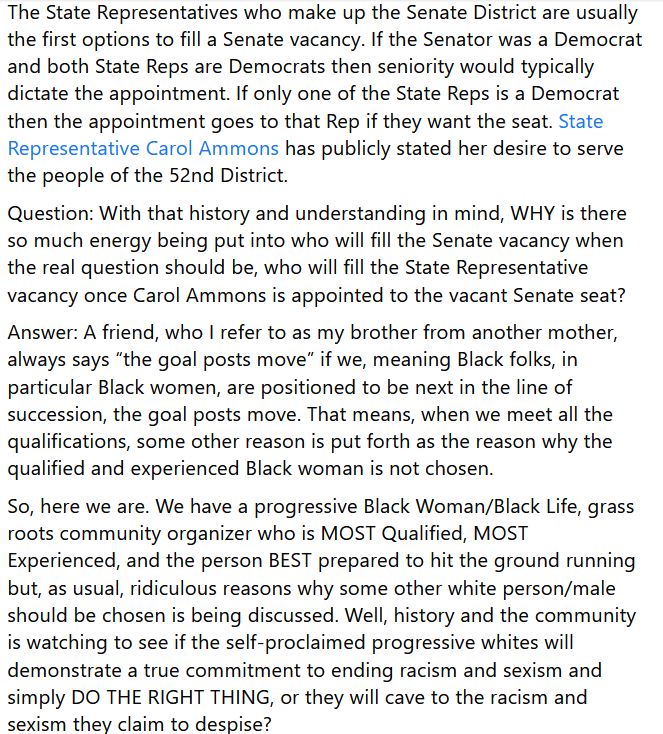 Other applicants for the senate seat were Mike Ingram, current chair of the Champaign County Democratic Party; attorney Christina Manuel; Champaign County Board Chair Kyle Patterson; three-time candidate for state representative, Cynthia Cunningham; mental health counselor Mickensy Ellis-White; and University of Illinois attorney Matt Sullard.
When Ingram applied for the position, he recused himself from the selection process, naming Champaign County Democratic Party First Vice-Chair Cari West-Henkelman to take his place. West-Henkelman and Vermilion County Democratic Party Chair Lawlyes agreed on the selection of Faraci. Had they disagreed, West-Henkelman's choice would have carried more weight because of the larger number of voters in the most recent Democratic primary.
Stacy Bennett is serving the final few weeks of her husband's current term, including the current "lame-duck" session happening in Springfield.
Faraci will be sworn in on Wednesday for a full two-year term. In addition to his current position as Township Assessor, Faraci has also served on the Champaign City Council and worked in both the Illinois Department of Economic Development and Treasurer's offices.