CHAMPAIGN – Wednesday marked the first day of legal recreational cannabis in Illinois.
Hundreds of people from Champaign-Urbana and across central Illinois flocked to two dispensaries in Champaign-Urbana early New Year's Day to make purchases as early as 6 a.m.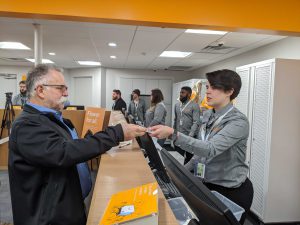 Sunnyside in Champaign and NuMed in Urbana now offer both medical and recreational cannabis to adults age 21 and over.
Rhonda Phillips drove from Charleston to get in line at Sunnyside at 8 p.m. the previous night, in order to be one of the first in the door. Huddled in a thick blanket in the freezing cold, she said she's seeking cannabis to help treat her pain.
"I have severe rheumatoid arthritis and just found out I have MS," Phillips said. "So I'm looking forward to the pain control."
Others in line said they're looking forward to a safer—albeit more expensive—alternative to buying off the black market.
"I've been smoking weed illegally for about 15 years," said Joseph Matthews of Rantoul. "So to be able to buy it legally is a plus. (But the prices) are pretty much double what you would pay on the street."
Champaign Deputy Mayor at Large Tom Bruno was among the first paying customers at Sunnyside, whose parent company is Cresco.
"Cresco has been a good corporate citizen for our community and we welcome their industry, we welcome their business," Bruno said. "And as you can tell by the public interest in this, this is what the citizens want."
Bruno said he normally would spend New Years Day watching football with his "recreational scotch."
"But now, I'll be watching it with my recreational gummies," he said.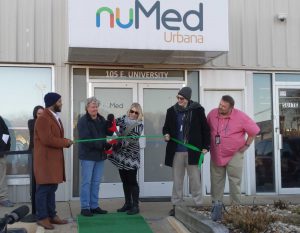 NuMed in Urbana also opened its doors at 6 a.m., with an overflowing parking lot and about a hundred people waiting in line, including Chad Crouse, who drove about an hour from Clifton to purchase THC concentrates for vaping.
"These prices are pretty hefty, we're talking highest street value that we're paying here," he said. "But at least we know that it's regulated, it's safe. It's worth spending a little extra cash for peace of mind."
At a ribbon cutting at NuMed at 9 a.m., Urbana Mayor Diane Marlin said the historic day represents a change in attitude toward cannabis policy.
She said over the next year, the city will be working to address common misunderstandings about cannabis legalization.
"It's important to remember that its use is still illegal for people under age 21, consumption has to occur in the home, and not while you're driving, not in public places," Marlin said.
Just like with alcohol, it's important to use cannabis responsibly, she added.
Marlin said she's hopeful new jobs within the industry will benefit Illinois communities, in particular, those that have been disproportionately affected by the war on drugs.
Alfred Knight of Urbana, who was waiting to enter NuMed mid-morning to purchase a cannabis cream for back pain, said he feels cannabis legalization is long overdue.
He said he's hopeful the efforts to undo the harm done to communities of color in the war on drugs will be successful.
"I just want to thank the governor for bringing it to the state, and anybody that was opposed, I think you're going to see the difference. It's going to be for the better, not the worse."
Company representatives for both Sunnyside and NuMed said the stores were fully stocked with various cannabis products.
But given the statewide shortage of cannabis buds or "flower," Sunnyside is setting a 7-gram limit on flower purchases, "to avoid the first 10% of customers buying 100% of the flower," said Nicholas Lemoine, national retail purchasing manager for Cresco.
Sean Johnson, a manager at NuMed in Urbana, said they ran out of flower just before the New Year as a result of medical patients stocking up in anticipation of possible shortages once recreational sales began.
State regulations require all cannabis dispensaries to set aside a portion of their stock for licensed medical cannabis users.
Christine Herman is the health reporter for Illinois Newsroom. Follow her on Twitter: @CTHerman