Concern about the coronavirus has affected the stock market. But so far, it hasn't impacted Illinois' economy, as measured by the University of Illinois Flash Index.
The Flash Index was up by three tenths of a point in February, to 105.7, its highest rating in over four years. Any reading over 100 reflects economic growth in Illinois.
University of Illinois economist Fred Giertz says the coronavirus was in the public eye for a while before it made an impact on the stock market, and Illinois' economy may see the same delayed effect.
"The February results may look like, in retrospect, they're kind of a high point and whatever the negative consequences may occur, starting now in March," said Giertz, who compiles the Flash Index for the university's Institute of Government and Public Affairs.
Giertz says the economic impact of the coronavirus could affect Illinois's economy in different ways. He says there could be reductions in trade with Asia, and general cuts in spending activity, as households and businesses prepare for expected problems.
"The area that will probably be hardest hit, if it does actually materialize into a major kind of problem, will be transportation," said Giertz. "United and American (airlines) have both taken hits so far. And then hotels and things of that sort and in Chicago will be impacted as well."
On the other hand, Giertz says increased spending on healthcare supplies and services to cope with the coronavirus outbreak could add to the flow of money in the economy.
Giertz notes that the economy is usually affected, for better or worse, by internal factors, like changes in housing sales or the unemployment rate.
"But this is an external kind of factors which the markets adjusts to, and then the economy adjusts to," said Giertz, "but it doesn't drive the process itself. So it's kine of an unknown at this point."
The U of I's Flash Index reading of 105.7 for February since November 2015, when it stood at 106.1
The Flash Index uses a weighted average of growth rates in Illinois tax receipts to provide a quick picture of the state's economy. Giertz says that for February, Illinois individual income tax and sales tax receipts increased, while the corporate tax receipts fell slightly when compared to the same month last year after adjusting for inflation.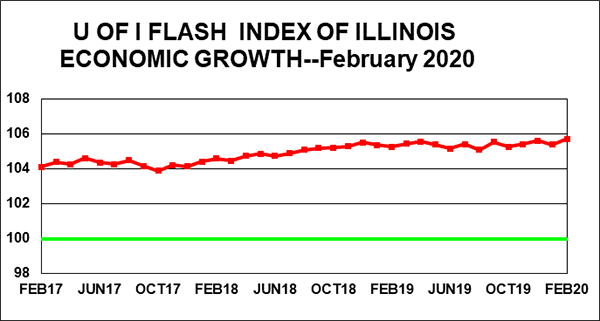 View Flash Index readings back to 1981 here.