COLUMBUS – The Illini men's basketball team lost 71-63 last night at Ohio State. Big men Kofi Cockburn and Giorgi Bezhanishvili were in foul trouble from the opening tip. Cockburn picked up his first foul 14 seconds into the game.
The consequence was rebounds. The Buckeyes won the battle of the boards 39-31 — a key stat according to coach Brad Underwood.
"We gave up 16 offensive rebounds. I mean, that was the game," Underwood said. "They got almost half their misses back. That hasn't happened to us all year."
The referee who called many of those fouls was Brian O'Connell, who works mostly in other conferences, especially the Big East. The other two referees in the game, Keith Kimble and Donnie Eppley, are Big Ten regulars.
Underwood declined to risk a $10,000 fine by answering the question of whether different conferences see different officiating styles.
"You're not going to get me to go down that path," Underwood said. "We didn't deserve to win. The officiating didn't have anything to do with it."
The closest Underwood came to criticizing Thursday's officiating was to point out that fouling is a rarity with his team.
"I think we're third in the country in the fewest fouls committed. Obviously, tonight, you have no chance when you send a team 28 times to the foul line, and we haven't done that all season."
Illinois coach Brad Underwood discusses a 71-63 loss at Ohio State.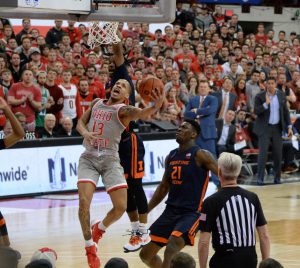 But the fact is, the foul calls changed the game drastically, and for both teams. Ohio State big man Kaleb Wesson also spent a lot of time on the bench before eventually fouling out. That gave an opportunity to freshman E.J Liddell. The Belleville West grad tallied his first career double-double with 17 points and 11 rebounds.
Illini senior Andres Feliz — who also tallied a double-double with 11 points and rebounds — said the Illini definitely missed their big men.
"There's a lot of ways they can help us," Feliz said," rebounding, protecting the paint. It was bad that we didn't have them for a big part of the game."
Kaleb Wesson led the Buckeyes with 19 points. His brother Andre scored 8 in his final home game. CJ Walker added 15 for the hosts,
Underwood stressed that apart from his team's rebounding effort, the defense was stout — holding Buckeyes guards to 5-25 shooting from the floor.
"We kind of did everything we wanted to do defensively," he said. "Their numbers are drastically, I mean drastically, thirty and forty percentage points difference off the dribble than they are step, catch and shoot threes."
Ohio State coach Chris Holtmann discusses his team's 71-63 win over Illinois.
Ayo Dosunmu led all scorers with 21 points. He said he understands that some referees have different viewpoints on how plays should be called.
"I have respect for all the refs, so even if they make a questionable call to me, I just go and talk to them, give them the respect they deserve," Dosunmu said.
The Illini — to have a share of the conference championship — now need the Big Ten's top three teams to lose this weekend. But they can secure a top-four seed, and a double-bye, in next week's Big Ten Tournament by beating Iowa this Sunday in Champaign. That game tips at 6 PM CT.