MURRAY, KY – The sun was setting on the courthouse square in the rural college town of Murray, Kentucky, after another sweltering July day. The town bills itself as the "friendliest small town in America," but recent controversy around the removal of a Confederate monument have complicated that image.
The city of Murray had unanimously passed a resolution to remove the monument, which features a statue of Confederate General Robert E. Lee and a memorial to the Confederate soldiers from the county. The local university and governor of Kentucky also supported removal. Yet, county government on July 15 passed a resolution – again, unanimously –  saying the monument would stay.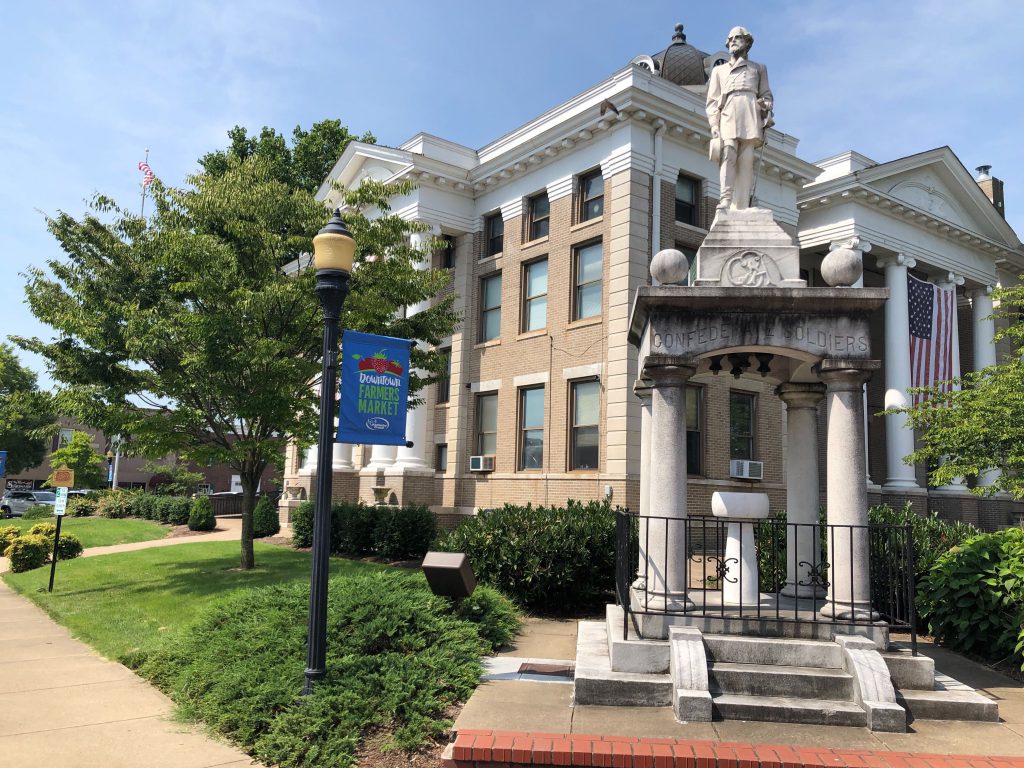 Following that vote, dozens descended on the monument in protest that evening, including the Murray State University football coach who sparked the recent calls to remove the statue.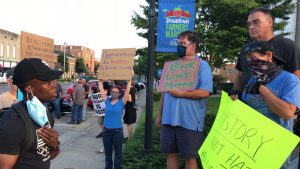 "If my brother who was a captain in the United States Air Force right now in Japan took up arms to kill people in the United States, then I would expect people to spit on his grave if he was right here," said Sherman Neal, said that night at the monument, adding that rebels like Lee shouldn't be memorialized.
Neal is a licensed attorney and U.S. Marines Corps veteran, and has lived in Murray for less than two years. He stood alone at first — a Black resident in city that is 83% white, according to latest data — sending an open letter to city and county leadership, calling for the monument's removal out of a sense of morality and to set an example for his two children.
The monument was installed in 1917 with funds from the United Daughters of the Confederacy. It's sat there undisturbed until this recent push, spurred by nationwide Black Lives Matter protests after George Floyd was killed in May by Minnesota police.
Talk to people around town and it becomes clear that there is no consensus on what should happen to Robert E. Lee.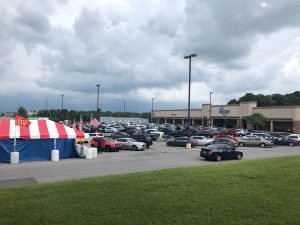 At a local grocery store the day before the monument protest, customers from Murray and surrounding counties bustled in and out, most wearing masks. Scott Pitt from a neighboring county doesn't see the monument as a symbol of oppression.
"Well, it's been a very long time, what's the problem now," said Pitt, 33. "I mean, you don't know what you've gained unless you know what you've accomplished. You know what I'm saying? And I just don't think that there's a reason to move it."
Pitt said if the monument was moved from county courthouse grounds, he wasn't sure where it would go. Removal advocates have previously proposed a cemetery in town.
Several other people said they want the statue to stay for similar reasons, because they see it as a part of the history of their county, or a remembrance of the Civil War.
"When you begin trying to erase your history, you're bound to repeat it. So, I think we should just put up some more monuments for the other side and their beliefs, and just let the American history stand," said 54-year-old Theresa Perkins of Murray.
Perkins said that Lee was unfortunately a man who "stood up for the wrong side" and that she isn't for the idea of the Confederacy, but that the monument should remain where it is as a reminder not to repeat the Civil War.
But Angelita, 39, who grew up in Murray, sees the statue differently. Angelita believes relocating that statue is a start to living up to Murray's self-proclaimed motto of being a friendly small town.
"I know there's some people in town that says that it doesn't represent racism. But that's only because you're looking at it from a different standpoint," said Angelita, who did not want to give her full name. "We're in the 21st century. We just need to stop and come together and live as one, and if that hurts one part of our community, we need to get rid of it — period."
Back at the monument protest, 61-year-old Regina Hudspeth stands off to the side watching. She's seen the monument in the courthouse square her entire life, having graduated from both Murray High School and Murray State University.
She has always opposed the monument, but she didn't have a groundswell of support from others in town until now.
"It means nothing to me. Absolutely nothing except for hurt and pain for what it represents," Hudspeth said. "You hear the argument of 'it's been here all this long and nobody's ever really complained about it.' Yes, but why complain when you're just a handful of people, and you don't have a majority of people behind you? Now we have that."
Hudspeth said removing the monument wouldn't solve systemic problems with community policing or racism in the county, but it could be a start.
Liam Niemeyer produced this story as part of the America Amplified initiative using community engagement to inform and strengthen local, regional and national journalism. America Amplified is a public media initiative funded by the Corporation for Public Broadcasting.