URBANA – As I enter the atrium of the Beckman Institute, natural light shines down on dozens of research projects.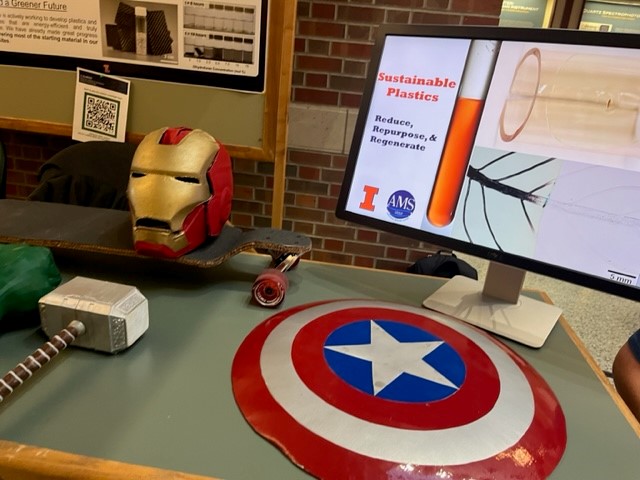 I walk up to Luis Rodriguez Koett, an engineering Ph.D. student in the Autonomous Material Systems Group. He has a Captain America shield on his table.
"This, unfortunately, is very sturdy, very strong. It requires a lot of pressure and heat to make. So there's a lot of waste that goes into making the material," said Rodriguez Koett. 
He is one of many University of Illinois Urbana Champaign scientists trying to find ways to make plastics reusable. They also want to recycle the products without degrading their strength.
"How can we take these materials that have already been made, break them down to their original components and then reuse them for the same application?," said Rodriguez Koett.
Organizers are expecting several hundred children to learn first-hand science lessons at the 2-day event.
Kristin Giglietti is the education program manager with the Cancer Center at Illinois. Children are invited to a special 'paint by numbers' display. It's a 3 by 5-foot grid on a canvas. 
"And the numbers all represent different colors of paint that we'll use. The one that we're currently working on is the DNA double helix so it looks like that spiral twisted staircase that some of us are familiar with," said Giglietti.
The Beckman Institute's open house is scheduled for Friday 9:00 a.m.-4:00 p.m. a.m. and Saturday, April 1 9:00 a.m.-3:00 p.m.
A few feet away, Noelle James, a post-doctoral student in the Auerbach Neuroscience Lab, is testing the hearing of rats versus humans. The fuzzy creatures are not on display. The rats' tests are displayed on a television screen.
"We work on hearing and how the brain thinks about hearing. And we use rats to do this. But we can't ask a rat how loud does this sound? So instead, we use how quickly they can respond," said James.
To be tested, human subjects put on one of several colorful headphones and react to different volumes of tone.