CHAMPAIGN – Illinois Gov. J.B. Pritzker visited the vaccination site located at the I Hotel and Conference Center in Champaign on Wednesday.
During a press briefing following a tour led by Champaign-Urbana Public Health administrator Julie Pryde, Pritzker praised Champaign County for leading the way in building local partnerships to get the vaccine out to the public quickly, "working with Carle Health, with OSF HealthCare, with Christie Clinic, with Promise Healthcare, and of course, the University of Illinois, to host community-based vaccination clinics."
Pritzker also touted C-U Public Health's efforts to work with local daycare centers and K-12 schools to help teachers and staff get vaccinated — a step toward helping schools safely reopen for in-person learning. 
Champaign County ranks sixth out of Illinois' 102 counties with about 3% of eligible residents fully vaccinated with two doses, according to data posted online by the Illinois Department of Public Health. (The top five are Adams, Calhoun, Piatt, Clinton and Fulton counties).
Illinois ranks in the bottom 15% of states for percentage of the population receiving the first dose and is about average for having almost 2% of the population fully vaccinated, according to a New York Times analysis.
Pritzker said supply issues are causing a slower-than-ideal rollout, but expressed optimism that the pace will pick up soon, noting that on Tuesday, Illinois surpassed its single-day vaccination record, with more than 65,000 doses given.
Some Illinois pharmacies should also start seeing an increase in vaccine doses shipped directly from the federal government by late next week, he said, as part of a new national pilot program the Biden administration announced on Tuesday.
It's an attempt to address equity concerns and speed up the process of getting people vaccinated, NPR reports.
"That means 39,000 more doses available each week to Illinoisans," Pritzker said. "And that number will grow within that program."
Pritzker also praised the Biden administration for boosting the number of vaccine doses in weekly shipments to states by 20% starting this week, calling it "a terrific development and a good start toward the promise of a vaccination for every American who wants one."
So far, fewer than two million doses of the vaccine have been allocated to Illinois — enough to fully vaccinate one million residents, or about a quarter of the 4.1 million people who now qualify in these first two phases of the vaccine rollout, Pritzker said.
With demand far outpacing supply, many Illinois residents have expressed frustration about the difficulty of getting an appointment, despite being eligible.
In an interview on The 21st show Monday, IDPH director Dr. Ngozi Ezike said the state is working to increase the number of people available to help residents sign up — especially those who lack internet access or struggle with technology.
But until the vaccine supply is increased, she expects challenges to continue.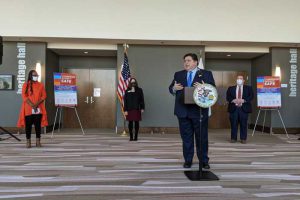 "At the end of the day, we are still in a situation where we have more people eligible than we have doses," Ezike said. "So even with all the people to take the calls, there aren't necessarily enough vaccination appointments."
According to state data, less than a third of the nearly half a million doses allocated for long-term care facilities have been administered so far. 
To help get more available vaccine doses into arms, state officials announced Wednesday that about 97,000 excess doses of the coronavirus vaccine — originally allocated for nursing home residents and staff but currently sitting unused — will be redirected to providers across the state.
Ezike said taking this step will not interrupt the process of vaccinating vulnerable nursing home residents but rather ensure that doses aren't wasted or sitting unused.
She said the federal pharmacy program — tasked with vaccinating all nursing home residents and staff — should be done with initial visits to all of the state's 1,600 facilities by the end of February, if not sooner.
Christine Herman is a reporter at Illinois Public Media. Follow her on Twitter: @CTHerman