CHAMPAIGN – From a parade returning to the streets to more than a dozen menorahs, Champaign-Urbana is catching the holiday spirit.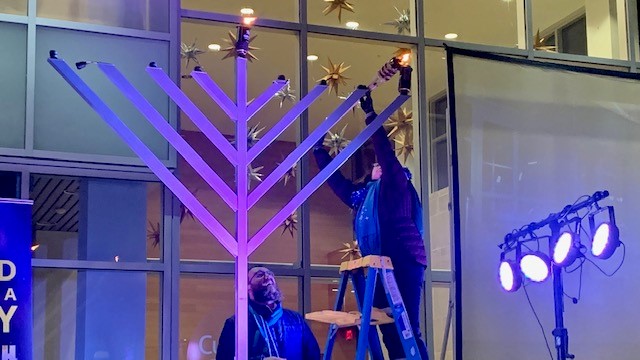 Hanukkah Holiday Begins
On Sunday night, Champaign mayor Deb Feinen lit a menorah in front of the city's public library as dozens looked on.
The 8-day holiday known as Hanukkah is being recognized in Central Illinois on a bigger scale than ever before. Illini Chabad says there 14 public menorahs and eight billboards spreading the message of the Festival of Lights this year. Besides the library, the locations include Marketplace Mall, Willard Airport, Urbana City Hall and Carle Hospital.
Urbana resident Robert Ferrer attended Sunday's lighting.
"We're together here as a community," said Ferrer. "And that we are celebrating our freedom, our identity and we're doing it in a public way, which is the most important thing."
Potato pancakes, or latkes, are the food most traditionally associated with Hanukkah. The story goes that over 2,000 years ago, after the Second Temple of Jerusalem was ransacked by invaders, there was only enough oil to keep the temple menorah lit for one day and night. Inexplicably, the oil burned for eight days and eight nights, thus earning the holiday the name "festival of lights."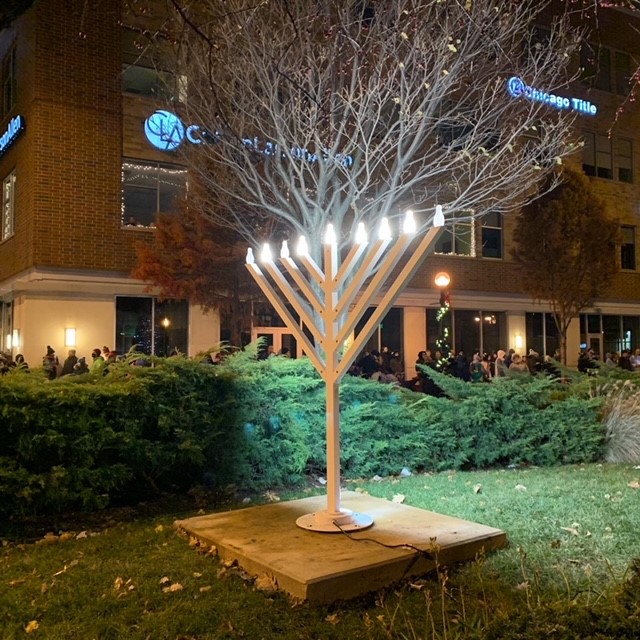 Patricia Nashchpitz of Urbana says Hanukkah is a reminder of the resilience of the Jewish people.
"Because our people fought hard to keep the rights; to have his own culture and religion. And [not] let anybody try to kill our history," said Nashchpitz.
Blue Christmas Parade
On Saturday night, thousands gathered in downtown Champaign to see the first parade of lights since the COVID-19 pandemic began.  This year's theme was Blue Christmas.
Danielle Trevina and Jake Mandela brought five children to Saturday night's parade. She appreciated seeing the floats in person this year.
"I mean its definitely great being able to have, be back here and seems back to normal almost," said Trevina.
Because of the pandemic and restrictions last year, the parade was only available online.
Thirty-eight-degree weather didn't seem to affect the crowds.
Parade watcher Jay Gardner, her three children and nephew decided to take in the event along Neil Street. They creatively kept warm in the chilly temperatures.
"Nice and layered," said Gardner. "We've never done this so we don't have blankets and stuff. We're not as prepared as everybody else. But nobody's complaining too bad. And body heat, we like hugs!"
This was the 21st year for the Champaign Parade of Lights.
Danville holds its "Hometown Holiday" parade on Friday, December 3.
The #Champaign parade at Neil & West Church Streets pic.twitter.com/u7RbPyF1MW

— Illinois Newsroom (@ILNewsroom) November 28, 2021