URBANA – The process of vaccinating the first few hundred hospital workers in Champaign County began Thursday. 
In the first shipment, Carle Foundation Hospital in Urbana received 400 doses of the Pfizer-BioNTech coronavirus vaccine for its staff. OSF Heart of Mary Medical Center in Urbana received 50 doses.
Since doses are limited, hospitals are prioritizing staff who have the most exposure to the virus.
Dr. Uretz Oliphant, 67, is a trauma surgeon who has been operating on COVID-19 patients in need of emergency surgeries. He has been with Carle for 28 years, now serves as head of surgery and is also a professor of surgery for the University of Illinois College of Medicine.
Oliphant volunteered to be first in line. In a room with members of the media, there was cheering as he got the shot and didn't even flinch. Oliphant says he was more nervous about all the cameras there than the shot itself.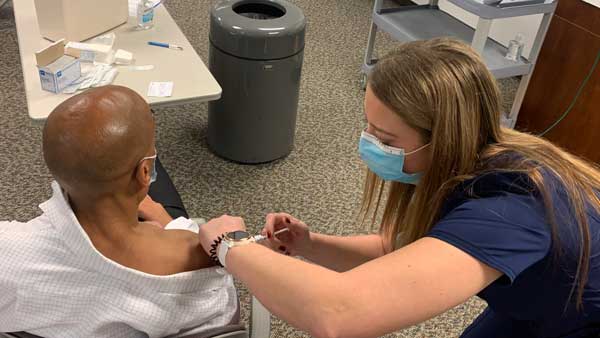 For Oliphant — and many on the frontlines — the arrival of the vaccine marks the beginning of the end of a long battle against this virus. He will be back to get the second dose of the vaccine in three weeks.
Oliphant spoke with Illinois Newsroom about the experience.
This interview has been edited for clarity and length.
Christine Herman: How are you feeling?
Dr. Uretz Oliphant: Obviously, because of all the devastation that [the virus] causes and the effects that it has on patients, it's been very emotional. Especially when it affects colleagues and relatives and, and your personal patients. But it's been sad to see, especially in situations where you have death and the patients being alone when they die. So that's been kind of hard. With any patient that you lose, it's very personal, and very emotional.
CH: Has it been scary for you to be on the frontlines working so closely with patients who are sick? Are there certain conditions that put you at higher risk yourself?
UO: Oh, yeah, you're definitely at risk for catching the disease, and catching a very severe form of [it]. Fortunately, you know, we have the PPE that decreases the chance of you getting the disease, but that's always a risk, working this closely to patients who have it.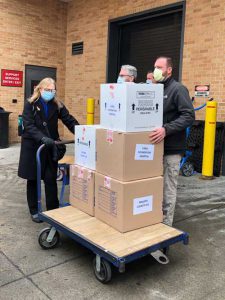 CH: When you first heard that there were promising results for a vaccine, what was your first thought?
UO: Oh, I was elated. And I was very proud that the scientific community took up this charge and came up with the vaccine. As you know, vaccines can take two to three years. And we came up with one so quickly, and one that is so effective. 
And I also have a little pride in that one of the key scientists that was involved in the discovering of COVID vaccines is an African American female, Kizzmekia Corbett. 
I heard a good quote: There is light at the end of the tunnel, but we're still in the tunnel, however. And we've got to emphasize that we still have to social distance, wear masks, and PPE. But there's light at the end of the tunnel. 
The reason why I wanted to get the vaccine, of course, is because of the safety of the vaccine. But the reason why I wanted to do it so publicly is because I want to demonstrate my confidence in it to my patients, the people I work with, my relatives and my community as well.
CH: How did you feel when you woke up this morning? And in the moments before you got that shot today?
UO: I felt okay, you know, I was anticipating the cameras and things. That's the only thing I thought about, because I've gotten vaccine shots before, I've given shots before. So that wasn't anything particularly worrisome.
CH: It sounds like it's been a very difficult year. What have been any bright spots or moments where you've found hope throughout all of this?
UO: I guess the bright spots are those people who get the disease and survive, especially if they get the devastating forms of the disease and we're able to pull them through and we're able to get them back to their families. I think that's the brightest spot.
Christine Herman is a reporter with Illinois Newsroom. Follow her on Twitter: @CTHerman