CHAMPAIGN — Keith Thomas wears many hats in the Champaign-Urbana community. 
He's a full-time pastor at Mount Olive Missionary Baptist Church. And he's also been on the frontlines throughout the COVID-19 pandemic, working as a hospital chaplain at OSF HealthCare.
Thomas says the hardest situations he's been in — as a local chaplain — have involved elderly people who contracted the coronavirus from a younger family member who wasn't vaccinated and didn't take pandemic precautions seriously.
"They were fine with it as a younger person, but didn't think about the repercussions of the health conditions of someone that's older," he says. "I've seen more than a few that have died because of that scenario."
Illinois Newsroom spoke with Pastor Thomas about how his work to promote public health measures — with a focus on Champaign-Urbana's Black and Brown communities — has been fueled, in part, by the suffering he's witnessed in the hospital. 
This interview has been lightly edited and condensed for length and clarity.
Christine Herman: You were a hospital chaplain even before the pandemic hit. How did COVID-19 change things?
Pastor Keith Thomas: When we first started with COVID, it was a very scary thing. I mean, the first time, as a chaplain, that you walk into a room with a COVID patient, you [recognize] that you are putting yourself in harm's way, to a certain extent, but for a greater good: to make sure that everybody knows that they're loved and that they're valued and that they're being cared for.
And it's absolutely frightening. It's terrifying. It's scary.
That landscape has been part of a new norm that we live with. We [put on protective gear and] safely walk in and out among people who are dealing with this condition that's come upon them.
CH: When was the first time that you walked into a room to speak with a patient who was COVID-positive? Was that pretty early on in the pandemic?
KT: Yes, pretty early on. It was during that time when, what's being worn, you know, looks almost like a spacesuit. From my childish imagination, that's what it looked like.
CH: Was that an adjustment? Because I imagine in pre-pandemic times, you didn't necessarily have to put on that 'spacesuit'-level of personal protective equipment to go in and talk with a patient, right?
KT: Well, certain PPE is needed for certain types of infectious rooms. And somewhat, yes, if it's something airborne, then you actually did have to wear it. But that was so rare, whereas today, it's common. 
That's the easy part. It's the unknowns, which don't always get recognized.
Behind every person that is in a room, struggling with COVID, there is a group of loved ones and family members that are looking for support. And that's just the hospital. We also have to think about the nursing homes.
How do you respond to the person who says, 'I'm so frustrated, because I can't go in and see my mother, my father, my son'? They crave attention, and all they get is a window. And that doesn't work.
CH: What made you decide to become proactive and speak up about public health measures throughout the pandemic?
KT: I was no longer able to open the doors of my church. This was the most far-fetched thing that I have ever experienced in my life — that I would have to tell people that you cannot come to your church home. 
[It became] incumbent upon me to do things to help, and it just was on my heart and weighed heavy. Everything really started with this crazy idea about the fact that people need to be tested.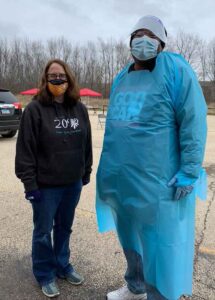 The testing was being done in places where you wouldn't see very many people of color, or elderly people, and that was an issue. I shared this idea with Amanda Gray, [who chaired Mt. Olive's re-opening committee]. I told her: What if we decided to have a drive-through testing site here at the church, and then see if it can happen in other places? And that's where everything started. Everything just escalated from there. 
CH: State public health data shows that, compared to other demographics, Black and Brown residents in our county have lower vaccination rates than white residents. Was that part of your motivation for hosting vaccine clinics at your church?
KT: Sure. Well, one of the things that we had to do, with the vaccine coming out, was to deal with the level of mistrust and misinformation.
There and certain demographics that will be much more willing to pay attention to their health and move towards a vaccine — and that's the older generation. The younger generation is much less likely to do it.
And so we went to the state level, we did a [virtual] town hall [in January] with Dr. Ezike, the state director, and it was a real win-win.
It's amazing, working with the Champaign-Urbana Public Health District — how we mix as leaders, and are able to focus on the public health crisis and work together. Once I got involved in the COVID fight, it led me up to being an ambassador with the Illinois Department of Public Health. 
What we have to do is just share and share boldly what the facts are, and let the chips fall where they may. We don't want to argue with anyone; just state the facts, and let a person make the judgments. 
Unfortunately, the hardest part is that people won't believe the facts [about COVID-19] until a sickness comes and really impacts them or their family. And that's the unfortunate part.
CH: What would you say to someone who says, 'Pastor Thomas, I trust God, so I'm not going to get the vaccine'? I've seen that type of rhetoric in different places. How would you respond to someone who feels that way?
KT: Here's my statement, and I'm very clear. I say to that person: If you can trust God without a vaccine, you can definitely trust God with a vaccine. The same power exists with or without a vaccine. It's just your trust that's in the way.
Wisdom will allow your faith to act properly when the facts are presented. We have to move wisely throughout this pandemic.
I've been very adamant about saying that wisdom will tell you how to respond in faith when the facts are presented before you.
Christine Herman is a reporter at Illinois Public Media. Follow her on Twitter: @CTHerman