URBANA – Hundreds of protesters took over the streets of downtown Urbana Monday to denounce police brutality against people of color — including the recent killing of George Floyd by police in Minneapolis.
A diverse crowd — nearly all wearing masks — gathered outside the Champaign County Courthouse. The peaceful demonstration took place a day after Champaign police arrested 27 people over reports of looting and property damage in the vicinity of the Marketplace Mall. The incident is under investigation, but police say they don't believe any peaceful protests were planned at the mall at the time businesses were damaged. Cities and towns across Illinois reported both peaceful demonstrations as well as instances of looting and violence over the weekend. 
Maurice Hayes is one of the organizers of Monday's demonstration in Urbana, as well as protests that occurred on Friday and Saturday in Champaign. He says the goal is to bring to light their frustration with systemic racism in policing and encourage officials in both Champaign and Urbana to work with activists toward solutions. 
"A lot of the things that go on in these neighborhoods. in these communities (are) overlooked by the powers that be," Hayes said. "You have to stand up against the wrong. If you don't stand up against the wrong then you're part of the problem. And that's what we're saying to our local politicians today."
In Urbana on Monday, demonstrators marched to multiple intersections, stopping for a few minutes at a time. Many took a knee — a move widely recognized as a peaceful protest against police brutality —  including Urbana Police Chief Bryant Seraphin.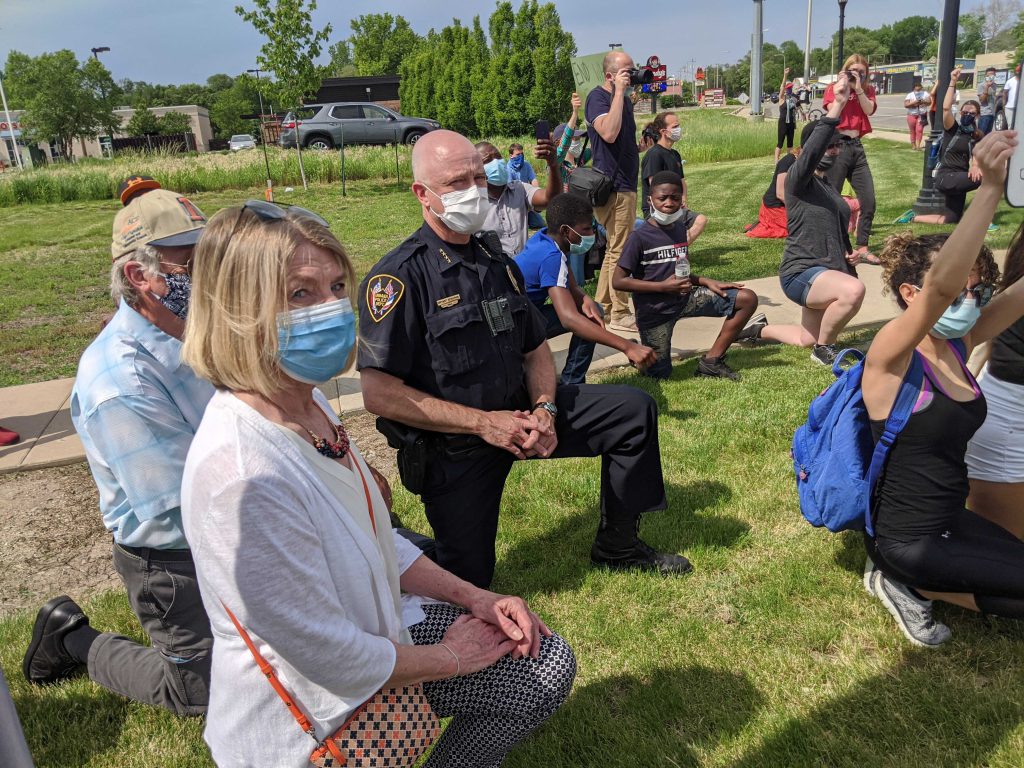 "The event in Minneapolis is unacceptable. It hurts all of us. Citizens and police. And we cannot tolerate that behavior," Seraphin said.
He was approached by demonstrator, Katherine Keys, a 44-year-old black woman, who thanked him for taking a knee.
"I'm one of those people who don't like cops. I don't trust y'all. I'm scared of y'all. But I saw you down on one knee and it touched my heart," she told Seraphin.
Keys says police brutality against people of color is a long-standing problem that's been made more visible thanks to cell phone videos. 
"Black folks is mad. We're mad," she said. "Even though this is peaceful, this is a contained anger. But there is always anger under the surface for this. We have had enough. Is 400 years enough, finally? When is it enough?"
Keys says she came out to protest despite the COVID-19 pandemic, and she says the stay at home order gave many people time to reflect, including on issues like systemic racism. 
Julie Pryde, administrator of the Champaign-Urbana Public Health District, was also among the masked protesters.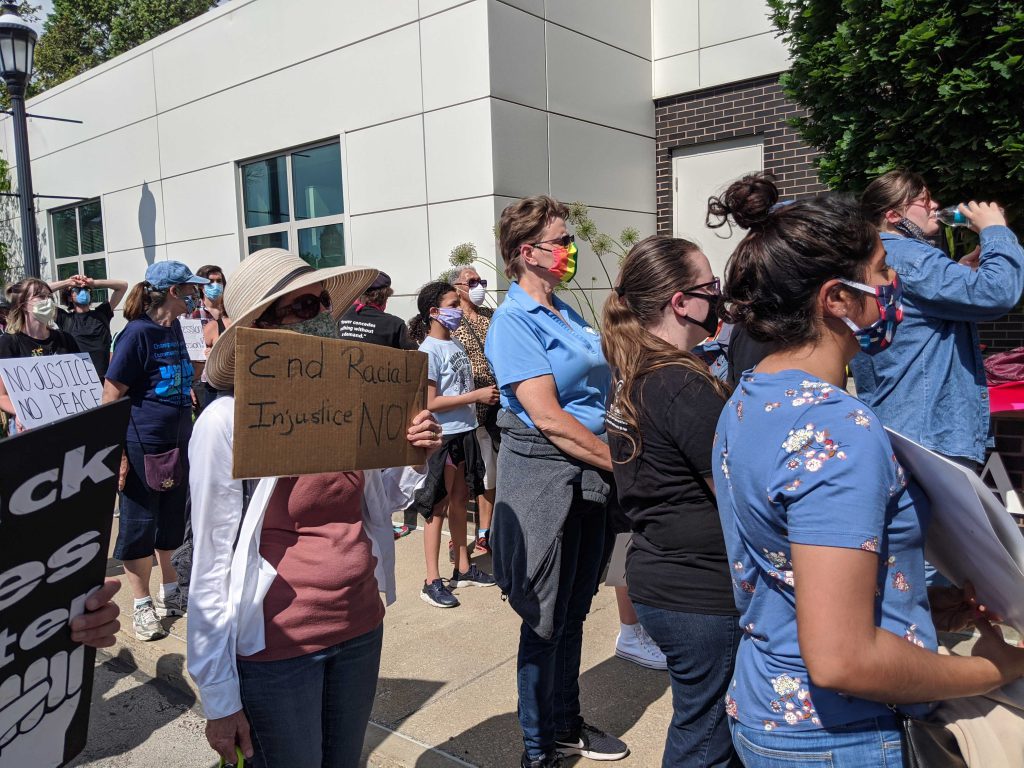 She too felt that police brutality and systemic racism were too important for her to sit the protest out. 
"Even in the middle of a pandemic sometimes voices have to be heard —  and that's all voices," Pryde said. She says the turnout on Monday — even in the midst of the COVID-19 crisis — illustrates that the public is disgusted by police brutality against black and brown people.
"A lot of people are dealing with uncertainty and fear for the first time during the pandemic. We are out here in solidarity with people who live that everyday," Pryde said. "People are fed up."
She acknowledged that she is concerned the protests and reopening of businesses may lead to outbreaks of COVID-19. Pryde says the public health district is a resource for those who become ill, and that they're ramping up their contact tracing capabilities.
April Rudicil attended the protest with her son, Braden, an 18-year-old who just graduated from Urbana High School. Braden is black, and Rudicil says she came to demonstrate in support of her son and her family. She says she lives with the fear that her son may be harmed by police anytime he leaves home. 
"I hate having to feel that way. And I hope that somehow all of these protests and open forums and people using their platforms — I hope that somehow it brings attention. Because obviously all of the things that have been done in the past have not gotten the right people's attention," Rudicil said.
The official portion of the protest ended in front of the Urbana Police Department, where demonstrators called for criminal justice reforms. They also called for the release of those who had been arrested during the weekend protests and looting incidents. Marchers continued west toward the University of Illinois campus and Champaign. Champaign Police tweeted Monday evening that they met the protesters outside that city's police department and delivered a message of unity. 
Follow Lee Gaines on Twitter: @LeeVGaines