CHAMPAIGN – Hundreds of runners and walkers turned out for the inaugural Run To Remember on Saturday morning in Champaign-Urbana. The 8K run and walk started off in front of the University of Illinois Memorial Stadium, 20-years after the September 11, 2001 attacks. And while it was not specifically created for that day, the race is intended for people who remember what they've lost. For Sandra Calderon, it was the World Trade Center in New York City.
"The people were great," said Calderon, 63, who worked at the World Trade Center with her husband, years before hijacked airplanes destroyed the complex's twin towers. "Where we worked was awesome, and New York is an awesome place to be at all times."
Calderon was a walker in the Run To Remember. Her race bib carried the words "Will Never Forget". Other Run To Remember participants wore a second bib on their backs, with the phrase "Today I Remember", followed by a blank space for participants to write in the name of someone they had lost.
Rachel Brumett of Danville wrote "9-11 Firefighters" in the space.
"I didn't know anyone specifically that were lost at that incident," said Brumett. "But I just wanted to remember all of those that served for our country, and those that were lost during this day."
Others at the Run To Remember wrote in the names of departed relatives or friends. 53-year-old Rich Devine of Mahomet remembered his mother, who died six years ago in August. Bob Ballsrud of Urbana, 48, remembered his late mother and father-in-law. 25-year-old Katie Hiskes, a University of Illinois student from Indiana and the top women's finisher in Saturday race, remembered her grandparents, especially her maternal grandfather, a World War Two Navy veteran.
U of I graduate student Ethan Heidrich of Oswego remembered her Great-Aunt Mimi.
"She just died very recently," said the 23-year-old Heidrich. "I just wanted to definitely honor her with this race."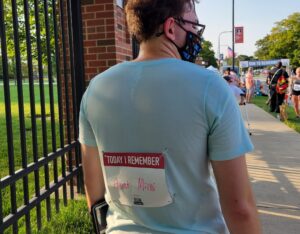 Ethan Heidrich shows off his Run to Remember back bib – Photo/Jim Meadows/Illinois Newsroom
Several family and friends ran or watched the Run to Remember in memory of Andrew "Drew" Adams. The recent Champaign Central High School graduate drowned in May 2020 in Wisconsin during a weekend trip with friends. Members of "Team Drew" were stationed between mile three and four of the race route to cheer on the runners.
Drew's father, Harold Adams, says his son's death has been rough for him and his family, as well as Drew's friends.
"He was 18, and those guys are in college now," said Adams. "When this idea came up, it's a great way to get together and run in Drew's memory. And I actually can't run, but we've got a couple of people running."
35-year-old Josh Hinds of Champaign was the first finisher in the Run To Remember, and also ran the fastest time, at 26 minutes, 31 seconds. Katie Hiskes ran the fastest time among the women, 31:48.
Race director Jan Seeley said on Saturday morning that the Run To Remember had 725 participants. Finish times for 554 participants were listed Saturday afternoon in results compiled for the race by event software company EnMotive.
COVID-19 precautions were in place for the Run To Remember. Face masks were worn in the staging area, and unvaccinated participants were asked to keep their masks on during the race, and to maintain social distancing. There was no hydration station on the rate route, and runners were advised to carry their own fluids during the race.
Nevertheless, the Run To Remember provided the kind of opportunity for runners that has been rare during the COVID-19 pandemic. Many races were canceled during the past year and a half, including the main event of the Run To Remember's organizer, Champaign-Urbana's Illinois Marathon. (After being canceled in 2019 and 2020, the Illinois Marathon is registering runners for its return during the last weekend of April, 2022). Other races went ahead with small numbers. And some races have been held virtually, with participants checking their own time as they ran on their own.
Race director Jan Seeley says there were 80 virtual participants in the Run To Remember, running or walking the eight kilometers wherever they happen to live across the country.
But Jason Szumski of Wheaton, another U of I Vet Med student, said he was grateful to return to what he called the "race day environment."
"You get to see everyone running together, doing it for the same reason," said Szumsky. "And when you're trying to do it by yourself, like 5K around your house, doing it through the neighborhood, it's just not the same. So I'm glad we're able to do this safely."
Seeley says the Run To Remember will become an annual event. However, it will not always fall on September 11, and is not meant to be tied specifically to the losses suffered in the 9-11 attacks.
"It's about a much broader tent of remembering," said Seeley. "It's about everybody's collective experience. It is an event to honor the memories of those we miss, cherish those within our midst, and work together for a peaceful tomorrow."