SPRINGFIELD – Beth Ouimet thought she had lucked out in the summer of 2019 when her father got a placement in the state-run LaSalle Veterans' Home after an episode of PTSD made it clear that living on his own wasn't an option for the immediate future.
And even after COVID-19 hit Illinois and locked down the facility, Ouimet still was grateful her dad was there. 
"I actually thought I was saving his life by keeping him at LaSalle," Ouimet said.
But this past fall, the LaSalle Veterans' Home became the site of one of the largest COVID outbreaks in any congregate care facility in Illinois. In the months that followed, multiple third-party inquiries into what went wrong at the LaSalle home found damning evidence of lapses in responsibility. High-level personnel were fired or forced to resign. Gov. JB Pritzker has promised changes at the facility and the state's Department of Veterans Affairs. 
None of it will bring back Ouimet's father, a Navy veteran who served as a chief petty officer and hospital corpsman during the Vietnam War.
On Jan. 1, George Ouimet died at age 83 after battling COVID all of November and December. He was the last of 36 LaSalle residents who died after being diagnosed with the virus — more than a quarter of the facility's population.
'How did this happen?'
Ouimet is preparing to sue the state for her father's death, along with at least two dozen other families of LaSalle residents who died after their COVID diagnoses. Many of the lawsuits are being handled by Levin & Perconti, a Chicago-based firm known for litigation against nursing homes.
Michael Bonamarte, the attorney in many of the cases, said it would have been more understandable had the outbreak occured last spring when COVID first hit.
"We're in a rare situation in this LaSalle Veterans' case where the state, who is the defendant in the lawsuit, investigated itself and, frankly, it has found itself guilty," Bonamarte said, referring to investigations into the outbreak. "They have identified so many failures that would have been horrifying had they occurred at the beginning of the pandemic. But it's magnified by the fact that it happened [more than seven months after COVID's onset]."
By the time Ouimet's father died, more than 100 residents at the home, plus more than 100 staff members were diagnosed with COVID. According to Levin & Perconti, George Ouimet tested positive for the virus in late October, shortly before COVID exploded in the home. 
Ouimet said she wasn't even informed her father had COVID until he was transferred to nearby St. Margaret's Hospital's intensive care unit in early December, where he was diagnosed with COVID again and placed on a ventilator.
"By the time I heard the word 'COVID' LaSalle no longer had anything to do with it," Ouimet said. "Now in hindsight, I feel like they were probably trying to keep secrets." 
Ouimet's father's condition got progressively worse, and a week later he was transferred to Javon Bea Hospital, more than 80 miles north. There, Ouimet's father was also diagnosed with Legionnaires' disease. Two weeks later, he was gone.
"I don't know how this happened," Ouimet said, explaining that her father was in good health before he contracted COVID. "How did this happen? For me it was like — bam! — it came out of nowhere."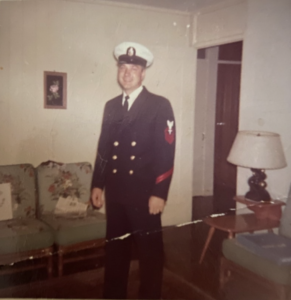 Ouimet and her husband had plans in motion to move her father to Maine, where they bought a piece of land and had even secured a spot for him at a nearby veterans' home. Ouimet, who spoke with NPR Illinois from her property in Maine, said she was hoping the sale would close quickly so she could establish in-state residency to guarantee her father's placement. 
The only thing left to do was make sure her father got a negative COVID test before the journey — a long-planned move Ouimet said she and her father dreamed about together for hours on the phone. An adventurous traveler and hobby sailor in his younger years, Ouimet said the hope of going somewhere new was keeping her father going throughout the pandemic.
"That's where maybe some of my angst or anger or unsettlement comes from," she said. "That never even entered my mind, that he would get COVID. Isn't that amazing? Never even entered my mind. I felt perfectly secure that the facility was doing more than enough. And that was a false sense of security, obviously."
Ouimet's father never made it to Maine, but now some of his ashes are spread on his daughter's land there. More of his remains will go to Arlington National Cemetery, and some are already in Pensacola, Fla. The rest Ouimet says, she'll spread wherever she travels "to let him continue his wanderlust."
'I still don't know what went on there'
Like Ouimet, Joanne Stachowicz still feels like she's in the dark about what went on at the LaSalle home in the days leading up to her uncle contracting COVID in November and dying a few weeks later.
Tony Samolinski, a LaSalle native and Korean War Army veteran, received a COVID diagnosis in early November, just a few days after Stachowicz received the first notification of four infections among residents and staff at the home.
Upon receiving that email, Stachowicz said she was worried. The IDVA's infection notification letters aren't specific about where in a facility an infected resident lives. It could have been in her uncle's wing, but she didn't know.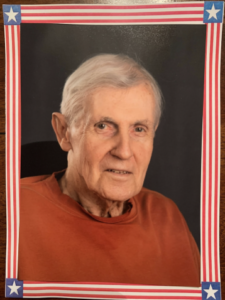 Within a week, Samolinski was counted among the newly infected in a subsequent letter to residents' families.
"I was horrified, obviously, because the place he was at that was supposed to be keeping him safe, he ended up somehow contracting the virus," Stachowicz said. 
After that, "it all went fast," she said. Samolinski was transferred to St. Margaret's Hospital. Several days into his hospitalization, Stachowicz said her uncle felt a little better and the two were able to talk.
"He felt like if he continued to improve he was going to be back [at LaSalle] within two days," Stachowicz said. "But then literally after I spoke with him, a few hours later [he] took a turn for the worse. And that was really the last time I had a conversation with him."
Samolinski died Nov. 18 at 88 years old.
Stachowicz was her uncle's closest family member and she said she became very close with Samolinski in the last six years of his life after his wife's death. Prior to COVID, Stachowicz visited the LaSalle home from neighboring Peru at least three times a week, she said, bringing her uncle his favorite snacks and watching TV together. Sometimes they played bingo. He loved to talk about the Chicago Cubs.
In the days surrounding her uncle's death, Stachowicz said she didn't immediately assign blame because she was too preoccupied with worry about Samolinski dying alone. 
But as preliminary reports about the home's management were published in the week after Samolinski's death, and more information about the outbreak came out in committee hearings in the months that followed, Stachowicz said she began feeling something beyond sadness for her uncle.
"First of all, anger sets in and then you're kind of devastated and horrified knowing what some of [the LaSalle residents] went through," Stachowicz said. "It's a shame, unfortunately, and it does kind of make you angry now, hearing everything that came out of these reports. You feel sorry that's how our veterans were treated."
Gov. JB Pritzker's office published the most full scathing report yet about the LaSalle home on April 30, in which the inspector general charged with investigating the outbreak faulted absentee leadership, lack of preparedness, lax COVID protocols and poor communication as contributing factors for the crisis at the home. Prior to the report's release, key figures at the home and IDVA were already fired or resigned, including former agency Director Linda Chapa LaVia.
Pritzker expressed regret at hiring Chapa LaVia, saying he thought she'd be the perfect candidate because of how she led inquiries into the deadly Legionnaires' disease outbreak at the Quincy Veterans' Home under former Gov. Bruce Rauner.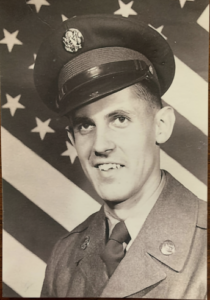 In hearings earlier this month, Deputy Gov. Sol Flores testified in front of House and Senate veterans' affairs committees that she was misled by Chapa LaVia and IDVA leadership.
"I am so sorry," Flores said, directing her comments to the families of the residents who died. "Every single person involved could have done more to save your loved ones."
Flores said the entire Pritzker administration grieved the loss of life at LaSalle, but quickly turned her opening remarks toward placing blame on IDVA officials and shielding the governor's office from culpability.
"It's not just grief. I also share your rage at the loss of life that occurred at LaSalle," Flores said. "What I was told was happening there is a far cry from the circumstances set forth in the [inspector general's] report."
Stachowicz would prefer someone take direct responsibility for the outbreak that took her uncle's life along with 35 others.
"At some point, we all as human beings need to be personally responsible and have some sort of social accountability in our positions," she said. "It's just sad that was kind of lacking. Honestly, to this day, I still don't know what went on there so it's just — it's frustrating."