Updated Thursday at 10:00 a.m.
The Latest on Hurricane Ian:
DAYTONA BEACH, Fla. — Rain and overflow from rivers is causing severe flooding near parts of Florida's Atlantic coast as storm Ian makes its way back out to sea, officials said Thursday.
The Daytona Beach region is experiencing "historic flooding" that includes water in people's homes, Volusia County Sheriff Mike Chitwood said at a news conference. He implored people to stay off the roads, and the county has imposed a curfew until 7 a.m. Friday.
"This is unprecedented for Volusia County," said local emergency management official Jim Judge.
Farther inland, residents of a nursing home were taken to ambulances and buses Thursday morning in an Orlando neighborhood that doesn't typically flood.
Paramedics rolled Avante Orlando residents out on stretchers and wheelchairs. At a neighboring apartment complex, cars were submerged in the parking lot.
The Orange County Sheriff's Office posted photos of deputies helping two people and a dog get to dry land north of Orlando.
___
OTHER DEVELOPMENTS:
ORLANDO, Fla. — Ian marched across central Florida on Thursday as a tropical storm after battering the state's southwest coast, dropping heavy rains that caused flooding and led to inland rescues and evacuations.
The Orange County Sheriff's Office said in a tweet that "water is at least waist deep" in Orlavista, near Orlando. The agency's emergency response crews assisted with rescues.
Orange County Fire Rescue tweeted video of floodwaters, rescues and evacuations.
On the southwest coast, crews worked to clear roads in the Fort Myers area, and police reminded residents trying to return to their homes that a curfew is in place.
"We understand that residents want to check on their belongings and families, but we urge you to STAY OFF local roadways," police tweeted.
Ian is expected to regain near-hurricane strength after emerging over Atlantic waters near the Kennedy Space Center later in the day, with South Carolina in its sights for a second U.S. landfall.
___
WASHINGTON — President Joe Biden and Florida Gov. Ron DeSantis spoke by telephone Thursday morning to discuss next steps in the federal response to Hurricane Ian.
Biden formally issued a disaster declaration Thursday morning and told DeSantis that he was dispatching Federal Emergency Management Agency Administrator Deanne Criswell to Florida on Friday to check in on response efforts and to gauge where additional support will be needed.
Meanwhile, officials at Tampa International Airport tweeted that damage assessments are underway there and that they hope to have an update later Thursday on plans to reopen.
___
TALLAHASSEE, Fla. — The U.S. Coast Guard began performing hurricane rescue missions on barrier islands off southwest Florida early Thursday, as soon as the winds died down, Gov. Ron DeSantis said at a news conference.
"The Coast Guard had people who were in their attics and got saved off their rooftops," DeSantis said. The most vulnerable areas were along the barrier islands of Lee, Charlotte and Collier counties, along with inlets and inland areas along rivers.
Power failures from Hurricane Ian are significant, he said. Two counties, Lee and Charlotte, "are basically off the grid at this point," the governor said, and will likely have to rebuild the power structure.
"We've never seen storm surge of this magnitude," DeSantis said. "The amount of water that's been rising, and will likely continue to rise today even as the storm is passing, is basically a 500-year flooding event."
An earlier report of hundreds of deaths in Lee County has not been confirmed and was likely an estimate based on 911 calls, the governor said.
DeSantis said he will ask the federal government to expand its emergency declaration to cover counties in central Florida that are also reporting damage.
___
NAPLES, Fla. — The Naples Pier, a top tourist destination, has been destroyed by Hurricane Ian, with even the pilings torn out, a county official said Thursday.
The storm sent waves of at least 20 feet over the historic structure, said Penny Taylor, a commission in Collier County.
"Right now, there is no pier," Taylor said.
Deanne Criswell, administrator of the Federal Emergency Management Agency, told CBS News on Thursday that the agency has "put together a large search and rescue capability" and that searchers are combing areas of southwest Florida where people may be trapped.
To the north in the Tampa Bay area, officials lifted evacuation orders. Beachfront communities around St. Petersburg and Clearwater emerged largely unscathed, with the main damage being toppled trees and power lines, officials said.
But with the storm still marching across the state, highway officials closed the Florida Turnpike in the Orlando area because of flooding.
___
FORT MYERS, Fla. — Valerie Bartley's neighborhood in the Fort Myers area had been under an evacuation order ahead of Hurricane Ian, but she felt it was too late to leave Tuesday with no plans in place.
As the strong storm passed overhead, she and her husband had to push their dining room table against a sliding door leading to the back patio because they felt the wind was going to blow it into the house, she said in a telephone interview Thursday.
"My husband just sat there and held it for two hours," said Bartley, 36.
"I was terrified through it. What we heard was the shingles and debris from everything in the neighborhood hitting our house. It sounded like the shingles were being ripped out," she said.
Bartley said her 4-year-old daughter gave her courage. "She grabbed my hand and said, 'I am scared, too, but it is going to be OK.'"
Their patio was torn apart, with some sections missing, and trees were down in their back yard, but their own roof and house stayed mostly intact.
---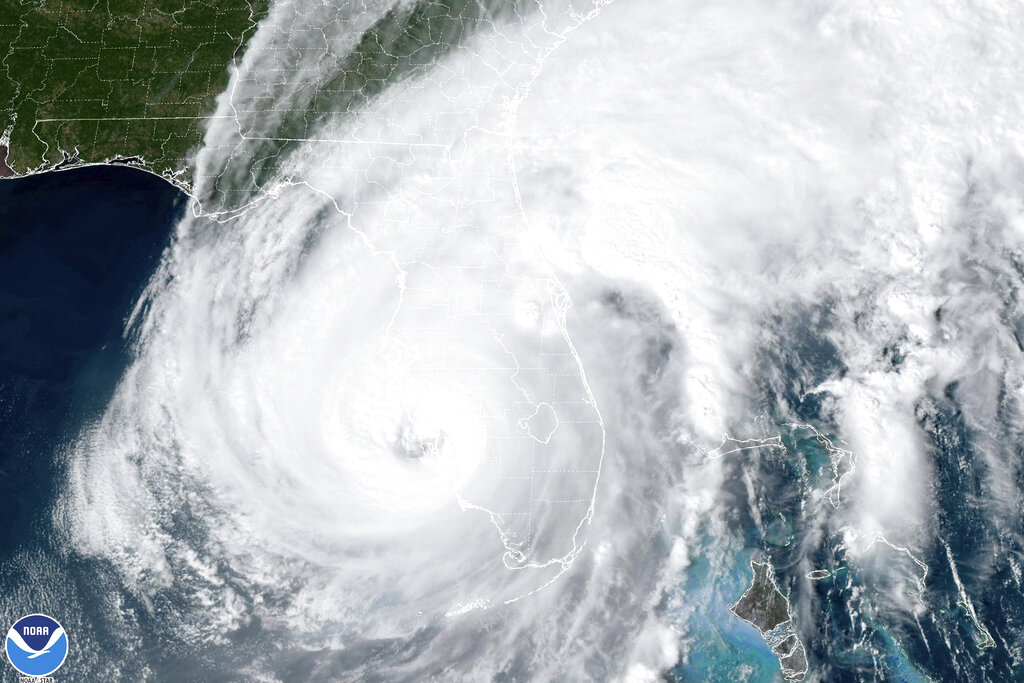 Updated Wednesday at 10:50 p.m.
ST. PETERSBURG, Fla.  — Hurricane Ian, one of the most powerful storms ever recorded in the U.S., swamped southwest Florida, flooding streets and buildings, knocking out power to 1.8 million people and threatening catastrophic damage further inland.
A coastal sheriff's office reported that it was already getting a significant number of calls from people trapped in flooded homes. Some video showed debris-covered water sloshing toward the eaves of homes.
The hurricane made landfall Wednesday afernoon near Cayo Costa, a protected barrier island just west of heavily populated Fort Myers.
Though expected to weaken to a tropical storm as it marches inland, Ian's hurricane force winds are likely to be felt well into central Florida.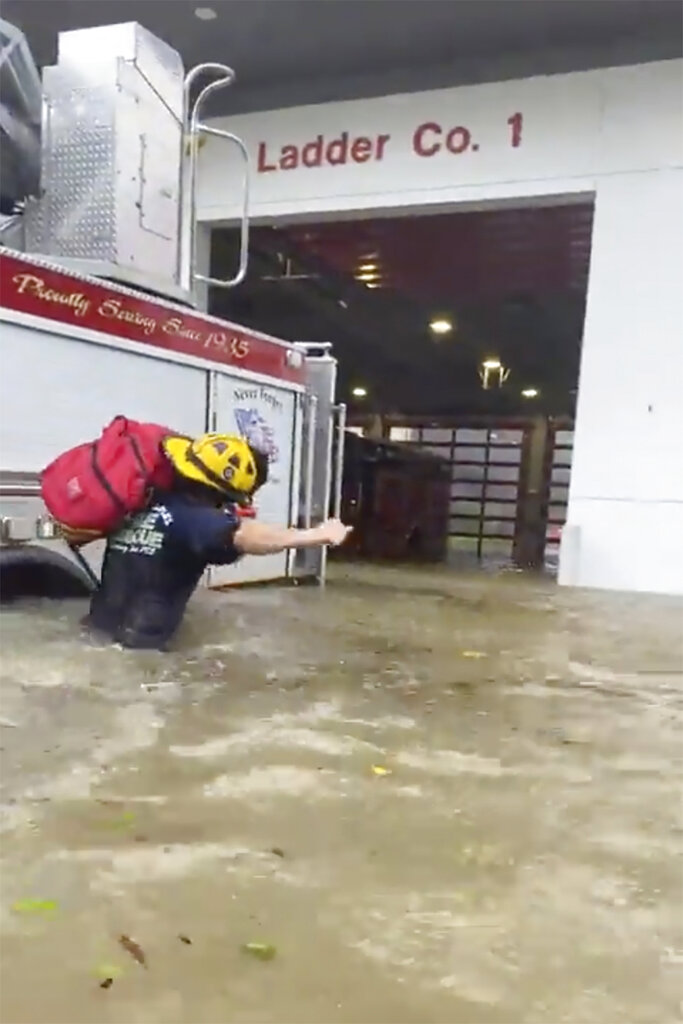 Water drains from Tampa Bay from Ian's winds, then refills
TAMPA, Fla. (AP) — Water drained from Tampa Bay as Hurricane Ian approached Florida's Gulf Coast, pushed away by powerful storm winds. Ian eventually made landfall Wednesday near Fort Myers, about 100 miles to the south. Several people posted photos on social media of themselves and others walking onto the silty bay floor, despite warnings from officials. Experts say the bay also emptied of much water in 2017 when Hurricane Irma caused another so-called negative surge. Because a hurricane's winds blow counterclockwise, the winds at Ian's northern edge were blowing from east to west with such force that they pushed bay water into the Gulf of Mexico. Water eventually refilled the bay.
Storm scenes: Voices of fear, hope as Ian lashes Florida
Hurricane Ian struck a large swath of Florida on Wednesday, inundating coastal areas with strong winds and high water. Evacuations were ordered ahead of the tropical system, but some travelers got stuck trying to leave while some residents decided to ride out the storm. Officials at Orlando International Airport arranged for stranded passengers to be taken to shelters after their flights were canceled. Employees of a law firm in the city of Venice, and their pets, took cover from the hurricane at the law office. A hotel near an airport in Fort Myers was booked up Wednesday morning, with people at the hotel still trying to find a room.
Hurricane Ian gets nasty quickly, turbocharged by warm water
Hurricane Ian is quickly gaining monstrous strength as it moves over oceans partly heated up by climate change, just like 30 other Atlantic tropical storms since 2017 that became much more powerful in less than a day. This turbocharging of storms is likely to become even more frequent as the world gets warmer, scientists say. After getting 67% stronger in less than 22 hours from Monday to Tuesday, Ian is bearing down as a likely Category 4 hurricane that threatens to deliver a potential nightmare storm-surge to the Tampa Bay and southwest Florida regions. Ian's so-called rapid intensification occurred after it traveled over Caribbean waters that are about 1.8 degrees Fahrenheit (1 degree Celsius) warmer than normal.