URBANA – The Fighting Illini men's basketball team will travel to Pittsburgh to play the University of Tennessee at Chattanooga Friday evening in the NCAA Tournament's first round. 
The University of Illinois earned a number-4 seed in the South Region. The Mocs are the 13th seed after finishing first in the Southern Conference and winning their conference tournament. 
It's a rematch of a notorious 1997 game, which saw the end of Kiwane Garris's Illini career when a 14th-seeded Chattanooga team bounced Lon Kruger's first Illini team from the tournament. Garris is the second all-time leading scorer in Illini history after Deon Thomas.
Illini center Kofi Cockburn says his plan is to compete in the national championship game, no matter the opponent, and that this Illini team wasn't aware of that history.
"We can guarantee you that issue will not repeat," says Cockburn. "We're mentally focused. My goal is to play in the last game. Everybody has the same focus right now."
Analytics website kenpom.com ranks Chattanooga the 72nd best team in America, while the Illini are rated 17th.
To put that in perspective, the Mocs are one slot behind South Dakota State, champions of the Summit League with an automatic berth in the tourney. But they're also two spots ahead of Rutgers, which earned an at-large berth as an 11-seed.
The winner of Friday's game will play either 5th-seed Houston, coached by Illini nemesis Kelvin Sampson, whose team is rated number 4 in kenpom.com, or the University of Alabama at Birmingham (UAB).
In addition to Cockburn, Illini Coleman Hawkins and Trent Frazier attended the Selection Sunday press conference, both wearing sunglasses. Coach Brad Underwood explained, through continual coughs and sniffles, that conjunctivitis is currently running rampant through his team.
"I feel better about our basketball right now than I've felt in a long time," says Underwood. "We've been guarding better. [It] didn't help that we've had pink eye going around our team. I've gotten it in both of my eyes."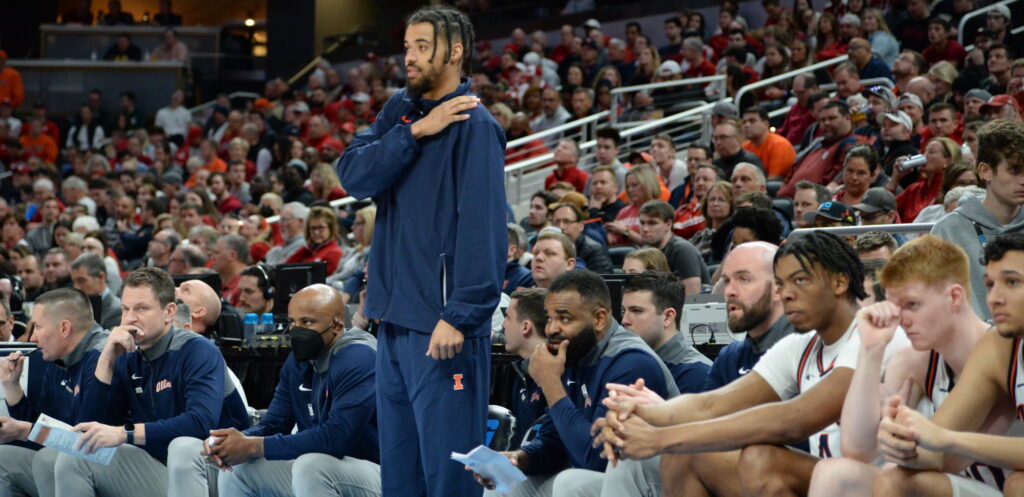 Apart from infectious diseases, the Illini are awaiting medical clearance for graduate student Jacob Grandison, a two-year starter, who's been sidelined with a sprained left (non-shooting) shoulder. Underwood didn't clarify Grandison's status on Sunday, saying only that his team's most experienced stretch-forward is "progressing."
All in all, nine Big Ten teams were awarded berths in the 2022 tournament. Iowa earned the conference's automatic berth by winning Sunday's Big Ten Tournament final over Purdue. The Hawkeyes are a five seed. 
Purdue and Wisconsin both earned three seeds, the highest seeds awarded to the conference. Rutgers, MIchigan, Ohio State, Indiana and Michigan State are the others.
Gonzaga, Arizona, Kansas and Baylor are the four number-1 seeds. Arizona is the top seed in the South. They beat Illinois 83-79 in Champaign on December 11.
Tip off time for Illinois-Chattanooga is Friday at 5:50 pm CT on TNT.