The Illini men's basketball team beat Iowa 78-76 last night at the State Farm Center, securing a top-four seed and double-bye in this week's Big Ten Tournament.
Kofi Cockburn blocked a Luka Garza shot-attempt with one second remaining, ending a wild game that saw both teams recover from double-digit deficits.
He described how he stopped the Big Ten scoring leader without fouling.
"That last play was a situation, you know what's going to happen," Cockburn said. "In that situation, I just do my best to try to prevent it."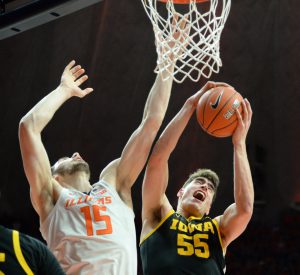 The tone was intense throughout. including two double-technical fouls assessed as the teams jawed at one another.
Ayo Dosunmu put it succinctly.,
"We just don't like each other, simple as that," Dosunmu said.
Dosunmu led the Illini with 17 points and 8 assists. He also grabbed 7 rebounds. Cockburn and Garza tied for rebounding honors with 8 apiece.
Garza — the consensus choice for Big Ten Player of the year, and the top candidate for the national award — led all scorers with 28 for the Hawkeyes.
Iowa has always been a high-scoring team under coach Fran McCaffery. And until Sunday, they'd never lost to an Illini team coached by Brad Underwood. Underwood said the difference this time was defense.
"Our whole identity has been on the defensive side," Underwood said. "Last year, last two years, we haven't been good enough defensively to withstand, even though they shot 50 percent tonight, I thought our defense was pretty good."
Illinois head coach Brad Underwood discusses a 78-76 win over Iowa.
Connor McCaffery had 10 points and 8 assists for Iowa. Joe Toussaint added 14 points for the visitors.
Cockburn finished with 12 points. Seniors Kipper Nichols and Andres Feliz added 10 and 14 points respectively in their final game at State Farm Center.
Illinois led the game by as many as 16 points, and Iowa by 10. The Hawkeyes won the rebounding battle 32-30. Iowa connected on 26-52 shots from the floor, 9-19 from behind the arc and all 15 free-throws. Illinois was 30-for-61, 7-of-24 and 11-of-17 in those respective categories.
The key statistical difference in the game was turnovers. Illinois committed only five, Iowa eleven.
Iowa head coach Fran McCaffery talks about a 78-76 loss at Illinois.
The two teams could play again on Friday in Indianapolis. Iowa will play the winner of Wednesday's opening round game between Minnesota and Northwestern. Whichever of those three advances on Thursday will face Illinois Friday afternoon. It will be the second Big Ten Tournament game of the day, and will tip 25 minutes after the first game ends. The most likely tip time is about 1:30 PM CT.