MADISON — The 5th-ranked Illini men's basketball team withstood a one-man basket barrage in the final three minutes, holding on to beat #22 Wisconsin at the Kohl Center for the second straight year. The final was 74-69.
Illinois, playing without an injured Ayo Dosunmu, sustained a double-digit lead through most of the game despite committing 20 turnovers. That's because Wisconsin, one of the Big Ten's better shooting squads, opened the game hitting just 4-of-22 from the arc.  Then, with 2:36 remaining, and Illinois ahead 60-47, the Badgers caught fire. Micah Potter drained a three-pointer. Eleven seconds later D'Mitrik Trice hit the first of five treys which, along with 4-of-4 free-throw shooting from Trice, brought the game to 70-69.
Andre Curbelo, Trent Frazier and Jacobn Grandison were a perfect 10-for-10 from the free-throw line in the final 44 seconds, allowing the Illini to hold on for the win.
Trice said he realized he had a hot hand after his first trey went through.
"Honestly, it's after the first shot," he said. "When I see one go through I know that the next one is more likely going in. So I'm going to be hunting my shot for the next one after my first one goes through. But once I made two in a row, I was like 'all right, it's really time to take over.  It's really time to —get other people involved still, but we needed stops — continue to find where I could be able to knock down shots. The guys did a great job and the coaches did a good job of trying to put me in positions to do that. And I was able to knock 'em down."
Trice led all scorers with 29 points. Potter added 15 for the Badgers, who finished 10-31 from the arc. Wisconsin committed just eight turnovers, but lost the battle of the boards 43-30. Wiconsin had 13 steals to Illinois's five. Both teams blocked three shots.
Illini coach Brad Underwood said some of the sloppy ball-handling was a consequence of missing Dosunmu, who sat out for the second time after sustaining a facial injury at Michigan State on Tuesday. "It's all on me. The end, against the press. We haven't had much practice time. Ayo Dosunmu is most often our inbounder, our trigger guy. We put Curbelo in that situation, and that is all on me. We haven't spent near enough time on that, with him in that spot. He's usually a receiver, because he gets open so well.
"I'll take the hit for those turnovers. Obviously something we'll clean up tomorrow in practice," Underwood said.
Underwood again reiterated appreciation for the way his team has handled challenging circumstances in the closing weeks of the season.
"To go through what we've been through this week. To go on the road as much as we've been on the road. The physicality of the Michigan State game, the emotions of Senior Night, and then to come in here to the Kohl Center, probably a little bit fatigued, a little bit tired, and to find a way to gut it out —  man, I could not be prouder of this group of guys and their toughness and their ability to step up. Grit was a big part of it tonight," he said.
Kofi Cockburn led Illinois with 19 points. Curbelo added 17, and Da'Monte Williams 12. Grandison grabbed a game-high 8 rebounds for the Illini. Illinois attempted just nine three-pointers, and converted five of them.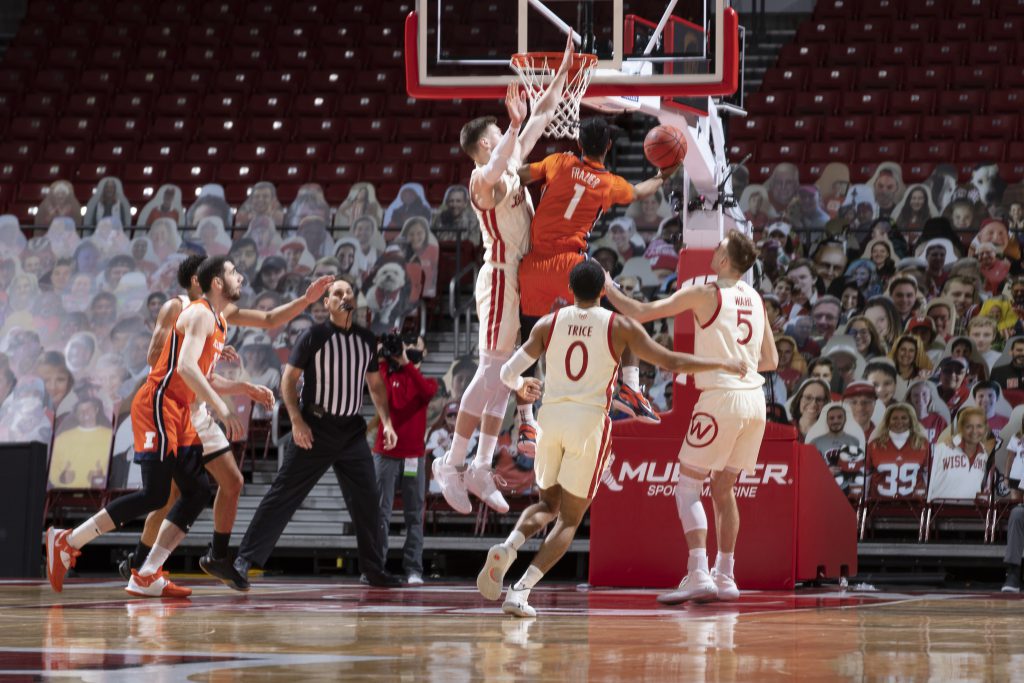 The end of the game was delayed by double-technical fouls called on Williams and Wisconsin's Brad Davison, who argued briefly near the Badgers bench. Williams said, "It is what it is. It's just something that happened," but also acknowledged that he needs to do better, and learn from the experience. As it happens, the skirmish had no effect on the game's outcome.
Illinois improves to 14-4 in the Big Ten and 18-6 overall. The Badgers are now 10-8 in conference, and 16-9 for the season.
Rob McColley covers University of Illinois sports for WILL.