CHAMPAIGN — The Illini men's basketball team opened the season with a 71-47 win over Jackson State Tuesday night in Champaign.
Illinois was without starters Trent Frazier, Andre Curbelo and Kofi Cockburn. The latter is serving a three-game, NCAA-imposed suspension because he sold some personal Illini gear before deciding to return to the team for his Junior year. Frazier injured his non-shooting shoulder in last week's exhibition game. Curbelo is in concussion protocol.
Jacob Grandison scored a game-high 20 points for Illinois. Coleman Hawkins added 13, and Ben Verdonk grabbed 10 rebounds to go with five points and three assists.
Head coach Brad Underwood had special praise for Verdonk.
"Ben goes against Kofi every day," Underwood said. "I thought his defensive prowess, I thought his tenacity, I thought his rebounding, five offensive, he's just (got) kind of the bull in a China closet type mentality."
Verdonk spent much of his earlier Illini career sidelined with injuries, often seen wearing a walking boot. Known by teammates for his persistence and work ethic, he says he is glad to have his chance now that he's healthy.
"Being sidelined with a lot of injuries and then struggling to find my way back, it's not fun," Verdonk said. "It's not easy, but moments like this kind of make up for it. Like, it was great to be out there to compete. I love basketball. It's my favorite thing to do."
Jackson State's Jayveous McKinnis tallied a double-double with 11 points and 12 rebounds. Jonas James also scored 11 for the Tigers. Coltie Young led JSU with 12 points.
The Illini men return to action Friday night at home against Arkansas State. That game tips at 8 p.m., and will be streamed on the Big Ten's auxiliary channel, BTN Plus.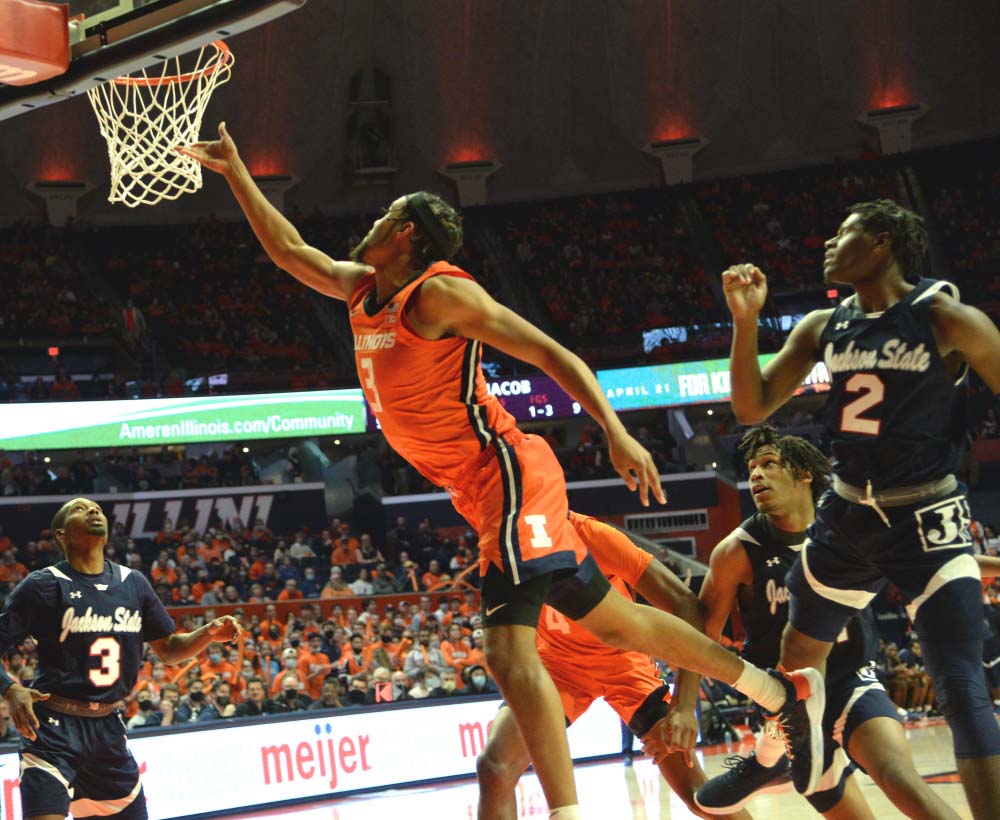 Illini women overcome turnovers to beat North Carolina Central
Kendall Bostic spent her freshman year at Michigan State before jumping to the Illini women's basketball team during this past offseason.
She lent an immediate impact to her new team, grabbing 17 rebounds to go with 14 points in the season tip-off against North Carolina Central in a lunchtime game Tuesday in Champaign. Illinois won 73-56.
Bostic finished the game without committing a personal foul, despite all her interior scoring and rebounding. 
"It's all positioning. Rebounding is — this may sound cliché — but it's like an art. You have to find positioning. You have to find the angles. You have to watch where the ball's going," Bostic said. "Really making sure I get the correct angles, knowing when I can jump, when I can't, if there's someone boxing me out."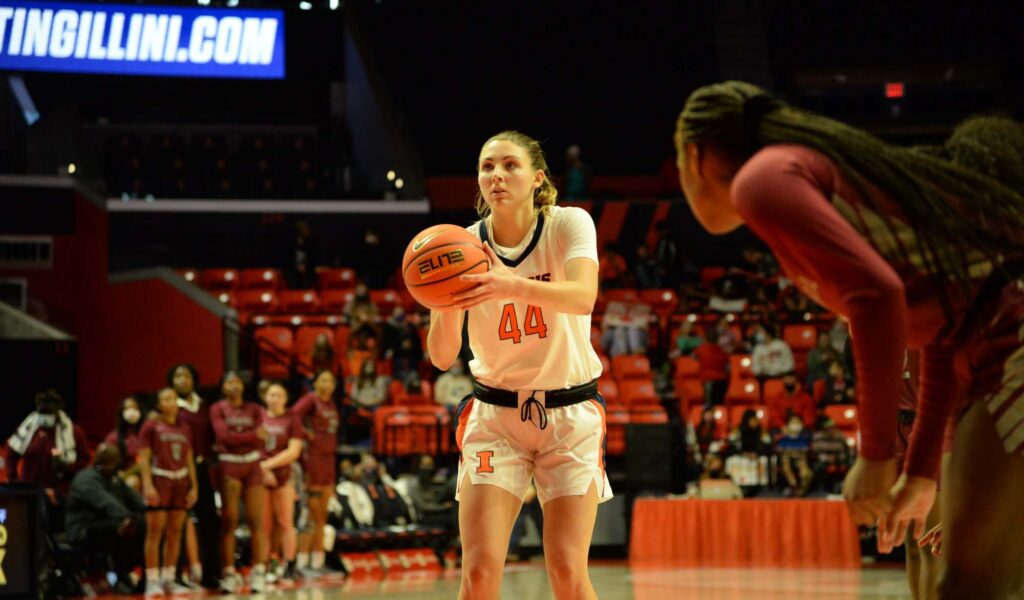 It was a sloppy game, with 53 turnovers between the two teams. Two came from Illini guard Sara Anastasieska on consecutive possessions.
Illinois head coach Nancy Fahey pulled her aside after the second.
"She's a good basketball player. It was just kind of rolling on her. And we didn't really have time to stop it," Fahey said. "So you just talk to her, and kinda like 'next game.' "It just affects them. And if you let it keep going … you just gotta, kinda, pause. And we'll be back. She'll be fine."
The Illini were led by Aaliyah Nye's 23 points.
Next for the Illini women is a Sunday afternoon home game against Miami of Ohio.
Rob McColley covers University of Illinois sports for WILL.