CHAMPAIGN — The Fighting Illini men's basketball team beat Purdue 66-58 Saturday in Champaign. Freshman Andre Curbelo came off the bench to spark an Illini team that tripped out of the gate in both halves. The freshman scored only eight points and dished out six assists, but his presence on the floor changed the dynamic of the game. The Illini outscored the Boilermakers by 26 points while Curbelo was on the court.
Senior Da'Monte Williams was a beneficiary of Curbelo's passing — connecting on 3-5 shots from three-point range, slightly below his nation-leading 69-percent average entering the game. Williams spoke metaphorically in attributing extra eyeballs to Curbelo's court vision.
"He's got eyes everywhere. Eyes in his kneecaps, elbows," Williams said. "He sees stuff nobody sees. If you find me, I'll step in and shoot it with confidence."
Williams and Kofi Cockburn tallied double-doubles for Illinois, scoring 12 and 14 points respectively, and grabbing 10 rebounds apiece. The Illini won despite shooting just 9-22 from the free throw line. Purdue shot 7-12 from the charity stripe.
The Boilermakers were led by Trevion Williams and Brandon Newman, who scored 14 points apiece.
Illinois improved to 4-1 in the Big Ten and 8-3 overall. Purdue fell to 7-5 overall and 2-3 in the conference.
Hawkeyes Run Past Illini Women 107-68
The women's team had a harder time with Iowa Sunday afternoon. The Hawkeyes scored 35 first-quarter points, and never took their collective foot off the gas thereafter. The final was 107-68.
Illinois center Eva Rubin said the team was determined to get better.
"I feel resolved, and I feel like we're in an okay spot overall because we just had a really good conversation," Rubin said. "Each player mentioned something that they can personally do better to bring to practice, to bring to the team, to help put a complete game together."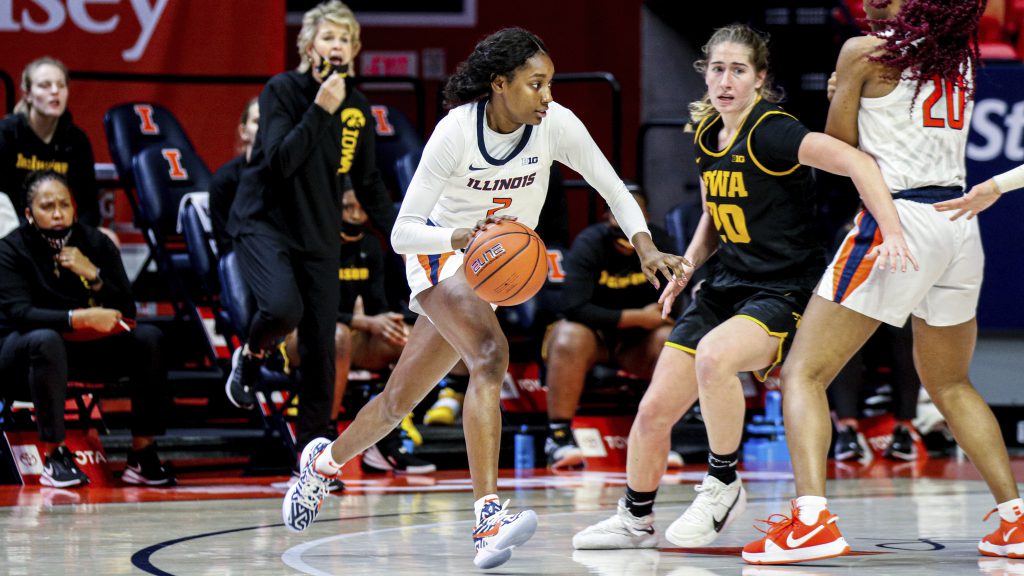 Rubin led Illinois with a career-high 17 points on 7-10 shooting from the field. The Hawkeyes got balanced scoring, led by Caitlin Clark with 21 points. McKenna Warnock added 18 points and seven rebounds, and Monika Czinano had 15 points.
It was the second game in four days for the women's team, following an unscheduled three weeks off due to COVID-related postponements. The Illini missed games against Michigan and Southern Illinois before losing at 18th-ranked Indiana on Thursday.
Head coach Nancy Fahey acknowledged that a COVID-addled schedule was the last thing her young team needed while trying to synchronize as a unit. But she didn't make excuses.
"I'm looking to compete, and that just did not happen today," Fahey said. "That's the most disappointing part for me. It's not going to get any easier with Ohio State, Michigan State, and Michigan coming, so I've got to do my best to create a tougher team out there, and I'm going to do my best to do that."
The Illinois women are 2-4 overall and 0-3 in the Big Ten.
Both teams return to action on Thursday. The women host Ohio State at 6pm. The men travel to face Northwestern in an 8:00pm start on the Big Ten Network.
Rob McColley covers University of Illinois athletics for WILL.