CHAMPAIGN — The Maryland Terrapins now have two Big Ten wins, both on the road at nationally-ranked opponents.
That's after they upset #12 Illinois 66-63 Sunday night at State Farm Center in Champaign. Their previous conference win was at #8 Wisconsin.
Daryll Morsell returned from a two-game injury break to score 19 points on 8-16 shooting from the floor for the Terrapins. Donta Scott added 16 points and grabbed a team-high 8 rebounds. Maryland was without starting point-guard Eric Ayala, who pulled a groin muscle against Iowa.
Illinois head coach Brad Underwood admitted he wasn't surprised by the outcome, based on the practices that preceded it.
"Two consecutive days of not being very sharp in practice, and that's ultimately on me," Underwood said. "You hold a team on the road to one field goal in almost nine minutes, you should be okay. They out-fought us, they out-toughed us and deserved to win the game."
Kofi Cockburn tallied another double-double with 21 points and 10 rebounds. He converted 8-10 shots from the floor.
Ayo Dosunmu took the greatest number of shots for Illinois, but converted only nine of his 23 attempts. He scored a game-high 23 points. Andre Curbelo hit on just four of his 12 attempts for 8 points. Adam Miller scored nine, and four Illini played without scoring including starters Da'Monte Williams and Trent Frazier.
Dosunmu said his team didn't deserve to win.
"We didn't make a lot of plays," Dosunmu said. "We missed a lot of free throws down the stretch. We gave up rebounds, kick-out threes. I just think that we didn't play well enough down the stretch to win this game."
Illinois beat the Terrapins in many statistical categories, including rebounding (40-33), field goal percentage, turnovers and assists. But Maryland was more efficient in its offense, converting 22-55 shot attempts including 8-of-20 from the three-point arc. Illinois needed 61 shots to convert 25, and hit only 5-15 from three-point range.
Maryland improves to 7-6 overall, and 2-5 in the Big Ten. The Illini are now 9-4 overall, and 5-2 in conference. Next up is a road game at Nebraska on Wednesday. That one tips at 8:00 pm on the Big Ten Network.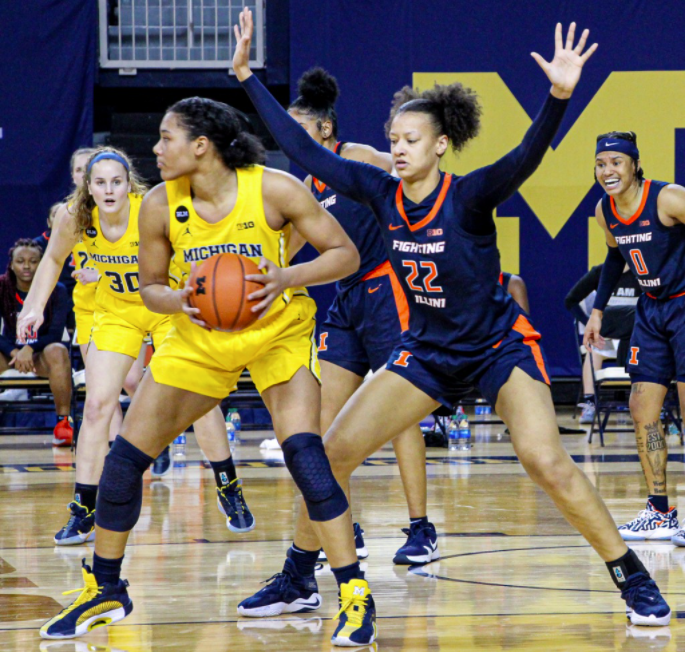 Women Lose Fifth Straight Game At Michigan
The Illini women's basketball team lost 70-50 at #15 Michigan Sunday afternoon.
Jeanae Terry scored 17 points and grabbed six rebounds, while Kennedi Myles added 12 points and seven rebounds for the Illini. Naz Hillmon led Michigan with 24 points and 13 rebounds.
Michigan led 17-14 after the first quarter, but the Illini scored only 3 points in the second period. Illinois Coach Nancy Fahey was encouraged that her team didn't trip out of the gate.
"I think the kids did a great job. We've not really done a great job in the first quarter and got buried, and then we can't really fight back," Fahey said. "The second quarter is when they went to the zone (defense), and we didn't really respond very well with our actions. That quarter hurt us."
The women have been shorthanded all season, a situation made worse Sunday when center Eva Rubin fouled out in just 25 minutes of playing time. She scored six points, blocked three shots and grabbed four rebounds in that time.
By contrast, the rest of the Illini starters played 38, 38, 40 and 32 minutes. Those last two were Jada Peebles and J-Naya Ephraim, whose floor time produced 2-11 and 1-8 field goal accuracy, respectively. As a team, Illinois was 3-19 from three-point range, and 32-percent overall.
With the win, Michigan remains undefeated at 9-0, 4-0 in conference. Illinois drops to 2-6 overall, 0-5 in the Big Ten. They'll host Michigan State Thursday night at 6:00 pm.
Rob McColley covers University of Illinois sports for WILL.