ANN ARBOR, Mich. — The Fighting Illini men's basketball team shocked the college basketball world Tuesday night with a stunning 76-53 blowout over No. 2 Michigan in Ann Arbor.
Ayo Dosunmu sat out his third-straight game under concussion protocol, allowing room for Trent Frazier to score 22 points and Andre Curbelo 17 from the guard position.
Head coach Brad Underwood wasn't ready to say his team was better without its All-American.
"I don't know if there's a silver lining in losing the best player in college basketball.  It changed some roles. Guys got a lot of minutes. Guys got put in different spots," Underwood said. "Now it's just (a matter of) sliding Ayo back in, and I gained some confidence in some different guys, in different areas."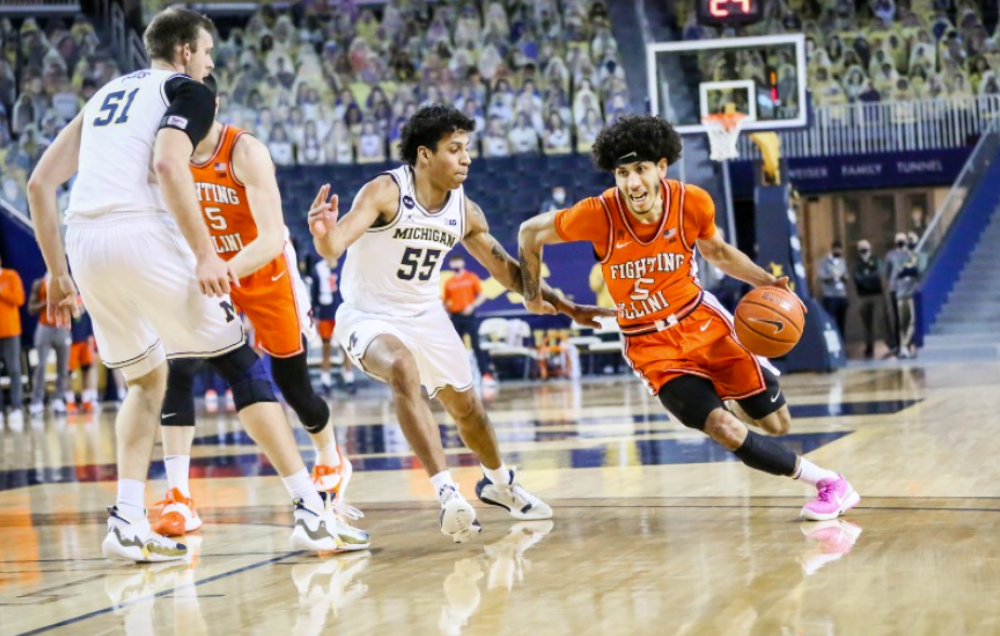 Illinois's offense was good, but its defense was better.— holding all of Michigan's top scorers well below their season averages. Hunter Dickinson entered the game averaging 14.8 points. He scored six. Isaiah Livers was averaging 14.5. He scored seven. Franz Wagner averaged 13.3 and scored two.
Livers admitted the Wolverines were looking past Illinois.
"Not gonna make any excuses but  we can't think ahead of a game. Michigan State, bubble, and all that in Indianapolis," Livers said. "We gotta focus on each game. They're a good team, with or without Ayo. We prepared like Ayo was playing. He wasn't.  They just outplayed us."
Illinois dominated the glass, corralling 42 rebounds to Michigan's 26. It was a balanced effort among the starters with Kofi Cockburn grabbing seven boards, Jacob Grandison and Da'Monte Williams  adding six apiece and guards Frazier and Adam Miller pulling down four each. Curbelo also grabbed six off the bench.
Underwood said it was a necessary priority.
"We knew that was gonna be a big part of the game, and they're one of the best rebounding teams in our league. That was a battle that we felt like we had to win to win the game, and so we spent a good deal of time talking about it," Underwood said. "Jacob and Da'Monte from the wing spots were fabulous. Curbelo comes in, and sneaks in and gets six or seven. We knew we were gonna have to get our guards help Kofi rebound."
Frazier let slip that his teammates shared a viewpoint promoted by Illini fans on social media — that the Wolverines ducked Illinois by cancelling the original date for Tuesday's game, on February 11.
"Out there tonight was special, it was connected. The bench was in it for 40 minutes. We all had a chip on our shoulder, you know? Obviously the past month, everything goin'  on between the two teams — we wanted to make a statement," Frazier said. "We were a man down, so guys had to step up, but the energy tonight was incredible. We just wanted to come out there and prove, to the world, what we're capable of."
Eli Brooks led the Wolverines with 11 points. Cockburn added 12 for Illinois.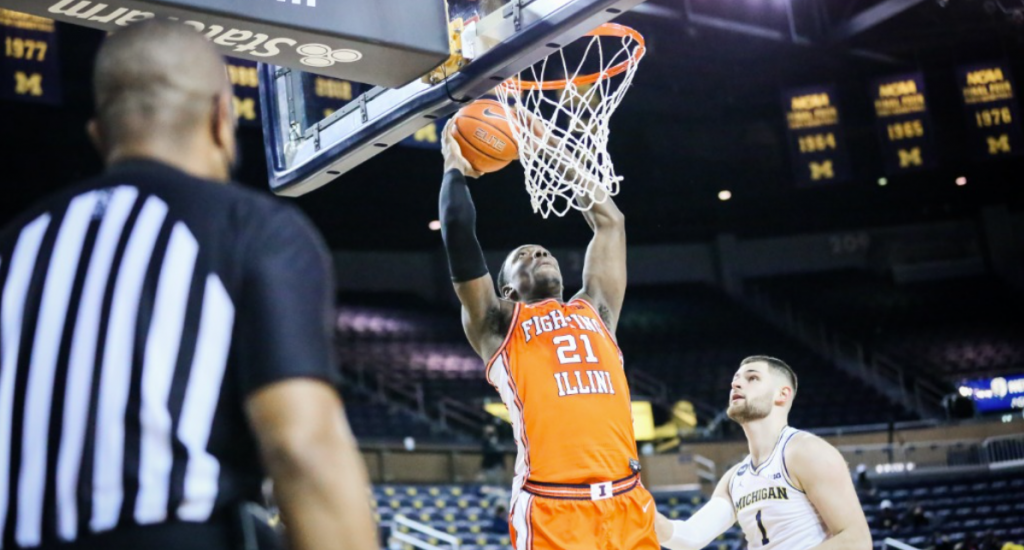 Illinois improved to 19-6 overall and 15-4 in the Big Ten. Michigan fell to 13-2 in the conference and 18-2 overall.
The win keeps the door open for the Illini to claim a Big Ten title. Michigan must play Michigan State twice this week, on Thursday and Sunday. If the Wolverines lose both games, and the Illini beat Ohio State on Saturday in Columbus, both Illinois and Michigan will end the regular season with four conference losses. But Michigan will have played only 17 games, while the Illini will have played all 20.
The game at Ohio State tips at 3 p.m. on ESPN.