CHAMPAIGN — The one thing missing from the Illinois women's basketball team's resume this season was a win over a ranked opponent. No longer.
The Illini topped No. 12 Iowa 90-86 on New Year's Day in front of a boisterous crowd of 4803 at State Farm Center.
Junior guard Genesis Bryant continued her breakout season with a career-high 24 points on 8-10 shooting. Makira Cook added 20 points. Kendall Bostic had a double double, with 17 points on 7-7 shooting and 12 rebounds. Adalia McKenzie chipped in with 16 points.
Bryant hit a three-pointer just before the halftime buzzer to give the Illini a 44-33 advantage and added several big shots down the stretch to hold off the Hawkeyes, who never led in the second half.
"I was just trying to stay in attack mode," Bryant said. "The fourth quarter is time to win, so I was like, we've just got to leave it all on the court and we could live with the outcome if we know we did everything we could."
Iowa made several runs in the second half, including getting within one point in the fourth quarter. All-American Caitlin Clark led the Hawkeyes with 32 points, 8 rebounds and 7 assists. But Illinois made Clark work for her points, as she shot just 11-27 from the field and committed five turnovers.
Bostic was matched up against Iowa's Monica Czinano in the post. Czinano had 24 points and six rebounds for the game.
"She's a really good player. I love watching her play. I hate playing (against) her," Bostic said. "We just tried to keep her high. The guards did a good job of digging in when they could. Obviously, it's really hard to dig in when they shoot the ball as well as they do."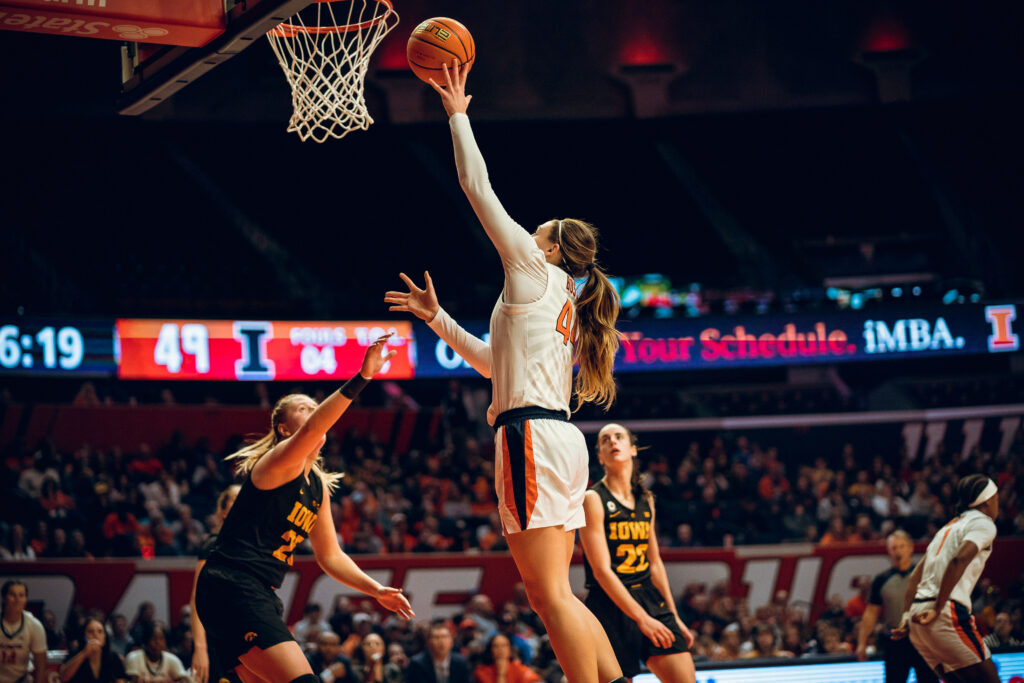 Illinois head coach Shauna Green has begun a remarkable turnaround in her first year at Illinois. The team won just eight games all of last season and is now 13-2 this season with a 3-1 record in Big Ten conference play.
She has spoken often about the type of atmosphere she wants to build in Champaign, and said that's what the fans brought to State Farm Center on Sunday.
"It makes a huge difference," Green said. "There's no way we win that game, I really believe this, if that crowd wasn't into the game like they were. It feeds, it fuels our team. It's hard on the opposing team."
Next for Illinois is another home game on Thursday against Northwestern. Tipoff time is 8:00 p.m.