EAST LANSING, Mich. — The winning streak is over for the Illini men's basketball team, but the 23-year streak of NCAA tournament berths is still alive for Michigan State.
The Spartans out-toughed the Illini en route to an 81-72 win last night in East Lansing. Illini Trent Frazier said his team was expecting the blunt force trauma.
"We knew what we were getting tonight," said Frazier. "Hungry pit bull. They practice with football pads. You know, that's the thing everybody hears about Michigan State. So, they just punched us in the mouth. We didn't return."
Frazier scored a game-high 22 points on 4-of-8 shooting from the arc. 
Illini coach Brad Underwood had a relaxed attitude about the loss, saying, "I'm not disappointed.  I'm actually in a really, really good place.
"They mucked the game up, made it ugly. There's a reason they foul as much as any team in the country. Their kids played really hard. We had a couple break downs in transition, in the first half, that really hurt us. And then we couldn't get a stop — they'd get a second chance basket."
The Spartan game plan seemed geared toward double-teaming Kofi Cockburn, hacking him if he got the ball, and forcing him to score his points at the free-throw line. 
It worked. Cockburn converted just 3-11 foul shots.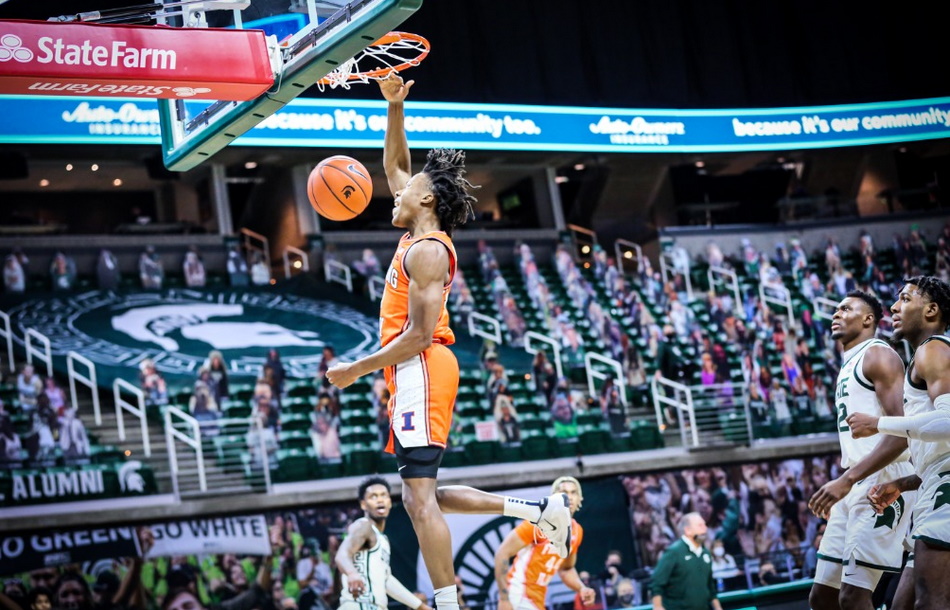 Two Spartan big men fouled out,  and center Mady Sissoko was ejected for hammering Illinois' Ayo Dosunmu in the face. Dosunmu lay prone on the baseline, and had to be helped to the team bench. But he returned after gathering his wits, and promptly missed the next three free-throws.
Frazier said Dosunmu was not seriously injured.  "Yeah, he's fine. Ayo is, you know, a competitor. Obviously you saw that he did not get out the game. He wanted to finish the game. He's a winner, you know? That's what he does. But yeah, he's fine." 
Michigan State coach Tom Izzo didn't dispute the violent characterization of his team's performance.
"Streetfight, that's a good way to put it.  You know, we had an alum down there and the first thing he said to me 'it looked like our street fighting days, you know?' And I would say we did a better job of competing," Izzo said. "Happy to get a win. Big win because it was against a … I think a very quality team who's been on a seven-game win streak."
Aaron Henry scored 20 points for the home team. Rocket Watts added 15, and Joey Hauser 13. But the Spartan hero of the night was senior Joshua Langford, whose 13 points were overshadowed by a career-high 16 rebounds.
Dosunmu added 17 points, five assists and nine rebounds for Illinois. Cockburn tallied 13 points and six rebounds, and freshman Andre Curbelo added 12 points. The Illini are now 16-6 overall and 12-4 in the Big Ten. Michigan State improves to 6-9 in conference play, and 12-9 overall.
Both teams will return to action Thursday while the league tries to catch up on COVID postponements. Illinois will host Nebraska at the State Farm Center. That game tips at 6 p.m. CT on the Big Ten Network.