CHAMPAIGN — On back-to-back possessions in the second quarter of Saturday night's game against Iowa, Illinois muffed a punt at their own 35-yard line and fumbled on their own five-yard line.
Iowa could only score a total of three points off those two turnovers.
An Illinois defense that head coach Bret Bielema calls "the best fire department in the history of the United States" carried the Illini to a hard-fought 9-6 win over a Hawkeye team they hadn't beaten since 2008.
"It's the first time we've had a combo platter (of) beating Wisconsin and Iowa (in the same season) since 1989," Bielema said. "Just a lot of really good hurdles that we keep clearing."
On a night where Illinois lost starting quarterback Tommy DeVito to injury, yards and points were hard to come by, but the third field goal of the night by backup walk-on kicker Fabrizio Pinton with 2:49 to play was enough to pull out a victory.
Pinton found out in pregame warmups that he would be handling all of the field goal duties, as starter Caleb Griffin continues to battle a leg injury. Bielema said that Griffin had done some kicking in practice this week, but was unable to play after attempting kicks in pregame warmups.
Pinton said he tried to keep it simple after he found out he'd be handling all the field goal duties.
"Just go out there, kick the ball, just gotta kick the ball through the yellow things (goal posts)," Pinton said.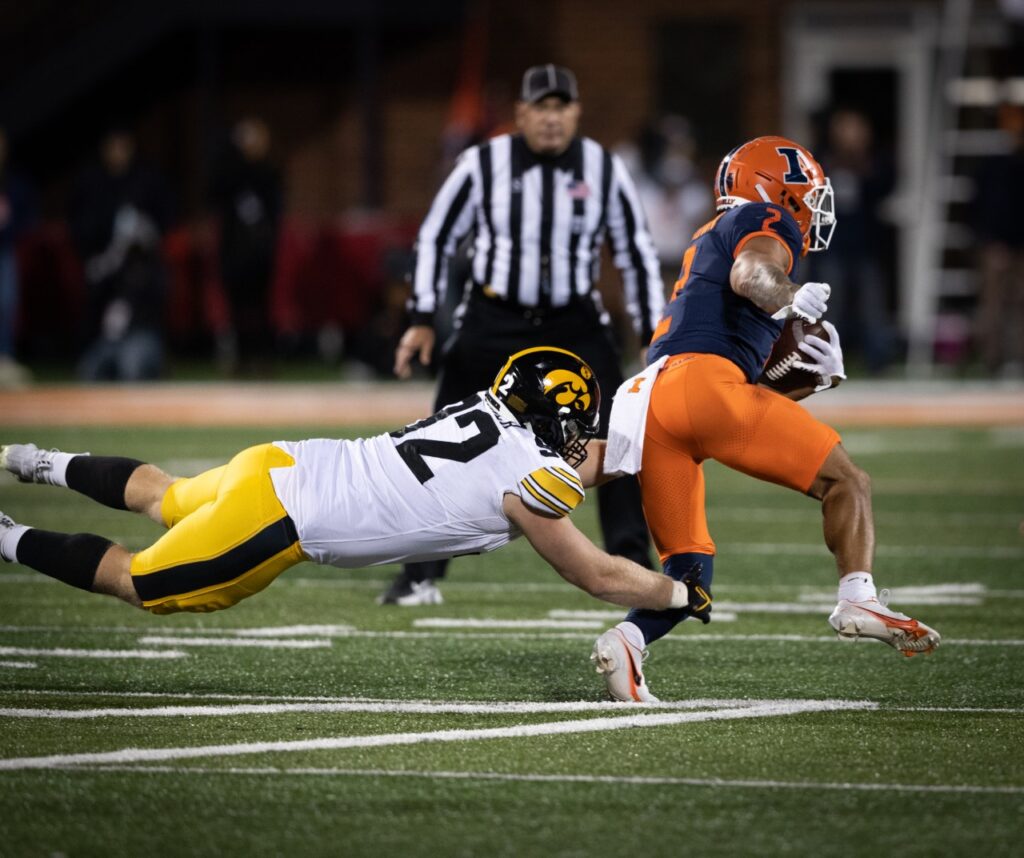 The Illini improved to 5-1 on the season and 2-1 in the Big Ten conference, and its defense has yet to allow a touchdown in four home games this season.
The defense was led by Seth Coleman with two sacks, and Johnny Newton with 2.5 tackles for loss. Freshman safety Matthew Bailey also came up with a big interception with Iowa driving late in the fourth quarter, which came after Coleman hit Iowa quarterback Spencer Petras as he tried to throw.
Newton said once he and his teammates were able to stop Iowa's running game, which totaled only 52 yards on the night, they focused on putting pressure on Iowa quarterback Spencer Petras.
"It's like a competition out there," Newton said. "We talk about it before the game, how many sacks we're going to get, who's going to get the sacks. Honestly, I'm happy for whoever gets the sacks, but we all want that sack."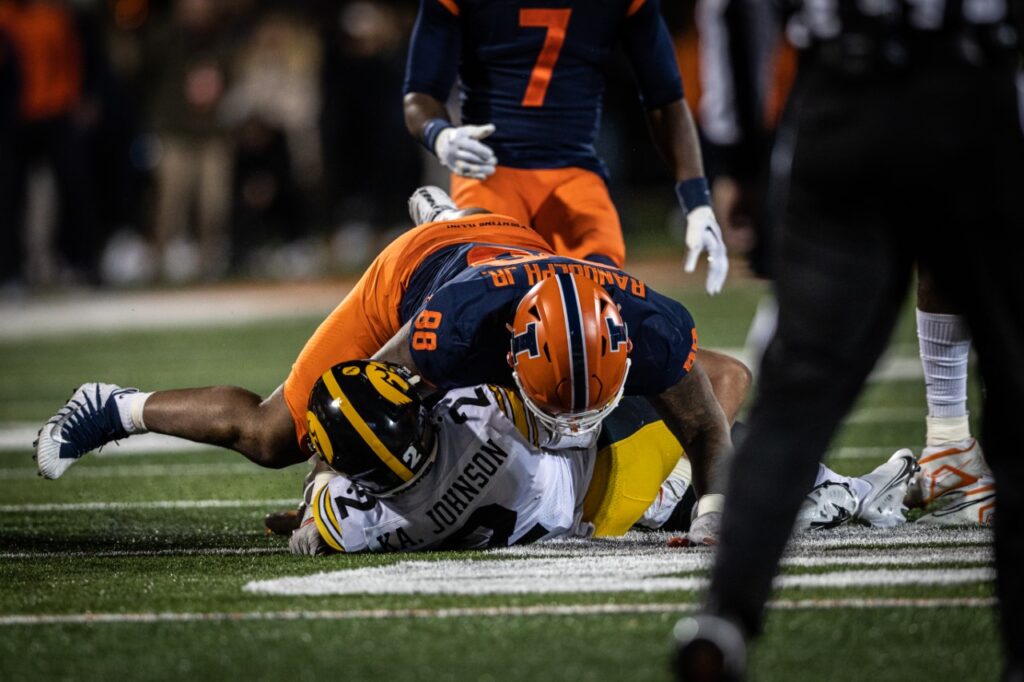 On offense, the Illini were again led by running back Chase Brown, who notched his seventh straight 100-yard game, this time gaining a hard-fought 146 yards on 31 carries.
After DeVito left the game in the second quarter with an ankle injury, Sitkowski came on and struggled to move the offense for much of the game. But he was able to complete a pair of passes downfield on a fourth quarter drive that took Illinois inside the Iowa 20-yard line.
That's when disaster nearly struck. Sitkowski ran a quarterback draw on third down and the ball came out as he went down. It was initially ruled a fumble on the field, and Iowa returned it all the way for an apparent touchdown and 12-6 lead. But after replay review, Sitkowski was ruled down by contact, which paved the way for Pinton's game-winning kick.
"I felt my elbow hit the ground, so I'm like 'okay, this is something good,' but you just hope and pray, fingers crossed, when it goes to review," Sitkowski said.
He finished 13-19 passing for just 74 yards, with no touchdowns and one interception, which happened as Illinois was driving inside the Iowa five-yard line.
Next up for Illinois is a matchup with Minnesota for homecoming next Saturday at Memorial Stadium. Kickoff is at 11:00am. The Gophers enter next week's game coming off a bye week. They're 4-1 overall and 1-1 in the Big Ten.
Follow Brian on Twitter @BrianMolineWILL.